Solar Chefs
Talk

0
1,979pages on
this wiki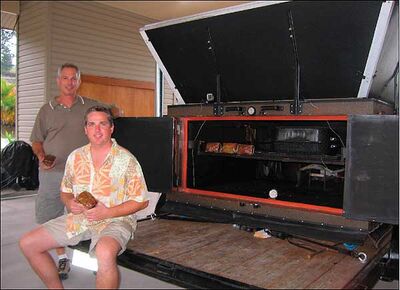 Greg Menke and Dave Flanders -- a personal chef and jack of all trades -- have built a 62-cubic foot portable oven that runs almost exclusively on solar energy and turns out everything from turkeys to banana bread. Flanders and Menke began work on their oven by overhauling a large discarded industrial refrigerator. They removed the front, set the glass on and added two levels of mirrors around the top to capture and reflect the sun. The duo also added two 12-by-24 inch solar panels that power a 12-volt boat battery and, on the inside, a convection fan that helps increase heat.
The oven has a propane hookup to assist with warming and for use on cloudy days. But other than the gas, almost everything on the oven is recycled, found or donated material. Now the Solar Chefs are concentrating on getting a product out, beginning with their signature banana bread.
After reading a magazine article that said more fruit on the Big Island is wasted than eaten or sold, Menke had an idea. "We were thinking of the cheapest thing we could come up with, and we ultimately came to bananas," Menke said.
The oven can hold up to 120 loaves -- which are about the size of a Nerf football -- and from beginning to end it takes about two hours to make a batch. "We're looking to partner with coffee shops and other organic producers," Menke said, adding that its likely Kona residents will see the solar oven at the farmers market and area stores in the near future.
Menke and Flanders also share some high-minded intentions for their oven. "We'd like to help feed the homeless," Menke said. "We hope people will chip in and donate. We don't need charcoal or wood -- just a sunny day."
[Article text borrowed from http://www.westhawaiitoday.com/articles/2008/11/24/local/local02.txt in November 2008.]
External links
Contact
Solar Chefs
73-1398 Kikimoe St.
Kailua-Kona, HI 96740
USA