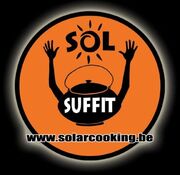 The Belgian NGO Natuur.koepel is promoting Solar Cooking in the Djoudj National Parc (Senegal) . They work with a brand new system : Solar Cooker ECO 3. The project name is Sol Suffit.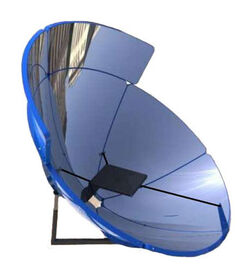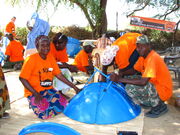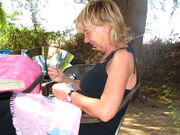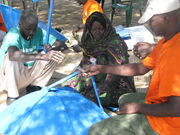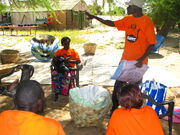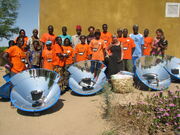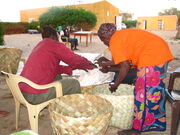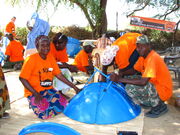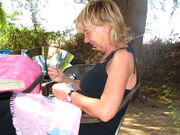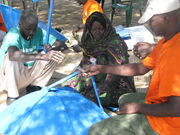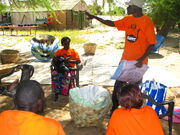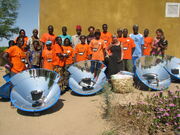 News and recent developments
December 2011: 630 SolarCooker Eco 3 were shipped to Senegal (so even more than originally planned!). In the next months, they will be introduced in Dakar and in 8 villages next to the national park of the Djoudj. Local volunteers participated in work shops to learn technical skills and correct handling of the solarcookers. They will be guide the introducting in the different villages. Cooking demonstrations were also very succesfull. We also made the trainees familiar with the method of retained heat cooking. We found it quite easy to make good quality hay baskets with cheap baskets(locally made) and empty rice bags filled up with dry hay.
August 2011: The new parabolic SolarCooker Eco3 ("Ecologic,Easy and Economic) is now available on the market. It is sold by a new Belgian company Solar Cooking NV, that supports our project for introducing solar cooking technology in African countries. We are still working on an important pilot project in the north of Senegal (area of the national Bird sanctuary of the Djoudj). We plan to introduce 250 Solar Cookers to local families in November 2011. A reforestation project has also been started in the same villages and another project is under study to introduce fuel-efficient woodstoves. Together with 1Night4dakar, another belgian organisation, a second sample of 100 SolarCookers will be introduced in the capital Dakar and on Ile Gorée to study the acceptance of solar cooking in a urban conditions. Meanwhile, the SolarCooker Eco3 is also undergoing field tests in several countries and we've received some very usefull comments.
January 2011: Sol Suffit is developing a new parabolic solar cooker called the "SolarCooker Eco3". It will be available for sale beginning 1 May, 2011. Pre-orders are currently being accepted on its website http://www.solarcooking.be/_en/hot/soonforsale.htm. The price is not expected to exceed 200 EUR. Exclusive prices will be made available for development organizations with proven operations in the South willing to introduce the SolarCooker Eco3.
February 2010: Sol Suffit is working to bring its super-clean and super-simple solar cooker to developing nations, to replace the environmentally-devastating traditional cooking methods that rely on firewood and charcoal. The project started in the Djoudj National Bird Park, a World Heritage site in Senegal. Project leaders Kristina Naeyaert and Herman Nachtergaele said, based on "the response from everyone who gets to know the project, we're very certain it won't stop there.." They are looking for partner organizations to help with their efforts. Read more at: Solar Cookers Taking Hold in Africa: Want to Help?
Audio and video
[[Video:Presentation Movie SolSuffit|thumb|400px|left| Sol Suffit introduces the SolarCooker Eco3 in Senegal in 2011.]]
Contact
Tel: (+32) 056 362 804
GSM: (+32) 0487 644 585