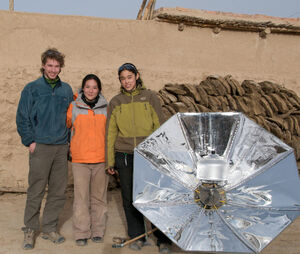 The SolSource 3-in-1 is a combination solar cooker, heater, and electricity generator under development by One Earth Designs (OED), a social enterprise based in Boston, USA, and Xining, Beijing, and Hong Kong, China.
The device enables rural communities to harness the sun's energy for portable solar cooking and supports the use of heating and electricity generation modules as well. High-temperature parabolic solar cookers are currently available and used in Himalayan communities, however, they are often made out of mirror-lined concrete shells that are extremely heavy, fragile, and do not stand up to the harsh weather and climate of western China. Many nomadic villagers shared with OED a desire for parabolic solar cookers that are portable enough to be taken into the fields while working or tending livestock, but sturdy enough to withstand the harsh winds of the Tibetan Plateau. Along with student teams from Wellesley College, Harvard, MIT, and Qinghai Normal University, OED worked with rural communities in the Himalayan region to design the SolSource 3-in-1 according to local needs and with local materials when feasible.
The reflective component of the SolSource 3-in-1 is a lightweight, collapsible parabolic shell comprised of metallized plastic panels. This shell is supported by a detachable tripod which can be staked to the ground to prevent the cooker from blowing over. Cooking, heating, and electricity generation is possible by placing different modules on the potstand (and therefore at the reflector's focal point). It can be dismantled as quickly as a hiking tent and transported from home to field for the mid-day meal.
The first module, based on standard pots, cooks food and pasteurizes water. The cooker's high focal temperature enables traditional cooking that relies primarily on stir-frying and boiling water for tea and tsampa. A second module, still in development, will generate up to 20 watts of thermo-electricity. A third module, also in development, collects and stores heat for later use in the home.
As biomass fuels are phased out, sanitation from excess animal excrement is a potential health concern. Methane recapture for electricity generation would be an ideal solution, however, low temperatures in high altitude regions currently prevent its widespread use. Biomass gasification is another option but has not previously been explored in Qinghai. Although clean biomass energy is not feasible at this stage in the project, our household solar heating system is built for easy modification in order to maintain optimum temperatures in a household digester and we hope to address this aspect in future project phases.
Recent news and developments
February 2011: A photo of a recent version of the SolSource 3-in-1 parabolic cooker.
February 2011: A team led by inventor Scot Frank has landed a spot in an entrepreneurial boot camp hosted by a group called the Unreasonable Institute. With the help of sixty world-class investors and entrepreneurs at this summer's institute in Boulder, Colo., Frank hopes to bring the Sol-Source 3-in-1 stove to a mass market. Worldwide, pollution from combustion stoves used indoors sickens and kills more than 1 million every year. Many victims are children. More Information...
September, 2010: The SolSource solar oven wins 500K EU in the Green Challenge. Once again the SolSource 3-in-1 has impressed the jury, and won the Dutch, Postcode Lottery Green Challenge. The Postcode Lottery Green Challenge award is a startup competition run by the Dutch Postcode Lottery with 500,000 EU ($666,200 US) up for grabs for the winner and 200,000 EU ($260,500 US) for the runner-up. All entries must have the potential to reduce greenhouse-gas emissions in a measurable fashion. From an impressive field of young entrepreneurs, the jury chose 25-year old Scot Frank of One Earth Designs as the winner for his company's SolSource solar oven. The SolSource 3-in-1 combination is a solar cooker, heater, and electricity generator. It was inspired by the time Frabj spent in the Himalayas (the product has been tested there for 3 years), where women spend many hours a day collecting dung and wood fuels for cooking and heating. This process leads to deforestation, and many tribes in the Himalayas are rapidly running out of their traditional fuel sources. Families also breathe toxic indoor air pollution from the fire. Indoor air pollution is one of the world's biggest killers of children under five, claiming 1.6 million lives per year. More Information...
See also
External links
Contact
Contact One Earth Designs: http://www.oneearthdesigns.com/contact