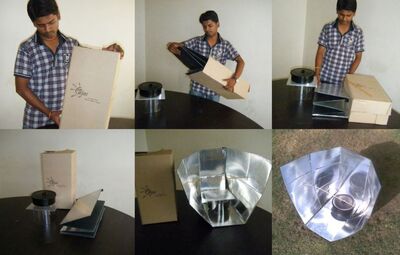 Simplified Technology for Life is a business located in Jalna, Maharashtra, India whose primary focus is to promote solar cooking technology, and provide appropriate solar cooking products, within India. Vivek Kabra Is the founder of the business and has been solar cooking himself since 1990, and teaching solar cooking since 2009, having taught over 2,550 people to solar cook. In 2010 they began to manufacture solar cookers. They use the Tejas solar panel cooker and the SK14 parabolic solar cooker in their workshops. In 2012 Simplified Technology for Life organized the world's largest cooking class ever offered at one time for middle school students. This projects reflects the Indian governmental policy to introduce this technology to students at a young age. See the story about the class below.
Recent news and developments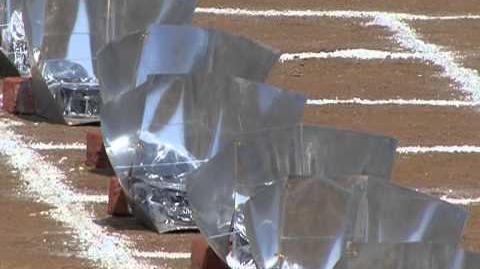 January 2013: World's largest solar cooking class takes place in India - On January 19, 2013, middle school students gathered on the grounds of JES College in Jalna, India to be trained in the use of a simple solar panel cooker. After a quick breakfast, and guidance from 205 trainers, a record-breaking 2,044 students each assembled his or her own solar cooker and placed prepared ingredients inside to cook. After speaker presentations, the students were able to enjoy the lunch they had cooked themselves. This event, sponsored by Simplified Technology for Life, demonstrates that India is quite serious about introducing solar cooking to young students.
See also
External links
Contact
Simplified Technology for Life
293, Ram Krishna, Sambhaji Nagar
Jalna, Maharashtra 431203
India
Tel: +91 99606 86393
Email: simplifiedtfl@gmail.com
Web: http://www.facebook.com/SolarChef