Last edited:
31 October 2018
| | |
| --- | --- |
| | Solar Cooking in Sierra Leone West Africa |
Events
International conferences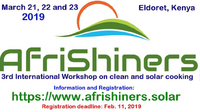 NEW: 

21-23 March 2019: AfriShiners - The AfriShiners 3rd International Workshop is taking place in Eldoret, Kenya. (Unfortunately, registration is full for this event). More information...
See also: Global Calendar of Events and past events in Sierra Leone
News
May 2016: Solar Cookers International is seeking community solar cooking trainers and local manufacturing partners in Sierra Leone (near Newton and Freetown) to explore a potential project. If interested, contact info@solarcookers.org with information about your experience and qualifications.
History
Archived articles
Climate and culture
In Sierra Leone low grades of energy dominate the energy scene; about 87% of the total energy used in Sierra Leone is traditional fuels, that is, firewood and charcoal. In terms of cooking, wood is the predominant household energy source and it accounts for about 92% of the domestic energy use while charcoal accounts for 4.8%. Electricity and gas between them account for only 0.4% of household energy consumption. The petroleum product used in households is predominantly kerosene, which contributes about 2.7%. [1]
See also
Resources
Possible funders
Reports
Articles in the media
Audio and video
Web pages
Contacts
SCI Associates
NGOs
Government agencies
Manufacturers and vendors
Individuals
Government agencies
Educational institutions
See also
References