Seline's story
Talk

0
1,979pages on
this wiki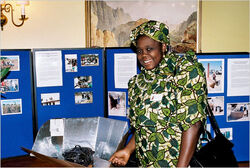 Solar cooking in Kenya is helping people improve their nutrition. Some inexpensive, but nutritious foods, require hours of cooking. One of the many advantages of solar cooking is that these may be cooked without the purchase or gathering of fuelwood.
Prior to the advent of the Solar Cookers International (SCI) Sunny Solutions project in Nyakach, Kenya, Seline engaged in small trade, which earned her very little income. With four children to feed, she found it very difficult to make ends meet. As a result, her family mostly ate ugali, or maize meal, and vegetables except on the few occasions when they could afford fish. Her children were chronically malnourished; her third-born child, Ras, was nicknamed "a quarter" because her husband said one could carry the child in one palm and not feel any weight.
Seline started solar cooking in March 2003 when the project began. She was one of the most active cooks from the Mbogo Women Group and was trained to teach others to solar cook. Life has changed for Seline and her family. She is now a solar cooker representative (SCOREP) in North Nyakach. Her husband says: "I now eat delicious meals. Look at Ras.... He looks very healthy." Seline says all her children are healthy. The children love solar-cooked foods -- they ask for it every day, she says.
Seline solar cooks on most sunny days. Solar cooking involves the use of a small, portable device that collects energy from the sun to generate heat. Fuelwood is used only at night and on cloudy days. Therefore, she now collects or buys fuelwood only once every three days instead of daily. She estimates she saves about $6.60 a month in fuelwood costs. With her fuel-wood savings and earnings from cooker demonstrations she was able to purchase a goat in early 2004. That goat so far has given birth to four kids.
Seline's cooking and training skills are regarded highly. Young mothers who initially shunned solar cooking have changed their minds and are now buying CooKits, lightweight solar panel cookers. Neighbors say Seline's family now has a higher standard of living. The family's food is better and family members have nice clothing.
Seline's husband is very proud of her and takes part in looking for customers and putting on demonstrations. He uses the CooKit to train others when Seline is busy. Customers come to them to ask how the cooker works.
As the result of public exposure in Solar Cookers International newsletters and through attendance at SCI events, Seline now has a lot of confidence. The previously shy woman has gained respect and fame in the village and is now an outgoing and fearless trainer.
Source article: Solar Cooking Solution Changing Lives in Kenya (public domain, U.S. Government source, originally Julius Ochieng's article published by Solar Cookers International).