Practice editing on this page...
Available sunshine in the Sahel region of Africa documented - Authors, Beth Newton, Sophie Cowie, Derk Rijks, Jamie Banks, Helen Brindley, and John h. Marsham have published a well-documented analysis of the potential sunshine available for solar cooking in the Sahel region, particularly in northern Chad where a number of Sudanese refugee camps are located. TchadSolaire has been training both refugees and the indigenous population to solar cook in the region since 2005. Even along river population centers where clouds tend to form, solar cooking is possible for over 330 days a year. Read more: Solar Cooking in the Sahel - NOWCAST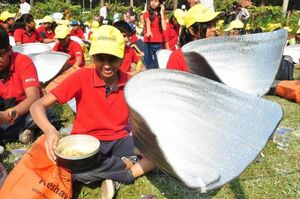 15,000 students in Mumbai solar cook and set world-record - In an event organized by Keshav Srushti, 15,000 students from 80 schools in Mumbai, India set a new world record for the largest-ever solar cooking gathering. Each student was given a solar cooker and taught how to assemble and use it as part of a national campaign to spread awareness of the importance of solar technology. C Vidyasagar Rao, governor of Maharashtra and Ashish Shelar, minister of state, Power, Coal & New Renewable Energy, attended the record-setting gathering. Read more at: Over 15,000 students create a new world-record in solar cooking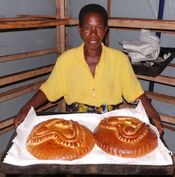 Category tree
Edit
GoogleLinkAuto
Edit
Using references
Edit
Coffee is great.[1]
References
Edit
Deutsch, Ελληνικά, English, Español, Esperanto, Français, Indonesian, Italiano, Kiswahili, Kreyòl ayisyen, Magyar, Melayu, Polski, Português, Русский, Română, Tagalog, Tiếng Việt, Türkçe, தமிழ், Հայերեն, 中文, اردو, 한국어, 日本語, العربية, فارسی, עִברִית, हिन्दी, ไทย, বাংলা, తెలుగు, ગુજરાતી, ລາວ
[{{{1}}} {{{1}}}] (English version)