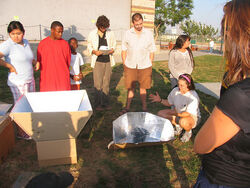 The
San Diego Solar Cooking Club
was formed in summer 2007 as a way to spread the word about solar cooking in the San Diego area. We meet for cooking demonstrations, oven making workshops, potlucks, and tabling events. Our goal is to share information and to have fun. We recently participated in a cooking demonstration for the national conference of the Solar Energy Society, "Solar 2008", and tabled at the Balboa Park Earth Fair for Earth Day.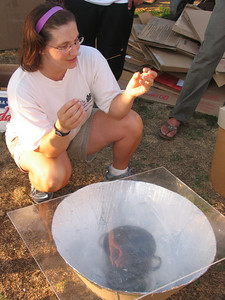 Members of our club use various types of homemade or commercially available solar cookers including: SCI's panel cooker design, basic box oven, Heaven's Flame box cooker, Sun Oven, Parvati Solar Cooker (personal favorite), Clear Dome Solar's Octagon Parabolic Cooker, large parabolic cooker made with mirrors in an old satellite dish, a member's design for a collapsible, adjustable box cooker made from corruplast, and several others. Our events can be accessed through our website, or
http://Meetup.com/532
, or our email list. We welcome new members with or without experience.
News and recent developments
Saturday, March 5, 2011: (Santee) The San Diego Solar Cooking Club will present a solar cooking demonstration from 9 a.m. - noon, at the Town Center Community Park East, 550 Park Center Drive. More Information...
Saturday, November 13, 2010: (Escondido) The San Diego Solar Cooking Club will be presenting a solar cooking demonstration from 10 a.m. to 3 p.m. at Grape Day park located at 321 N. Broadway. If you have a solar cooker, please bring it. If not, bring a dish to share. If you are solar cooking you may begin setup at 8 a.m. We will be pot-lucking and tasting our creations at 1 p.m. Please RSVP if coming.
Saturday, October 9, 2010: (La Mesa) All Season Solar Cooker (ASSC) demonstration and construction workshop, 10 a.m.- 2 p.m. at Harry Griffin Park , 9550 Milden St. All solar cooks and cookers welcome, but you need to set up earlier. If you would like to build a cooker, you must let us know when you RSVP. The donation to cover the materials for a cut and folded, ready to cover cooker will be $30. ASSC plans will be available at no charge. More Information...
Articles in the media
See also
External links
Contact