Deutsch, Español, Ελληνικά, Français, Hausa, Igbo, Indonesian, Italiano, Kiswahili, Kreyòl, Malagasy, Melayu, Português, Русский, Soomaaliga, Tagalog, Việt, Türkçe, Yorùbá, தமிழ், नेपाली, 中文, اردو, 한국어, 日本語, العربية, فارسی, עִברִית, हिन्दी, ไทย, বাংলা, తెలుగు, ગુજરાતી, ລາວ, ਪੰਜਾਬੀ, සිංහල, پښتو
Last updated:

10 July 2018

      

Solar Cookers International (SCI) leads global efforts to promote solar cooking. Solar cookers have no-emissions and use free solar energy accessible worldwide for cooking and water pasteurization. By spreading solar cooking knowledge and awareness through its international network, SCI helps achieve the 17 United Nations Sustainable Development Goals.
Tens of thousands of individuals and organization from all over the world have learned about solar cooking through SCI's advocacy, leadership, education resources, and information exchange network. SCI is a 501(c)(3) nonprofit, non-governmental organization supporting the work of hundreds of partner organizations and individuals in 135 countries.
SCI has consultative status with the United Nations Economic and Social Council (ECOSOC).
SCI sponsors the Solar Cookers International Network wiki (this site), an internationally recognized resource for solar cooking information.
SCI publishes the bi-weekly digital SCI Digest announcing solar cooking developments and key events throughout the world.
SCI won an Ashden Award in 2002 for their work with solar cookers in Kenya. In August 2006, SCI was the winner of the World Renewable Energy Award[1].
SCI's Worldwide Office is located in Sacramento, California, USA (Map).
In addition to its advocacy, leadership, research, and networking activities, SCI provides grant funding to pilot projects that focus on innovative processes that scale up solar cooking technologies in the regions of the world where the human and environmental needs are greatest.
Solar Cookers International is spearheading the solar cooker performance evaluation process. Evaluation of the performance, user experience, and quality of solar cookers was identified as a high priority by the attendees of the 5th SCI World Conference in Sacramento, California, USA, 2014. The process and instrumentation will be presented and demonstrated at the 6th SCI World Conference in Gujarat, India, January 2017.
If you would like to promote SCI's global work to introduce solar cooking technology to families around the world to improve health, quality of life, and the environment, please make a donation online or to the postal address below. The majority of SCI's funding comes from individual donors and foundations supporting social impact and environmental sustainability.
See SCI's website for detailed information.
Events
Jobs and internships
Most significant solar cooking projects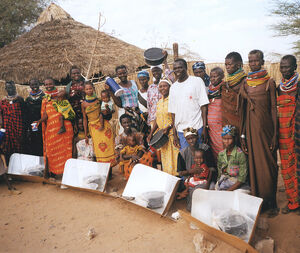 A refugee camp in Kenya was the first to receive a large scale solar cooking project - The Kakuma Refugee Camp was formed in 1972 when Sudanese refugees first arrived in Kakuma, Kenya. Introducing solar cooking to the camp was Solar Cookers International's first large-scale refugee project, beginning in January 1995. Kakuma had considerable refugee turnover, but by 2004, when Solar Cookers International (SCI) concluded the project, the camp had tripled in size to nearly 90,000 refugees. Though rapid growth posed problems for assisting all those who wanted to solar cook, SCI ultimately served over 15,000 families. This project was one of the earliest to use the CooKit solar panel cooker to introduce solar cooking. The program also extended solar cooker technology to schools, especially primary school, through demonstrations, poems, songs and drama.
News
NEW: 

July 2018: SCI Science Director visits Haiti - Dr. Alan Bigelow worked in Haiti with SCI Associate Rose Bazile to share solar cooking technology and the Performance Evaluation Process. They discussed water pasteurization, types of solar cookers, and integration with biogas with University Notre Dame Hinche students, professors, and graduates during their Science Day presentation. They also worked with the local group Haitian Adolescent Girls Network (HAGN) to educate young girls about the benefits of using solar cooking for entrepreneurial opportunities.
May 2018: Solar Cookers International is now offering a service to measure the standardized cooking power of solar cookers (in Watts) at testing centers in Nepal, California, and New York, USA. SCI's performance evaluation process (PEP) uses a test station that automates the ASAE S580.1 protocol for testing and reporting solar cooker performance. The ASAE S580.1 protocol harmonizes with ISO/TC 285 standardization in the field of clean cookstoves and clean cooking solutions. Test results provide a single measure of thermal performance, so customers may compare different designs when selecting a solar cooker. The standardized-cooking-power specification for solar cookers is akin to the miles-per-gallon (or kilometers-per-liter) specification for automobiles, which helps guide consumer choice. With this testing service now available, SCI is keen to promote and partner with projects using solar cookers that have been tested according to SCI's PEP. SCI has posted some of the preliminary PEP result reports from its 2017 pilot study on the SCI PEP web page. SCI will post official PEP results as they emerge during the 2018 testing season. SCI welcomes manufacturers to have their solar cookers tested, even during the design and prototype stages of development to reduce the number of costly redesigns. Please contact SCI at info@solarcookers.org to arrange to have your solar cooker tested. To hear more about SCI's testing program, listen to an interview with SCI Science Director and Representative at the United Nations Alan Bigelow, Ph.D. See also Testing.
April 2018: Update on SCI project in Tanzania - Thanks to Solar Cookers International (SCI) supporters, 60 more women received solar box cookers, retained-heat baskets, and Water Pasteurization Indicators (WAPIs) in March. The solar box cookers were made locally by artisans in Tanzania, which supports the local economy. And local repairs and maintenance are available. The women received two days of training and cooked ugali, rice, meat, makande (maize mixed with beans), and vegetables. These are the foods this community eats. Locally made solar cookers that cook local foods; these solar box cookers are a good match for families in this corner of Tanzania. The trainers were women who were part of an earlier 2010 project and Phase 1 of the solar cooker project in 2016. Tapping the expertise of local cooks and trainers is an important part of making solar cooking a reality. This project is Phase 2 of the original SCI project that empowered 30 Tanzanian women with solar cookers in 2016. Results to date: As with Phase 1, the women in the community will use the Solar Cooking Adoption and Impact Survey, developed by SCI, to track the value that solar cooking is having on their lives. In Phase 1, the women were collectively able to save 556 kg (1223.2 lbs) of charcoal (28% savings), 1,955 bundles of wood (24% savings), and 25% of their fuel costs, in only 10 months.
April 2018: Solar cooking in Puerto Rico after Hurricane Maria - In February and March, MSA Renewtech Foundation (India) and the United Clergy Task Force (UCTF) (US) responded to requests from ten faith-based communities in rural Puerto Rico for community-sized solar cookers. With private funding, coordination by UCTF, training by Mr. Pranav Gadhia of MSA Renewtech, and bilingual technical instructions, curriculum, and survey tools from Solar Cookers International (SCI), ten faith congregations of more than 100 people each are being trained in the assembly and use of the PRINCE-40 parabolic dish solar cooker in rural Puerto Rico. In late April, Ms. Anne Patterson, an SCI Global Advisor, will deploy 25+ Solavore solar ovens from Punta Santiago to the Toro Negro rain forest and Morovis. Most of these places are still largely without power and families spend a lot of money on fuel for generators. Monitoring and evaluation are incorporated into this project to track results. The evaluation tools used in these projects can be downloaded from http://www.solarcookers.org. Also available in Spanish from SCI.
March 2018: Alan Bigelow, Julie Greene, Caitlyn Hughes, and Justin Tabatchnick reported on global solar cooking gains, including developments with the Performance Evaluation Process (PEP), data sharing, and global solar cooker distribution figures at CONSOLFOOD 2018, (View the presentation)
February 2018: Performance Evaluation Process featured in Public Private Alliance Foundation newsletter - Solar Cookers International's Performance Evaluation Process (PEP) was featured in the February 9th, 2018 issue of the Public Private Alliance Foundation (PPAF) newsletter. PPAF states that "the PEP provides public accountability among manufacturers and provides users (individuals, government agencies, etc.) with information they need to select appropriate solar cooking devices. The units are low cost and portable, with open source components. Testing stations have been set up so far in New York, California and Nepal." Read more...
December 2017: Solar Cookers International is a FINALIST in the MIT Climate CoLab "Energy Supply" contest - The MIT Climate CoLab is an online crowdsourcing platform of over 90,000 members from around the world, sourcing innovative proposals on how to address climate change. Topic areas range from climate adaptation, reducing emissions from buildings and transport, behavioral change strategies, and many more. After reviewing nearly 300 proposals over 2 evaluation rounds, judges chose SCI as 1 of 5 finalists in the 2017 Energy Supply contest, selected for providing an "exciting new approach to tackling climate change — from reducing emissions to shifting public perception to pricing carbon." From now until January 15, 2018, you can support SCI by casting your "Popular Choice" vote on the MIT Climate CoLab website. The proposal with the most votes will be named as the Popular Choice Winner, and, along with the contests' Judges Choice Winners, will be eligible for a $10,000 Grand Prize. And here is the link to SCI's proposal: https://www.climatecolab.org/contests/2017/energy-supply/c/proposal/1334030
September 2017: Webinar: Solar Cooking Sector Updates Refugee Working Group Call - SCI sponsored the refugee working group phone conversation on 21 September as part of the Sector Updates webinar. Godfrey Mawira submitted a summary of current projects in Kenya from the Eco-mandate Group. Eco-mandate efforts in Kenya - Godfrey Mawira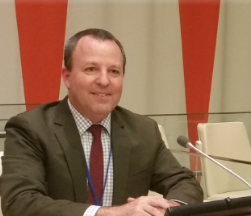 September 2017: Dr. Alan Bigelow addresses the UN - Alan reached a large audience on 25 August in New York with his message to learn, support, and partner with the solar cooking sector. We need to take advantage of this zero-emission technology, and scale the solar cooking sector together. Read more...
August 2017: Solar Cookers International has published its Annual Report for Fiscal Year 2017. Highlights include the 6th SCI World Conference, stories of empowerment, and key statistics which illustrate the positive impact of solar cooking. SCI Annual Report FY2017
July 2017: Update from the SCI UN Team - "Too slow," I thought, "as I listened to sustainable development presentations on the SDGs at the UN #HLPF2017 this week. Presenters talked about indicators, ecosystems, and metrics — all important to track progress on the global sustainable development goals. But for the sake of our health and our planet, we need to act effectively. Fast. When we follow sustainable practices, we thrive. So many people want to improve the way we use our global resources. These are exciting changes; they improve our health, our happiness, and our environment. We have the creativity, knowledge, and drive to make these transitions. Solar cooking is of course my favorite step to include sustainable energy actions into our daily lives. Not only is solar cooking my personal favorite sustainable activity, solar cooking helps achieve all 17 SDGs. Compared to other technology sectors, our solar cooking sector is small. Our compact size means that we are nimble and highly connected to each other. We can dream big, test small, and iterate, iterate, iterate. When we share our results, failures, and successes, we speed up the absorption of solar cooking into our many cultures. The SCI Digest is designed to help you, our solar cooking partners and stakeholders, share your knowledge, connect to partners, and commit to action. Learn more ways you can help accelerate the global solar cooking movement in this and every edition of the SCI Digest. – Julie Greene, Executive Director and SCI Digest Editor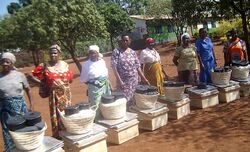 July 2017: Solar Cookers International is partnering with local organization Macedonia Ministry to provide 90 women with solar box cookers and training. Macedonia Ministry was recommended by project expert Jack Anderson who has worked with Macedonia Ministry on solar cooking projects previously. The women will meet once a month to discuss solar cooking and track their fuel savings using the recently created Solar Cooking Adoption and Impact Survey. The women also received heat retaining baskets. Rose Shangarai, one of the leaders in Rau village where the project is taking place, learned about solar cooking from Solar Cookers International's Order of Excellence Recipient Darwin Curtis. The first phase involved 30 women and the second phase is planned to involve 60 women. Sperancea Gabone, the Macedonia Ministry leader of this project, will exchange ideas on developing a solar cooker business with another solar cooking partner in Uganda. Sperancea Gabone and Caitlyn Hughes (SCI Program Manager) presented results from this project at the 6th Solar Cookers International World Conference 2017 in India.
July 2017: The United Nations is where the world gathers. SCI's advocacy team will work to include clean solar cooking solutions in the SDG Voluntary National Review (VNR) documents at the High Level Political Forum 10 – 19 July 2017 at United Nations, New York, USA. More than 40 nations are reviewing these documents that show progress toward achieving the 17 Sustainable Development Goals. Adopted in 2015, the global community is eager to begin seeing and measuring progress toward these 17 global development goals. Twelve percent of global air pollution is caused by cooking fires. This is the moment to provide the evidence to many nation leaders that solar cooking can help reduce global air pollution. SCI's advocacy plan includes seizing input opportunities to the VNRs, inputs through Major Groups, social media, media, networking and presenting at Side Events. SCI's advocacy team for this 11-day event will include SCI Global Advisor Dr. Mrs. Janak Palta McGilligan, SCI Science Director Dr. Alan Bigelow, SCI Executive Director Julie Greene, SCI board members Wyldon Fishman and Mike Paparian, and volunteer UN reps Ernestina Williams, Liliya Pinkasov, Jannis Jakob Buerger, Prabhat Supekar, Choudhury Ahmed, and P. A. Gallett. If you will be in New York 10 – 19 July 2017 and would like to be part of the advocacy team, contact info@solarcookers.org.
June 2017: Dr. Janak McGilligan, SCI Global Advisor, was joined by chief guest Dr. Vandana Shiva, a plenary speaker at the 6th SCI World Conference 2017, at the World Environment Day celebration. Five parabolic solar cookers were distributed to five landless women who have currently been cooking over open fires. The women contributed 10% of the purchase price for the PRINCE cookers. The remainder was subsidized by Solar Cookers International donors.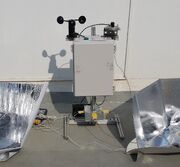 June 2017: Solar Cookers International (SCI) launches pilot solar cooker testing centers in California and New York - The purpose of this pilot project is to check the repeatability, reliability and reproducibility of results from SCI Performance Evaluation Process (PEP) testing stations for solar cookers, irrespective of location. SCI's pilot testing centers are located at different latitudes and at different elevations. The two locations also experience different weather conditions. The solar cookers, the cookware and the testing instrumentation, however, are the same at both locations. This pilot project is testing sets of three types of solar cookers: reflective-panel cookers, box ovens and parabolic reflectors. The PEP results provide cooking power measured in Watts, which is only one of many ways to evaluate solar cooker performance. In June, weather conditions at SCI's pilot testing centers are well suited for testing solar cookers according to the ASABE S580.1 protocol for Testing and Reporting Solar Cooker Performance. This protocol requires that outdoor ambient temperature must be between 20 - 35 °C (68 - 95 °F). This temperature range is generally available at both SCI pilot testing centers between the vernal (spring) equinox and the autumnal (fall) equinox. Testing days within the required temperature range should also be clear days with consistent solar energy. SCI welcomes others to join this pilot solar cooker testing project to validate the reproducibility of the SCI PEP testing stations. By using the same instrumentation, results have a consistent format for data comparison. Potential project partners can access the assembly manual for the SCI PEP testing station, available as open-source content online at SCI's PEP web page. To join SCI's pilot solar cookers testing project, email info@solarcookers.org
May 2017: Contribute your data: Drive solar cooking results - Solar cooking contributes to long-term progress from cleaner, more efficient, sustainable cooking solutions worldwide. It is crucial to convey the positive health, economic, and environmental impacts of solar cooking to government agencies and other stakeholders. To help build this case, SCI is reaching out to all solar cooking partners. SCI invites your input in the form of data on baseline information, number and type of solar cookers, number of years of the project, location, outcomes, etc. With your help, we can work to include solar-thermal cooking in national energy and sustainability plans. You provide:
Number of solar cookers
Type
Location
Time period
Distributed
Sold
Manufactured
Submit your solar cooking data by filling out the simple form on the Solar Cookers International website or email info@solarcookers.org. Please submit to SCI by 1 June 2017.
May 2017: Haiti: Response to call for data - SCI thanks all who have replied to the call for data needed for advocacy for solar cooking in Haiti. Nine responses were received from the USA, Nepal, Canada and Chile. Combined with SCI's research thus far, the total number of solar cookers deployed in Haiti is 9,283. SCI will submit its feedback to the Global Alliance for Clean Cookstoves by 15 May 2017. At stake is whether solar cooking will be part of the Action Plan for the Transformation of the Cookstoves and Fuels Market in Haiti. If you and/or your organization has been involved with solar cooking projects in Haiti, SCI would like to hear from you. SCI welcomes your data on baseline information, number and type of solar cookers, number of years of the project, location, outcomes, etc. Please submit your Haiti data to SCI by 10 May 2017 at info@solarcookers.org. 
April 2017: United Nations update - Cooking is now one of four main topics in the Sustainable Energy for All (SEforALL) Global Tracking Framework (GTF) — a shift to high-level visibility for cooking. GTF launched last week at a three-day SEforALL meeting in Brooklyn, New York, USA and was attended by SCI's science director, Dr. Alan Bigelow. Online version of GTF is available at http://gtf.esmap.org/
April 2017: SCI closes its online store - When SCI opened its doors in 1987, there were few places one could buy a solar cooker. In 2017, with growing demand for solar cookers and growth in solar cooker manufacturing worldwide, there are more ways for people to buy solar cookers than ever before. Therefore, SCI will close its online store in the autumn of 2017 to focus on crucial programs that will promote the global solar cooking industry. SCI will continue to build support and work with manufacturers and vendors as partners together to achieve SCI's mission: to solve inadequate household energy facing nearly three billion people on our planet.
Focus
SCI promotes solar cooking and solar water pasteurization worldwide, especially in developing countries where their use can literally save lives. According to its website, SCI's mission is to assist "communities to use the power of the sun to cook food and pasteurize water for the benefit of people and environments" by focusing in the following areas:
Influencing others in support of solar cooking and water pasteurization/testing.
Developing programs, in partnership with others for the purpose of promoting solar cooking, and water pasteurization and testing. In addition, in parts of Kenya, the focus is to achieve independent spread of solar cooking and water pasteurization/testing.
Facilitating broader access to solar cooking and water pasteurization/testing knowledge, including marketing educational materials and solar products.
Partnering with other relief agencies to assist refugees and disaster relief with solar cooking and water pasteurization/testing training and support.
SCI is paving the way for mass solar cooker acceptance and use through promotion of such products as the CooKit solar cooker and the WAPI water pasteurization indicator; field projects in communities and refugee camps; development and dissemination of education resources; and advocacy with the United Nations and other governmental and non-governmental institutions.
Why solar cookers?
Depending on need and climate, there are many types, sizes and designs of appropriate solar cookers; however,
SCI's
simple and effective
CooKit
is a low-cost cooker that is especially well suited for the developing world since it is made of cardboard and foil, which are readily available materials in most communities.
Solar cooking is beneficial to anyone who lives where there is an abundance of sunshine, and especially where traditional cooking fuels are progressively being depleted. Women in developing countries often walk many miles to collect wood to cook with, or must purchase cooking fuel with meager incomes and/or trade food or goods for cooking fuels. In addition to this physical and monetary stress, women and children who habitually cook inside are subject to severe upper respiratory problems caused by
household air pollution
from smoky fires. Perhaps most disturbing is the fact that women and girls living in refugee camps risk injury, rape and even death when forced to forage for wood outside the compound.
In many cases, fuelwood is too scarce to use to boil water as well as cook with, so people drink water from contaminated water sources, causing millions to get sick and/or die every year from preventable waterborne diseases. An estimated 1.5 billion cases of diarrhea occur each year, resulting in the death of nearly 2 million children. Solar cookers provide a practical method of heating water to the point of pasteurization, requiring only time and the sun to kill the most common waterborne pathogens and making water safe to drink.
When there's no sun
SCI promotes the Integrated Cooking Method, whereby solar cookers are used in conjunction with fuel-efficient stoves and heat retention devices (sometimes called hay baskets) to cook food and pasteurize water with a minimum of fuel. By using the sun when possible, and supplementing with fuel-efficient cooking technologies, fuelwood consumption and subsequent deforestation around the world can be drastically reduced.
Water testing
In addition to the fundamentals of solar cooking and water pasteurization that SCI has promoted for years, SCI has developed a revolutionary method of simple scientific water testing that requires no electricity or refrigeration. Most rural areas are unable to adequately test their water because the process of gathering samples and transporting them to a certified laboratory in an urban area is simply too expensive. SCI's Portable Microbiology Laboratory (PML) contains laboratory materials small enough to fit in a Ziploc bag, and has already been adopted by the Kenyan Ministry of Health and Water Resources Management Authority. We are working closely with these government institutions to bring accurate and reliable water testing to rural areas that previously had no practical resources available with which to test their water sources.
Solar Cookers International: Mission
SCI focuses on four core areas to promote solar cooking globally: projects, partnerships, advocacy, and education.
Projects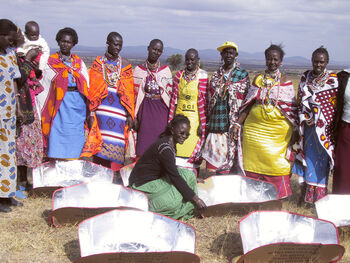 SCI began the first and largest refugee camp solar cooking project in Kakuma refugee camp, Kenya. Sunny Solutions began in 2003 to introduce and create a market for solar cookers in the Nyakach district, Nyanza province, Kenya. Partnering with Nyakach Community Development Association (NYACODA), SCI demonstrated solar cooking introducing the CooKit solar cooker and the WAPI water pasteurization indicator. During the 5-year program, 80% of the population (113,000 people) were introduced to solar cooking, with 2,593 households purchasing one or more CooKits. SCI was one of several non-governmental organizations introducing solar cooking to the refugees in the Iridimi and Touloum refugee camps in Darfur, a region in Sudan in 2006. The primary goal was to reduce the necessity of women and children leaving the camps to collect firewood.
Partnerships
SCI has developed an extensive worldwide network of solar cooking partners and helps create connections for collaborative projects and mentoring. In addition to facilitating working partnerships, SCI partners with community-based organizations in different countries to provide solar cookers and water pasteurization tools to people who live where fuel is scarce and sunshine is plentiful — and free. SCI does not accept unsolicited grant proposals.
Advocacy
SCI builds awareness for solar cooking and solar water pasteurization among policy makers, including closer collaboration with United Nations agencies. SCI was instrumental in the formation of the Solar Cookers International Association, which was an association of non-governmental organizations, government agencies, and individuals promoting solar cooking, water pasteurization, and solar food processing. Promoters in many regions find regionally-specific information and guidance on the Solar Cooking Wiki (this site). SCI also hosts regional and international solar cooking conferences.
Education
SCI's focus on education is evident in the solar cooking and related information available on the [[Solar Cookers International Network (Home)|Solar Cooker Wiki, which SCI sponsors. The Wiki includes over 1700 articles covering countries, manufacturers and vendors, solar cooker designs, and how to solar cooking efficiently and effectively. The Wiki also includes information on related technologies such as heat-retention cooking; water pasteurizing, solar food processing, solar food drying, solar autoclaving, and solar canning. Classroom resources for teachers are available, free, for teachers around the world.
Also available via the Internet are several key booklets published by SCI to help solar cooking promoters succeed. Our plans booklet, Solar Cookers: How to Make, Use and Enjoy, provides step-by-step construction plans for panel-type and box-type solar cookers. Our field guide, Spreading Solar Cooking, helps promoters plan solar cooking projects. Our trainer's manual, Teaching Solar Cooking helps solar cooking instructors stay on task and monitor their students' progress. All three booklets are available for download on the Solar Cookers International Network site, or for sale — along with solar cookers, cookbooks and related supplies on SCI's web site. Booklets are mailed free of charge to select individuals and groups in developing countries where Internet access is difficult.
SCI digitally produces and distributes the SCI Digest which provides important updates and opportunities for the global solar cooking community.
SCI also provides personal responses to over 100 inquires each month. Over the years, SCI has helped thousands of people answer important questions, find local experts, and access critical resources needed to successfully achieve their solar cooking goals.
If you are interested in starting a solar cooking and/or water pasteurization project, please see promoting solar cooking. You can also connect with people and programs in your own country by visiting our pages about solar cooking in each country. Basic information on solar cooking, frequently-asked questions and instructions on how to build various solar cooker models are also available. Large sections of the Solar Cookers International Network site have been translated into French, Spanish, Catalan, and Portuguese, and translations of articles can be found in languages as varied as Farsi, Chinese, Vietnamese, German, Italian, Urdu, and Arabic.
History
Solar Cookers International (SCI), originally called Solar Box Cookers International, was founded in 1987 by 17 solar cooks residing in the sunny Central Valley of California. Among the founders were:
Bev Blum: first president and executive director of SCI from 1989-1999 and 2003-2006. She developed a mass-producible, foldable box cooker in 1992, and coordinated the development of the CooKit solar cooker. In 2009, she was the secretariat of the Solar Cookers International Network (now the Solar Cookers International Network, or SCInet).
Barbara Kerr: co-developer of the Kerr-Cole solar box cooker built from two nested cardboard boxes. She co-founded the Kerr-Cole Sustainable Living Center in Taylor, Arizona, USA. She received the "Women in Solar Energy" award from the American Solar Energy Society in July 2006.
Dr. Bob Metcalf: professor of microbiology at California State University, Sacramento and selected as the 2000–01 Outstanding Teacher in the College of Natural Sciences and Mathematics. He is well known for his work on solar water pasteurization.
SCI produced and distributed manuals describing construction and use of solar box style cookers. SCI advocated for solar cooking to be incorporated into development and relief agency programs. SCI's role evolved into networking with other solar cooking organizations worldwide, hosting forums for dialogue including co-sponsoring three international solar cooking conferences with the University of the Pacific, USA in 1992; the National University of Costa Rica in 1994; and the Deemed University, Coimbatore, India in 1997.
SCI administered a series of solar cooking field projects. Since 1995, SCI has managed or co-managed solar cooking projects in the Nyakach district, Kenya; in the Kakuma refugee camp, Kenya; in the Aisha refugee camp, Ethiopia; in various communities, Zimbabwe; and in Dadaab refugee camp, Kenya. See Programs & Projects section above for a description of the Sunny Solutions program in Nyakach, Kenya. For information about refugee camp work in Darfur, Sudan, refer to the refugee camp article.
SCI supported the development of the CooKit, a mass-producible, foldable solar cooker in the 1990s. This simple, panel-style solar cooker remains the most recognized solar cooker in the world.
Organization
SCI is a 501(c)(3) nonprofit non-governmental organization whose Worldwide Office is located in Sacramento, California, USA. 
Advisory Council
Ms. Carmen Rocío Maldonado de Chazal
Mr. Ramkaji Paudel
Mr. Sanu Kaji Shrestha
Publications
SCI Digest
The SCI Digest is a digital publication that shares innovations and opportunities to increase success and impact for the global solar cooking community. It is released via email subscription twice a month.
Sign up for the SCI Digest
Back issues
Solar Cooker Review (Archive)
Back issues
| | | | |
| --- | --- | --- | --- |
| Year | Spring | Summer | Fall / Winter |
| 2014 | PDF | PDF | PDF |
| 2013 | PDF | PDF | PDF |
| 2012 | PDF | | PDF |
| 2011 | PDF | | PDF |
| 2010 | HTML, PDF | PDF | HTML, PDF |
| 2009 | HTML, PDF | HTML, PDF | HTML, PDF |
| 2008 | HTML, PDF | HTML, PDF | HTML, PDF |
| 2007 | HTML, PDF | HTML, PDF | HTML, PDF |
| 2006  | HTML, PDF | HTML, PDF | HTML, PDF |
| 2005 | HTML, PDF | HTML, PDF | HTML, PDF |
| 2004 | N/A | HTML, PDF | HTML, PDF |
| 2003 | HTML, PDF | HTML, PDF | HTML, PDF |
| 2002 | HTML | HTML | HTML |
| 2001 | HTML | | HTML |
| 2000 | HTML | HTML | HTML |
| 1999 | HTML | HTML | HTML |
| 1998 | | | HTML, PDF |
| 1997 | PDF | | HTML, PDF |
| 1996 | PDF | PDF | PDF |
| 1995 | PDF | PDF | PDF |
Annual reports
Educational materials
Documents
Media coverage
News articles
Audio and video
Additional audio and video
Become a supporter of SCI
Donors to Solar Cookers International save lives and change lives.
We work to solve the problem of inadequate household energy facing nearly 3 billion people on our planet. Since human health, quality of life, and environments are affected by cooking fuel choices, we offer a solution to the difficult choices nearly half of all families make every day: whether to buy fuel, or to buy food and other family needs. The sun's free energy is a viable solution for all who live where the sun shines.
Early in its history, Solar Cookers International identified an urgent need for refugees and villagers in Africa to cook and pasteurize water, and SCI designed a panel solar cooker, the CooKit, to meet this need. Today, we work with partners globally to address health and energy needs in a variety of sensitive populations and environments. Solar Cookers International provides information and connects you to the partnerships you need to bring simple, effective and appropriate solar thermal cooking technology to people who are interested in changing their lives by changing their cooking tools.
There are many ways to become involved with SCI. One method is to make a donation to help bring solar cooking to the people who need this technology the most. Another way to help is to become a solar cook and help others learn about the benefits of solar cooking, too. The SCI website lists many ways you can get involved in community and international solar cooking efforts.
Donating to SCI
See also
External links
Contact
Solar Cookers International (Map)
2400 22nd Street, Ste 210
Sacramento, CA 95818-2540
USA
(Map)
Tel: +(1) 916-455-4499 or 916-455-4498
Email: info@solarcookers.org
Organizational website: http://solarcookers.org
Twitter: http://twitter.com/SolarCookersInt
Facebook: https://www.facebook.com/SolarCookers
Newsfeed: http://solarcooking.wikia.com/News
LinkedIn: https://www.linkedin.com/company/solar-cookers-international
US Tax Exemption ID: 68-0153141
References