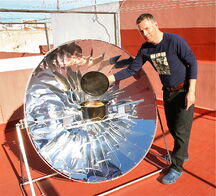 René Bijloo is the director of ACCESO, an organization promoting of solar cooking in Spain. They teach solar cooking workshops, and also write a cooking blog started by René. He began using a solar cooker in 2000, and has worked to create recipes that work well with solar cookers.
News and recent developments
February 2012: ACCESO is offering solar cookers for free ( 3-6 units per project, one cooker can cook for 10-15 persons per day), only to NGOs involved in humanitarian projects that need solar energy supply, shipping not included, and ask for feedback when the project is done, images, video, etc. The cookers are located in Bullas, Murcia, Spain. Each parabolic solar cooker K14 is packed in its carton-box (size aprox 127 x 23 x 3 cm), has to be mounted and weighs around 10kg. The value of each cooker is 230,00 euros. One pot can be included. For questions and proposals, please contact René Bijloo via e-mail renebijloo@fastmail.fm or on Twitter : https://twitter.com/#!/cocinasolarrene
Audio and video
Frying potatoes in an alSol 1.4 parabolic solar cooker.
(00:54)
External links
Contact