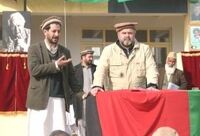 Reinhard Erös with his wife, Annette, is the founder of German Aid for Afghan Children. He has been a committed supporter of Afghanistan and its people since 1985.
Reinhard Erös visits projects several times a year to check the ongoing work and developments and personally pays the teachers, doctors, engineers, builders, carpenters and all others involved. This is the best way to ensure that the donations are put to economic and efficient use. Annette Erös and the adult sons Veit, Urs and Welf accompany Reinhard Erös regularly and support the work on location in Afghanistan. The 19-years old twins Cosima and Veda support from home. They do office work and help prepare lectures and exhibitions. The family's work for Afghanistan is entirely honorary: no salary, no expenses, no allowance.
With the assistance of dedicated Afghan staff, they are building, running and supporting peace schools, mother-child hospitals, basic health units, orphanages, workshops for the production of solar panels and many other projects in the Eastern provinces of Afghanistan and in refugee camps near the Afghan border. All projects are established with the peaceful future of the country in mind.
Recently, their efforts have included providing solar cooking equipment to regions devastated by flooding.
News and recent developments
August 2010: In the wake of recent flooding in Pakistan, German Aid for Afghan Children (GAAC) has increased it's aid efforts by providing building materials for new housing, and some simple prefabricated shelters. The houses will include solar powered lithium-ion batteries, generating electricity for the family living in the house, and also solar cooking equipment, which will ease the difficulty of cooking foods. This will help prevent further deforestation, as residents struggle to find cooking fuel. German NGO launches relief work in Pakistan - The Daily Mail
See also
External links
Contact
Dr. Reinhard Erös and Annette Erös
Im Anger 25
93098 Mintraching

Tel. +49-9406-90 56 0
Fax. +49-9406 - 90 56 1