Deutsch, Español, Français, Hausa, Igbo, Indonesian, Italiano, Kiswahili, Kreyòl, Malagasy, Melayu, Português, Русский, Soomaaliga, Tagalog, Việt, Türkçe, Yorùbá, Ελληνικά, தமிழ், नेपाली, 中文, اردو, 한국어, 日本語, العربية, فارسی, עִברִית, हिन्दी, ไทย, বাংলা, తెలుగు, ગુજરાતી, ລາວ, ਪੰਜਾਬੀ, සිංහල, پښتو
Solar cookers have been used in refugee camps in recent years, often with thousands of refugee families preparing a large part of their daily meals on solar cookers. Project evaluations have shown that fuelwood use has been reduced by up to 40%. Integrated cooking projects have been established in refugee camps Eastern Africa and Nepal. A November 2009 report from onsite visit to the Touloum Refugee Camp in Chad shows strong uptake of integrated cooking by refugee families.
The refugees in some camps are not given any
firewood
to cook their daily rations. They have to travel, sometimes overnight, as far as 30 km to collect firewood. In other camps, the refugees are not allowed to gather wood in the area surrounding the camp. In this case, the refugees may be forced to trade some of their food rations for firewood or charcoal with which to cook their remaining meager rations.
As of 2012, Jewish World Watch reports that as a result of a joint security force between Chad and Sudan, violence against women has declined some since the project began seven years ago. Cord, their partner at the Farchana Refugee Camp, sees solar cooking as a way to keep girls in school, and not spending hours finding fuelwood for cooking.
Most significant projects
The Solar Cooker Project helps to improve the lives of Darfur refugees living in Chad - More than 50,000 people in four Darfur refugee camps in Eastern Chad are using locally made solar CooKits designed by Solar Cookers International. The project is run by Tchad Solaire and by the British NGO CORD. It is funded by Jewish World Watch and the Kozon Foundation. The project has improved the safety and survival of the women in the refugee camps. Previously, they were faced with dangerous and arduous trips outside the camps to collect scarce firewood.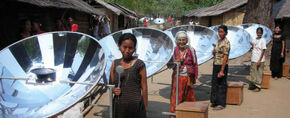 85,000 refugees from Bhutan have solar cooked their meals in Nepal - The Vajra Foundation Holland (Stichting Vajra) has worked in the Bhutanese refugee camps in Nepal since 1995 to bring solar cooking and heat-retention cooking to the refugees there. By 2013 some 85,000 refugees were cooking their meals using these methods. The on-the-ground work is done by Vajra Foundation Nepal and financing is provided by the Dutch Lottery and the Dutch NGO Stichting Vluchteling.
News and recent developments
(See individual refugee camp pages below for more extensive news.)
Best Practices Manual
Jewish World Watch has created a manual that details what has been learned that will assure a successful refugee project: Solar Cooker Project: Best Practices Manual
Recent projects in refugee camps in Chad
Information for this section was extracted from the Solar Cooker Project: Best Practices Manual.
Since 2003, when war erupted in northern Sudan, over 285,000 Darfur refugees have fled to neighboring Chad to escape the genocide in their country. They settled in twelve UN refugee camps along Chad's eastern border with Sudan. This massive influx of people has created unsustainable environmental pressures in an already arid region.
Refugee camps have now become the "largest cities" in eastern Chad, a region that has traditionally been populated with scattered villages of only a few hundred people. For almost a decade, humanitarian agencies have trucked firewood into these refugee camps for monthly distribution.
Although this imported wood is costing donor agencies millions of dollars per year and its collection is decimating forests to the south, it does not provide refugee families with sufficient cooking fuel. Initially women in the camps supplemented their monthly ration by collecting "dead wood", but when that supply was exhausted, both refugees and local Chadians began to chop down live trees for fuel. In their desperate search for firewood, they have destroyed trees that took decades to grow. Additionally, women and girls who left the safety of the camp to collect firewood were often attacked and raped. This has damaged the fragile sources of groundwater that these trees protected, and it is rapidly turning an already arid land into a barren desert.
In early 2005, Dr. Derk Rijks of KoZon, a Dutch foundation that promotes solar cooking, heard about the massive influx of Darfuris into eastern Chad. He recognized the need to reduce the environmental degradation caused by the unsustainable use of wood for cooking fuel by the tens of thousands of refugees who had flooded into that sparsely populated desert habitat. He was particularly concerned about the gender-based violence suffered by women and girls who had to leave their refugee camps to collect firewood. In partnership with a group of Chadian citizens, Rijks founded a local non-profit, TchadSolaire, meaning "Chadian Sun", and introduced the cardboard and aluminum foil solar "CooKit" into the Iridimi Refugee Camp near Chad's border with northern Sudan.
In May 2006, Jewish World Watch (JWW) adopted this project, named it the "Solar Cooker Project," and began raising funds to support its expansion. As a result of its successful efforts in Chad and elsewhere in Africa, JWW has become a global leader in the fight against genocide and mass atrocities, engaging individuals and communities throughout the United States to take action.
Following the successful introduction of solar cookers into the Iridimi camp, Tchad Solaire brought this technology to the Touloum Refugee Camp (population 24,505) in 2007 and the Oure Cassoni Refugee Camp (population 31,917) in 2008. Solar cooker manufacturing workshops were built in each camp. Refugee women recruited by TchadSolaire learned new skills and earned money for their families by assembling solar cookers, weaving heat-retention baskets, leading training sessions and conducting follow-up visits to households throughout the camps. When fuel-efficient stoves—provided by international donors or made by the refugees—were used in combination with solar cookers and heat-retention baskets, trips outside the camps for firewood were reduced by 86%.[1]
The "Solar Cooker Project" in Chad has provided a tangible way to help the tens of thousands of people from the Darfur region of Sudan who were forced to abandon their homes and their country. In partnership with the United Nations High Commission for Refugees (UNHCR), KoZon, and Solar Cookers International, JWW has taken the lead as the key funder and supporter of this project.
In early 2011, JWW expanded its partnership to include Christian Outreach for Relief and Development (CORD–a UKbased NGO working in Chad), to launch a solar cooker project in the Farchana Refugee Camp (population 21,448). The goal of JWW is to eventually establish solar cooker projects in all twelve Darfur refugee camps in Chad.
Refugee camps with current solar cooking projects
Refugee camps with past solar cooking projects
Manufactured solar cooker models suitable for transport to refugee camps
See also
Articles in the media
Audio and video
July 2011::

23:45

TAHA CHAMCHIHA Solar Cooking in the Sahel-0
March 2013:

23:45

TAHA CHAMCHIHA Cuisine Solaire au Sahel
[[Video:Les femmes réfugiées du Darfour cuisinent solaire|thumb|350px|left|VIdeo shows hundreds of CooKits in use at the Touloum Refugee Camp in Chad.]]
[[Video:Jewish_World_Watch_Solar_Cooker_Project|380px|none|The Women of Iridimi]]
External links
See also
References