Refugee camps
Talk

0
1,861pages on
this wiki
Deutsch, Ελληνικά, Español, Français, Indonesian, Italiano, Kiswahili, Kreyòl ayisyen, Magyar, Melayu, Português, Русский, Soomaaliga, Tagalog, Tiếng Việt, Türkçe, தமிழ், नेपाली, 中文, اردو, 한국어, 日本語, العربية, فارسی, עִברִית, हिन्दी, ไทย, বাংলা, తెలుగు, ગુજરાતી, ລາວ
Solar cookers have been used in refugee camps in recent years, often with thousands of refugee families preparing a large part of their daily meals on solar cookers. Project evaluations have shown that fuelwood use has been reduced by up to 40%. Solar Cookers International has partnered in the past with The KoZon Foundation at the at Iridimi refugee camp in Chad. Tchad Solaire and Jewish World Watch have had programs in the Darfur refugee camps in Chad. A November 2009 report from onsite visit to the Touloum Refugee Camp shows strong uptake of solar cooking by refugee families.
The refugees in some camps are not given any
firewood
to cook their daily rations. They have to travel, sometimes overnight, as far as 30 km to collect firewood. In other camps, the refugees are not allowed to gather wood in the area surrounding the camp. In this case, the refugees may be forced to trade some of their food rations for firewood or charcoal with which to cook their remaining meager rations.
As of 2012, Jewish World Watch reports that as a result of a joint security force between Chad and Sudan, violence against women has declined some since the project began seven years ago. Cord, their partner at the Farchana Refugee Camp, sees solar cooking as a way to keep girls in school, and not spending hours finding fuelwood for cooking.
Most significant solar cooking projects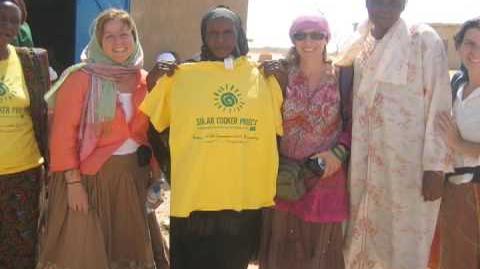 The Solar Cooker Project helps to improve the lives of Darfur refugees living in Chad - More than 50,000 people in four Darfur refugee camps in Eastern Chad are using locally made solar CooKits designed by Solar Cookers International. The project is run by Tchad Solaire and by the British NGO CORD. It is funded by Jewish World Watch and the Kozon Foundation. The project has improved the safety and survival of the women in the refugee camps. Previously, they were faced with dangerous and arduous trips outside the camps to collect scarce firewood.
News and recent developments
(See individual refugee camp pages below for more extensive news.)
Best Practices Manual
Jewish World Watch has created a manual that details what has been learned that will assure a successful refugee project: Solar Cooker Project: Best Practices Manual
Refugee camps with current solar cooking projects
Refugee camps with past solar cooking projects
Manufactured solar cooker models suitable for transport to refugee camps
See also: All solar cooking manufacturers on Alibaba.com
Articles in the media
Audio and video
March 2013:




Dans les camps Tchadiens de refugiés provenant de Darfur le NGO "tchad Solaire" a introduit le "solar cooker", sur lequel les refugiés peuvent cuisiner, evitant ainsi le deboisement et le danger d´etre ataqué en sortant du camp. Ces simples cuisines solaires sont produits par les refugiés eux memes, sur place.



VIdeo shows hundreds of CooKits in use at the Touloum Refugee Camp in Chad.
External links
See also