Deutsch, Español, Ελληνικά, Français, Hausa, Igbo, Indonesian, Italiano, Kiswahili, Kreyòl, Malagasy, Melayu, Português, Русский, Soomaaliga, Tagalog, Việt, Türkçe, Yorùbá, தமிழ், नेपाली, 中文, اردو, 한국어, 日本語, العربية, فارسی, עִברִית, हिन्दी, ไทย, বাংলা, తెలుగు, ગુજરાતી, ລາວ, ਪੰਜਾਬੀ, සිංහල, پښتو
Last updated: 17 September 2016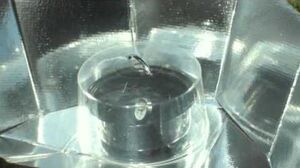 Solar cookers have been introduced into more than a dozen refugee camps, mostly in Africa, over the past two decades. The vast majority of these projects have been funded by private donations and have involved the distribution of manufactured or locally made cardboard and aluminum foil CooKits (a panel solar cooker designed by Roger Bernard and first promoted in the 1990s by Solar Cookers International). Widespread distribution and use of the CooKit has the potential to permit thousands of refugee families to solar cook two meals per day whenever the sun is shining. A November 2009 report from an onsite visit to the Touloum Refugee Camp in Chad reported significant uptake of integrated cooking by refugee families. A 2015 study in Touloum and Iridimi has revealed a significant decline in the use of solar CooKits due to their lack of durability, a lack of training and reinforcement among the users in the camp and the need for heat resistant plastic bags, which must be replaced every month. The daily use of the integrated cooking method (solar cookers when it's sunny, fuel-efficient wood stoves, and when it's not, and Heat-retention cooking to enhance the efficiency of both solar and wood stoves) has the potential to reduce overall refugee fuel consumption by more than 80%, however intensive training and follow up is needed before this practice is universally adopted. Integrated cooking projects have been established in refugee camps Eastern Africa and Nepal.
The refugees in some camps are given no firewood or an insufficient amount to cook their daily rations. In this case, women and girls must travel as far as 30 km to collect firewood. In some camps, the refugees are not allowed to gather wood in the area surrounding the camp. In this case, the refugees may be forced to trade some of their food rations for firewood or charcoal with which to cook their remaining meager rations.
As of 2012, Jewish World Watch reports that as a result of a joint security force between Chad and Sudan, violence against women has declined some since the project began seven years ago. Cord, their partner at the Farchana Refugee Camp, sees solar cooking as a way to keep girls in school rather then spend hours finding fuelwood for cooking.
In addition to intensive training and follow-up, significant R&D to develop more durable solar cookers and solar thermal heat storage capacity will be essential to the widespread adoption of this technology in refugee camps and surrounding communities. Please watch this video for more information on the types of research needed to improve solar cookers for refugee camps.

Most significant projects
The Solar Cooker Project helps to improve the lives of Darfur refugees living in Chad - More than 50,000 people in four Darfur refugee camps in Eastern Chad are using locally made solar CooKits designed by Solar Cookers International. The project is run by Tchad Solaire and by the British NGO CORD. It is funded by Jewish World Watch and the Kozon Foundation. The project has improved the safety and survival of the women in the refugee camps. Previously, they were faced with dangerous and arduous trips outside the camps to collect scarce firewood.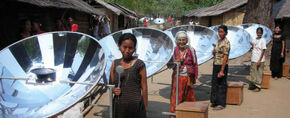 85,000 refugees from Bhutan have solar cooked their meals in Nepal - The Vajra Foundation Holland (Stichting Vajra) has worked in the Bhutanese refugee camps in Nepal since 1995 to bring solar cooking and heat-retention cooking to the refugees there. By 2013 some 85,000 refugees were cooking their meals using these methods. The on-the-ground work is done by Vajra Foundation Nepal and financing is provided by the Dutch Lottery and the Dutch NGO Stichting Vluchteling.
News
NEW: 

September 2016: Renewed solar cooking workshops at Kenyan refugee camps - Solar cooking advocate, Faustine Odaba, and her daughter have been conducting solar cooking and fireless cooking workshops at the Kakuma and Dadaab refugee camps in Kenya. The has been an enthusiastic response to thee workshops as participants prepare for the time when Kenya closes the camps.
NEW: 

March 2016: Derk Rijks reports: The total number of refugee families served and awaiting has changed, increased at this moment to about 36,000 households, but obtaining donor money for the start-up until self-sufficiency is not easy. The villages around the camps are being served in the same manner as the refugees. May be able to give more details on all this by the end of this year.
November 2015: Blazing Tube Solar Appliances in Burkina Faso refugee camps - UNHCR delivered Blazing Tube Solar Appliances to 601 households (1 per household), ranging from two to eight family members each. Feedback from the families indicate that the cooker has reduced their need for firewood. Read more...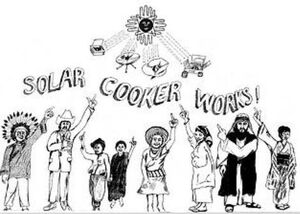 February 2015: A refugee woman in Burkina Faso cooks rice with a Blazing Tube solar cooker. The stove is assembled in the USA and costs around $100USD. Oliver Lompo, UNHCR Environment Officer in Burkina Faso explained the impact the stove has had. "Beforehand, refugee women had to walk several hours a day to collect firewood. Since we have a lot of sunshine, the stove allows them to cook without spending any more time on firewood collection. And, more importantly, it does not produce any smoke - people love it." - UNCHR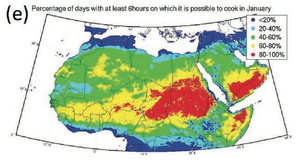 January 2015: Scholarly paper documents the available sunshine in the Sahel region of Africa - Authors, Beth Newton, Sophie Cowie, Derk Rijks, Jamie Banks, Helen Brindley, and John h. Marsham have published a well-documented analysis of the potential sunshine available for solar cooking in the Sahel region, particularly in northern Chad. This is where a number of Sudanese refugee camps are located. TchadSolaire has been training both refugees and the indigenous population to solar cook in the region since 2005. Even along river population centers where clouds tend to form, solar cooking is possible for over 330 days a year. Read more: Solar Cooking in the Sahel - NOWCAST
August 2014: Update on Jewish World Watch Solar Cooker Project - Jewish World Watch published their Summer 2014 Solar Cooker Project newsletter. It offers background information on their refugee camp projects, highlights of the latest developments, and how to support it moving forward. Jewish World Watch reports that it has distributed approximately 128,000 CooKits with participation rates of 75% to 100% in the camps where they have worked: Kounoungou, Mile, Oure Cassoni, Touloum, and Iridimi. They also plan to provide an additional cooking pot for 10,000 families. More info...
Best Practices Manual
Jewish World Watch has created a manual that details what has been learned that will assure a successful refugee project: Solar Cooker Project: Best Practices Manual
Projects in refugee camps in Chad since 2003
Since 2003, when war erupted in northern Sudan, over 285,000 Darfur refugees have fled to neighboring Chad to escape the genocide in their country. They settled in twelve UN refugee camps along Chad's eastern border with Sudan. This massive influx of people has created unsustainable environmental pressures in an already arid region.
Refugee camps have now become the "largest cities" in eastern Chad, a region that has traditionally been populated with scattered villages of only a few hundred people. For almost a decade, humanitarian agencies have trucked firewood into these refugee camps for monthly distribution.
Although this imported wood is costing donor agencies millions of dollars per year and its collection is decimating forests to the south, it does not provide refugee families with sufficient cooking fuel. Initially women in the camps supplemented their monthly ration by collecting "dead wood", but when that supply was exhausted, both refugees and local Chadians began to chop down live trees for fuel. In their desperate search for firewood, they have destroyed trees that took decades to grow. Additionally, women and girls who left the safety of the camp to collect firewood were often attacked and raped. This has damaged the fragile sources of groundwater that these trees protected, and it is rapidly turning an already arid land into a barren desert.
In early 2005, Dr. Derk Rijks of KoZon, a Dutch foundation that promotes solar cooking, heard about the massive influx of Darfuris into eastern Chad. He recognized the need to reduce the environmental degradation caused by the unsustainable use of wood for cooking fuel by the tens of thousands of refugees who had flooded into that sparsely populated desert habitat. He was particularly concerned about the gender-based violence suffered by women and girls who had to leave their refugee camps to collect firewood. In partnership with a group of Chadian citizens, Rijks founded a local non-profit, TchadSolaire, meaning "Chadian Sun", and introduced the cardboard and aluminum foil solar "CooKit" into the Iridimi Refugee Camp near Chad's border with northern Sudan.
In May 2006, Jewish World Watch (JWW) adopted this project, named it the "Solar Cooker Project," and began raising funds to support its expansion. As a result of its successful efforts in Chad and elsewhere in Africa, JWW has become a global leader in the fight against genocide and mass atrocities, engaging individuals and communities throughout the United States to take action.
Following the successful introduction of solar cookers into the Iridimi camp, Tchad Solaire brought this technology to the Touloum Refugee Camp (population 24,505) in 2007 and the Oure Cassoni Refugee Camp (population 31,917) in 2008. Solar cooker manufacturing workshops were built in each camp. Refugee women recruited by TchadSolaire learned new skills and earned money for their families by assembling solar cookers, weaving heat-retention baskets, leading training sessions and conducting follow-up visits to households throughout the camps. When fuel-efficient stoves—provided by international donors or made by the refugees—were used in combination with solar cookers and heat-retention baskets, trips outside the camps for firewood were reduced by 86%.[1]
The "Solar Cooker Project" in Chad has provided a tangible way to help the tens of thousands of people from the Darfur region of Sudan who were forced to abandon their homes and their country. In partnership with the United Nations High Commission for Refugees (UNHCR), KoZon, and Solar Cookers International, JWW has taken the lead as the key funder and supporter of this project.
In early 2011, JWW expanded its partnership to include Christian Outreach for Relief and Development (CORD: a UK-based NGO working in Chad), to launch a solar cooker project in the Farchana Refugee Camp (population 21,448). The goal of JWW is to eventually establish solar cooker projects in all twelve Darfur refugee camps in Chad.
Refugee camps with current solar cooking projects
Chad
Kenya
Nepal
Sudan
Uganda
Refugee camps with past solar cooking projects
Project evaluations
Manufactured solar cookers suitable for transport
The solar cookers shown below are easily transportable and also available in large quantities:
See also
Articles in the media
Audio and video
See also
External links
References