Ad blocker interference detected!
Wikia is a free-to-use site that makes money from advertising. We have a modified experience for viewers using ad blockers

Wikia is not accessible if you've made further modifications. Remove the custom ad blocker rule(s) and the page will load as expected.
Deutsch, Español, Ελληνικά, Français, Hausa, Igbo, Indonesian, Italiano, Kiswahili, Kreyòl, Malagasy, Melayu, Português, Русский, Soomaaliga, Tagalog, Việt, Türkçe, Yorùbá, தமிழ், नेपाली, 中文, اردو, 한국어, 日本語, العربية, فارسی, עִברִית, हिन्दी, ไทย, বাংলা, తెలుగు, ગુજરાતી, ລາວ, ਪੰਜਾਬੀ, සිංහල, پښتو
Last updated:
28 November 2016
Solar cooking in refugee and IDP camps
---
There are more displaced people living in refugee camps and internally displaced persons (IDP) camps than at any time in human history.
People who live in camps have limited access to most things they need for daily life, including energy for cooking and making water safe to drink. The local energy supply is often very limited. And there are rarely sufficient funds to buy energy.
Free solar energy gives people access to energy they need for cooking and water pasteurization. This is critical where the energy supply is diminished and fuel is expensive.
Solar cooking aligns with the United Nations High Commission on Refugee's environmental policy. Solar cooking helps achieve all 17 Sustainable Development Goals (SDGs). But solar cooking in refugee and IDP camps continues to be an exception.
Have we accurately defined the problem? Do people in refugee camps have a felt need for solar cooking? Solar Cookers International invites its network members to help define the problem and ask the right questions. At the 6th SCI World Conference, January 2017, people with experience in refugee camps and settlements will share best practices, and identify complexities that need solving.
What refugees teach us about the cooking tools they want
---
Refugee camps and IDP camps are places where individuals live collectively after disruptive and challenging circumstances. There is no single description that applies to every camp resident; people living in refugee and IDP camps endure different degrees of trauma, varied cultural and political backgrounds, and disparate education levels. Talking refugees collectively, as if every person living in a camp had the same circumstances, risks ignoring a wide variety of challenges. Considering each group as a collection of individuals with different needs is a more appropriate assessment strategy. And this applies to solar cooking too.
What kind of cooking tools do people living in refugee camps want? Project evaluations from camp projects spanning two decades reveal that people who live in circumstances not of their choosing will hold hard and fast to the few traditions that remain in their control.
Historically, camps have been selected for solar cooking projects based on factors like solar insolation, or access by the NGO community. The same well-designed project can succeed in one camp yet fail in another. This is evidence that people, not the technology, can be the most important factor in each project.
Conference participants at the Global Alliance for Clean Cookstoves Forum 2013 Cambodia, the 5th SCI World Conference 2014, the 2015 SCI Regional Conference in the USA, and ConSolFood 2016 in Portugal frequently shared anecdotal evidence that the greatest barrier to the spread of solar cooking is not technical, but behavioral. It is more difficult for people to learn new behaviors than to acquire a new device. And some people who have apparently successfully adopted a new technology and experienced its benefits have rejected the new technology as soon as an opportunity to return to traditional practices arises. This reveals a complex set of behaviors and responses that may be wholly unrelated to project design.
Historically, successful solar cooker projects in many settings have been driven by a passionate person who uses the technology and shows leadership that is accepted by the community. People artificially gathered into disparate communities in times of disruption still need an impassioned person whom the group perceives as a leader to ignite changes in behavior. That is particularly important for deep, culturally-embedded activities like cooking.
The world community has so many needs, and resources are scarce. The United Nations Sustainable Development Goals are well-conceived, inclusive, and comprehensive. But funding to accomplish the global goals has fallen short. That's true of the solar cooking sector, too: every solar cooker, every bit of funding, counts. Focusing resources first on the communities where people have a felt need for solar cooking, and local leadership for follow-through, makes the most sense and is the wisest use of resources.
Well-intentioned outsiders may identify solutions. But the community members – in this instance, the camp residents--have the right to identify and choose interventions that they value. Focusing our efforts on the felt needs of the community members may be the best strategy for assigning scarce resources where they will have the greatest impact.
Undertaking projects where people have demonstrated resistance to technologies and behavior change has a predictably high rate of failure and results in a waste of valuable resources for all involved. SCI strongly recommends that site selection begins first in communities where residents identify a felt need for solar cooking and demonstrate a basic capacity for behavior change.
Readers who have lived in or worked closely with people in refugee or IDP camps, are strongly encouraged to share their experience with julie@solarcookers.org for the education of the international solar cooking network. Responses will be compiled and shared in the next SCI Digest.
Join the world network in Gujarat, India, 16 – 18 January 2017, to ask important questions, engage in passionate discussions, and weave networks to address the most important and challenging energy issues of our time. Watch future editions of the SCI Digest for further discussion of this topic and others that will be the focus of the 6th SCI World Conference.
[The text above is from a series of five articles in the Refugee and Internally Displaced Persons (IDP) Solar Cooking series by Julie Greene, Executive Director of Solar Cookers International.]
Most significant projects
The Solar Cooker Project helps to improve the lives of Darfur refugees living in Chad - More than 50,000 people in four Darfur refugee camps in Eastern Chad are using locally made solar CooKits designed by Solar Cookers International. The project is run by Tchad Solaire and by the British NGO CORD. It is funded by Jewish World Watch and the Kozon Foundation. The project has improved the safety and survival of the women in the refugee camps. Previously, they were faced with dangerous and arduous trips outside the camps to collect scarce firewood.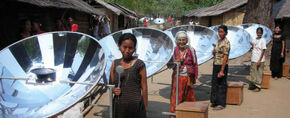 85,000 refugees from Bhutan have solar cooked their meals in Nepal - The Vajra Foundation Holland (Stichting Vajra) has worked in the Bhutanese refugee camps in Nepal since 1995 to bring solar cooking and heat-retention cooking to the refugees there. By 2013 some 85,000 refugees were cooking their meals using these methods. The on-the-ground work is done by Vajra Foundation Nepal and financing is provided by the Dutch Lottery and the Dutch NGO Stichting Vluchteling.
News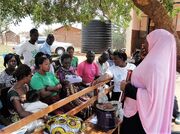 NEW: 

September 2016: The Solar Connect Association reports: "We had a staff meeting with the key players of manufacturing in Biharwe. We kicked off the project in the Oruchinga Refugee Settlement with the presence of the district governor, camp commander, and the project leader Mr. Buyinga Boaz. Additional information was handed over and demonstrations were made for many people. A local radio station broadcast an interview with one of our team members."
September 2016: Renewed solar cooking workshops at Kenyan refugee camps - Solar cooking advocate, Faustine Odaba, and her daughter have been conducting solar cooking and fireless cooking workshops at the Kakuma and Dadaab refugee camps in Kenya.
March 2016: Derk Rijks reports: The total number of refugee families served and awaiting has changed, increased at this moment to about 36,000 households, but obtaining donor money for the start-up until self-sufficiency is not easy. The villages around the camps are being served in the same manner as the refugees. May be able to give more details on all this by the end of this year.
November 2015: Blazing Tube Solar Appliances in Burkina Faso refugee camps - UNHCR delivered Blazing Tube Solar Appliances to 601 households (1 per household), ranging from two to eight family members each. Feedback from the families indicate that the cooker has reduced their need for firewood. Read more...
February 2015: A refugee woman in Burkina Faso cooks rice with a Blazing Tube solar cooker. The stove is assembled in the USA and costs around $100USD. Oliver Lompo, UNHCR Environment Officer in Burkina Faso explained the impact the stove has had. "Beforehand, refugee women had to walk several hours a day to collect firewood. Since we have a lot of sunshine, the stove allows them to cook without spending any more time on firewood collection. And, more importantly, it does not produce any smoke - people love it." - UNCHR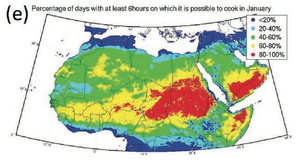 January 2015: Scholarly paper documents the available sunshine in the Sahel region of Africa - Authors, Beth Newton, Sophie Cowie, Derk Rijks, Jamie Banks, Helen Brindley, and John h. Marsham have published a well-documented analysis of the potential sunshine available for solar cooking in the Sahel region, particularly in northern Chad. This is where a number of Sudanese refugee camps are located. TchadSolaire has been training both refugees and the indigenous population to solar cook in the region since 2005. Even along river population centers where clouds tend to form, solar cooking is possible for over 330 days a year. Read more: Solar Cooking in the Sahel - NOWCAST
August 2014: Update on Jewish World Watch Solar Cooker Project - Jewish World Watch published their Summer 2014 Solar Cooker Project newsletter. It offers background information on their refugee camp projects, highlights of the latest developments, and how to support it moving forward. Jewish World Watch reports that it has distributed approximately 128,000 CooKits with participation rates of 75% to 100% in the camps where they have worked: Kounoungou, Mile, Oure Cassoni, Touloum, and Iridimi. They also plan to provide an additional cooking pot for 10,000 families. More info...
Best Practices Manual
Jewish World Watch has created a manual that details what has been learned that will assure a successful refugee project: Solar Cooker Project: Best Practices Manual
Projects in refugee camps in Chad since 2003
Since 2003, when war erupted in northern Sudan, over 285,000 Darfur refugees have fled to neighboring Chad to escape the genocide in their country. They settled in twelve UN refugee camps along Chad's eastern border with Sudan. This massive influx of people has created unsustainable environmental pressures in an already arid region.
Refugee camps have now become the "largest cities" in eastern Chad, a region that has traditionally been populated with scattered villages of only a few hundred people. For almost a decade, humanitarian agencies have trucked firewood into these refugee camps for monthly distribution.
Although this imported wood is costing donor agencies millions of dollars per year and its collection is decimating forests to the south, it does not provide refugee families with sufficient cooking fuel. Initially women in the camps supplemented their monthly ration by collecting "dead wood", but when that supply was exhausted, both refugees and local Chadians began to chop down live trees for fuel. In their desperate search for firewood, they have destroyed trees that took decades to grow. Additionally, women and girls who left the safety of the camp to collect firewood were often attacked and raped. This has damaged the fragile sources of groundwater that these trees protected, and it is rapidly turning an already arid land into a barren desert.
In early 2005, Dr. Derk Rijks of KoZon, a Dutch foundation that promotes solar cooking, heard about the massive influx of Darfuris into eastern Chad. He recognized the need to reduce the environmental degradation caused by the unsustainable use of wood for cooking fuel by the tens of thousands of refugees who had flooded into that sparsely populated desert habitat. He was particularly concerned about the gender-based violence suffered by women and girls who had to leave their refugee camps to collect firewood. In partnership with a group of Chadian citizens, Rijks founded a local non-profit, TchadSolaire, meaning "Chadian Sun", and introduced the cardboard and aluminum foil solar "CooKit" into the Iridimi Refugee Camp near Chad's border with northern Sudan.
In May 2006, Jewish World Watch (JWW) adopted this project, named it the "Solar Cooker Project," and began raising funds to support its expansion. As a result of its successful efforts in Chad and elsewhere in Africa, JWW has become a global leader in the fight against genocide and mass atrocities, engaging individuals and communities throughout the United States to take action.
Following the successful introduction of solar cookers into the Iridimi camp, Tchad Solaire brought this technology to the Touloum Refugee Camp (population 24,505) in 2007 and the Oure Cassoni Refugee Camp (population 31,917) in 2008. Solar cooker manufacturing workshops were built in each camp. Refugee women recruited by TchadSolaire learned new skills and earned money for their families by assembling solar cookers, weaving heat-retention baskets, leading training sessions and conducting follow-up visits to households throughout the camps. When fuel-efficient stoves—provided by international donors or made by the refugees—were used in combination with solar cookers and heat-retention baskets, trips outside the camps for firewood were reduced by 86%.[1]
The "Solar Cooker Project" in Chad has provided a tangible way to help the tens of thousands of people from the Darfur region of Sudan who were forced to abandon their homes and their country. In partnership with the United Nations High Commission for Refugees (UNHCR), KoZon, and Solar Cookers International, JWW has taken the lead as the key funder and supporter of this project.
In early 2011, JWW expanded its partnership to include Christian Outreach for Relief and Development (CORD: a UK-based NGO working in Chad), to launch a solar cooker project in the Farchana Refugee Camp (population 21,448). The goal of JWW is to eventually establish solar cooker projects in all twelve Darfur refugee camps in Chad.
Refugee camps with current solar cooking projects
Chad
Kenya
Nepal
Sudan
Uganda
Refugee camps with past solar cooking projects
Project evaluations
Manufactured solar cookers suitable for transport
The solar cookers shown below are easily transportable and also available in large quantities:
See also
Articles in the media
Audio and video
See also
External links
References