Deutsch, Español, Français, Hausa, Igbo, Indonesian, Italiano, Kiswahili, Kreyòl, Malagasy, Melayu, Português, Русский, Soomaaliga, Tagalog, Việt, Türkçe, Yorùbá, Ελληνικά, தமிழ், नेपाली, 中文, اردو, 한국어, 日本語, العربية, فارسی, עִברִית, हिन्दी, ไทย, বাংলা, తెలుగు, ગુજરાતી, ລາວ, ਪੰਜਾਬੀ, සිංහල, پښتو
Last updated: April 23, 2016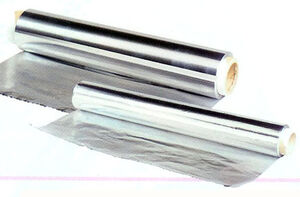 Standard kitchen aluminum foil works very well as solar cooking reflective material. The most common reflective material used in homemade solar cookers is plain aluminum foil. This can be glued very well with white glue or wheat paste.
Other reflective material possibilities
Stephen and Sheila Harrigan of Solar Clutch, report from Addis Ababa, Ethiopia, where they promote solar cooking, that common solar panel cooker construction materials have always been difficult to obtain. The widely used CooKit has traditionally been made from cardboard, though recent versions are being made from fluteboard, such as the Poly Furnace CooKit variation. These updated cookers last far longer than the cardboard versions, which are considered to be successful if they last six months. For them however, the major problem with providing inexpensive yet durable cookers is the availability of construction materials. Cardboard is scarce, and when it is commercially available, the quality is often poor, or the product arrives torn. Aluminum foil and glue can also be difficult to find. Stephen began looking more closely at what was available locally, and hit upon a product referred to as 'cool roofing'.
Cool roofing is a zinc galvanized metal material, which is fairly reflective. Besides shedding water, it is also intended to reflect the hot sun from the roofs of local homes. And because of its availability, the material cost for cookers is competitive with cardboard. A CooKit can be constructed for about $6USD worth of the metal roofing. It can be cut with tin snips, and bends are made by folding the metal around a straight board. The metal CooKit has performed well, even if not quite as well as the mylar covered fluteboard version, and its weight would help in windy conditions. Because the material is easily available, and can be made with existing worker skills, local manufacturing of solar cookers offers the possibility for a community business enterprise. Disadvantages include the inability to fold the cooker for storage, and transporting completed cookers will take considerable space and will be relatively heavy. The cooker edges need to be dulled or protected, as the cut metal edge is quite sharp. As solar cookers are more widely promoted and accepted, the durability of inexpensive solar cookers becomes a significant issue to be addressed. The question raised will be, is it better to offer a cooker that can be made locally, or find a way to finance the availability of cookers that are made at a more sophisticated facility, losing the empowering aspect of neighborhood manufacturing?
The Haines Solar Cooker uses MPET (metalized polyester) film bonded to 3mm of IXPE (cross-linked polyester) foam, with a white PET film backing.
Use the foil from cigarette packages
Most cigarette packages have a inner foil liner. Collect these and use them in a patchwork fashion to create a reflective surface.
Mirrors made from decal/stickers
Chrome mirror sign vinyl is excellent for most solar cooking applications where the material itself is not in touch with the hottest part. It is made to be used on business signs and is designed to stand up to many trips to the car wash. This material can turn nearly anything into a powerful mirror. You can find it on the internet. You must use phrases like "Chrome mirror sign vinyl", or, ""Mirror sign vinyl, or Gold sign vinyl. This material is available in a self-adhesive roll. You can find short rolls or long and wide rolls. The rolls start at inchers in width to feet in width. Apply it with soapy water in the same way as window tint. After some exposure to warmth, the soap vanishes and your mirrors will stick for years. Keep them shiny with wax, oil, Scott's liquid gold, experiment with it.
A flexible cutting board could make a good mirror. When finished cutting the underside of the cutting board may have a mirror on it to help cook the food you cut up.
Think of the many shapes we have availble. Now you can turn junk into ovens and dish cookers. Here are some things I know would make terrific ovens and parabolic, and parabolic hybrids. A thermal parabolic hybrid oven will acheive temperatures hotter than needed for normal cooking, when combined with thermal cookware it is nearly dangerous.
It is dangerous. Be careful. It will take some time to adapt to your new abilities. A thermal griddle may be a griddle with ceramic tile in a sandwich of steel or aluminum. ALUMINUM COOKWARE WARNING: See: Aluminum Oxide poisoning. Aluminum loses heat so quickly too. I want my food cooked with glass and ceramic and steel. Matt West
Rescue blankets (Mylar)
Rescue blankets (or space blankets) consist of a thin plastic foil (often polyethylene terephthalate, PET) and a thin layer of aluminium (cf. http://en.wikipedia.org/wiki/Space_blanket). The silver side is the aluminium side, while the gold color on the reverse side comes from a translucent yellow tint of the plastic in combination with the front aluminium layer.
Such material is similar in cost as aluminium foil or self-adhesive vinyl stickers, large formats are common (e.g. 160 by 210 cm), and the material is indended for outdoor use. Relflective accuracy is mirror-like, in contrast to aluminium foil which has fine directional grooves in the surface from production and thus reflection artefacts. Although as with self-adhesive mirror foil, the material should not be used for the hottest part of the oven, i.e. where in contact with pot or glazing. Melting point of PET is around 260°C (500°F). Polyester reflective materials should be used only where the cooking food is contained within a separate enclosure, such as a solar panel cooker, an not for the interior reflective surfaces of a solar box cooker.
Tin cans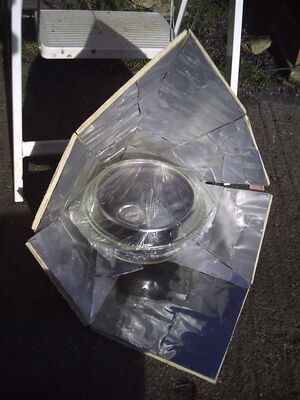 Tetra Pak juice boxes
Kenya
Solar Cookers International East Africa Office recycled waste from Tetra Pak materials. This is a packaging making industry and sometimes they have waste which they have already prepared, this then we use as our foil. When this is not available they buy from another packaging industry called Pressmasters Ltd. Here are their coordinates: Pressmasters Ltd.
P.O. Box 17560 - 00500
Nairobi
Kenya Fax: +254 20 823044
Tel: +254 20 820253,820254
Mobile +254 722514623 / 733743783 pressmas@africaonline.co.ke
http://www.pressmasterkenya.com
Zambia
Solar Health and Education Project (SHEP) has developed a relationship with Tetra Pak International — manufacturer of aseptic drink containers — whereby SHEP uses Tetra Pak's excess foil-lined paper for solar cooker construction. (The foil-lined paper is printed in wide rolls, sometimes resulting in excess material begin generated.) According to SHEP, Tetra Pak is willing to accept proposals from other nongovernmental organizations that may want to use the reflective material as long as the material will be used for workshop participants to construct solar cookers.
Reflective tape
Lithograph printing plates
Looking for inexpensive, recycled reflective material for solar cookers? Here's a tip from the SunStove Organization of South Africa: "Lithograph printing plates are available in every country at the government printing office, the local printer or the local newspaper. Used printing plates are sold as scrap." This scrap may be sold for the equivalent of US $1.25 per kilogram. Before using the plates in solar cookers, clean with paint thinner and water.
Gift wrap
Solar cooker experimenters in Kenya, Ethiopia, Tanzania, Peru and Bolivia have all found that gift wrap can be found easily that can be used for making reflective material for solar cookers. The gift wrap is like a mirror on one side (the aluminum) and a color on the other side.
CDs
ReflecTech Mirror Film
A U.S. government-funded Small Business Innovation grant led to the development of ReflecTech, an unbreakable, durable, light-weight, scratch-proof, low-cost, self-adhesive, glass-free, reflective film. ReflecTech is used for the parabolic mirrors used in the solar concentrating power generation plants that are being erected in desert locations from California to the Sahara. The U.S. Department of Energy's National Renewable Energy Laboratory has tested the latest version of this film and found it to be weatherable for over thirty years. Flexible, stick-on sheets of this mirror film could provide extremely durable, but very lightweight reflectors for solar panel, box and parabolic cookers. The silvered polymer used for ReflecTech film is guaranteed to match or exceed the structural properties of glass mirrors, at lower cost and with proven durability. For more details see the ReflecTech brochure
As of 2013, it appears the material is available directly from the company. The minimum order is 150 sq. ft. at $3USD/sq. ft.
See also
Using a white color instead of reflective sheet
External links