Deutsch, Español, Français, Hausa, Igbo, Indonesian, Italiano, Kiswahili, Kreyòl, Malagasy, Melayu, Português, Русский, Soomaaliga, Tagalog, Việt, Türkçe, Yorùbá, Ελληνικά, தமிழ், नेपाली, 中文, اردو, 한국어, 日本語, العربية, فارسی, עִברִית, हिन्दी, ไทย, বাংলা, తెలుగు, ગુજરાતી, ລາວ, ਪੰਜਾਬੀ, සිංහල, پښتو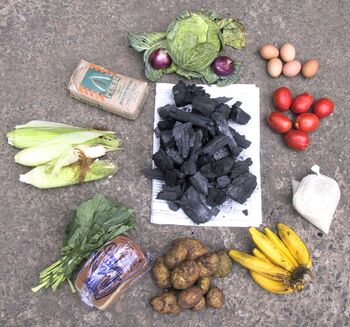 [[Video:Why Solar Cooking - Solar Household Energy|thumb|350px||Louise Meyer makes the case for solar cooking in this September, 2011 video.]] Groups involved in promoting solar cooking need to share more information, collaborate more and pool their voices to be heard by opinion-makers and decision-makers who could provide more resources to support the spread of solar cooking. Fostering these objectives is part of Solar Cookers World Network's mission. NGOs involved in other development work should consider whether solar cooking and the Integrated Cooking Method would make useful additions to their projects. Governments that currently inhibit the spread of solar cooking by heavily taxing imports of solar-related supplies while also subsidizing fossil fuel imports need to re-evaluate their thinking. Forward thinking businesses have a role to play by investing in the not-quite-yet-emerging solar cooker market, creating more manufacturing, distribution and sales facilities, and participating in spreading awareness.
Schools can also become involved in teaching solar cooking--both as a tool for teaching science concepts and as a practical matter of survival and home economics. To a degree, these things are happening. Malawi has a renewable energy component in its school curriculum. Senegal has appointed a person to spearhead solar cooking work in the country. At least one government agency in The Gambia is charged with teaching solar cooking. The government in India however, has become increasingly more involved, by promoting institutional solar cooking and integrating solar cooking technology into public school curriculums and the midday school lunch program.
Deepak Gadhia reported in 2012 that the Indian government has announced a very ambitious Solar Cooking Policy under the Jawharlal Nehru National Solar Mission ,  JNSSM Phase II Targets for "Solar Cookers and Steam Generating Systems will include: At-least 100 institutions that would deploy solar cookers  (Likely Solar Steam and Thermic Fluid System Cooking Systems for Institutional Cooking for 500 + people);  Around 25,000 installations of solar cooking devices in schools for midday meals. (Likely Scheffler Cookers, PRINCE 40, 60 and other mid-size solar cookers that can cook for 50+ people;   An overall target of deployment of 50,000 solar cookers would be set in Phase II of JNNSM. (Likely the SK 10/ Sk 14/ Prince 15 etc for domestic cooking).
Ajay Chandak also noted that the Indian government's 12th five-year plan, 2012-2016, 30,000 million INR (approx. $600 million USD) is budgeted for solar cooking in 500,000 schools. This will not only help in saving environment, but will expose millions and millions of school children to solar cooking and build the confidence that these systems work. This project is included among Most significant solar cooking projects.
There are other examples of small, seriously underfunded steps being made. Much more will have to be done. Many believe that there will be a tipping point where a critical mass of awareness in the right circles will greatly speed up the spread of solar cooking.
The conditions to bring about this tipping point seem to be forming currently. Food and fuel prices have doubled recently in many poor countries. Also some countries have recently reduced or removed their subsidies on cooking fuel. For example, in April 2008 the Indonesian government announced a reduction of fuel subsidies. As a result, the cost of kerosene, used for cooking, rose from 700 rupiah per liter to 2,000 rupiah, an increase of 186%.[1].
It is also important to understand that often solar cooking is best introduced as part of an Integrated Cooking Method where solar cooking is combined with heat-retention cooking (where food is heated to boiling for a short time at which point the cooking pot before being placed in an insulated box or basket to continue cooking) and simple fuel-efficient wood stoves. Soaking beans or even slightly sprouting whole grains and pulses/legumes[2], in addition to enhancing digestibility and nutritional values, will shorten cooking times, resulting in more efficient use of sun and fuel.
Dr. Dieter Seifert has pointed out that in most parts of the world, to cook a pot of beans, people put the dry beans and the cooking water into a pot and cook it over a wood fire for four hours. If people learn that they can soak the beans overnight first, they can save two hours worth of fuelwood. They save an additional one and a half hours of fuelwood if they learn to heat the soaked beans over a fire or in a solar cooker until the beans have boiled for 10-15 minutes. They can then put the pot into an insulated basket where it will continue to cook for 3-4 hours without using any fuel. The heat-retention cooker can be as simple as a basket filled with dry grass or hay. We should all consider the value of such simple changes before one launching into anything more complicated.
On the personal and local level, if you enjoy and benefit from using the sun to cook, talk to people about it. Talk to friends, family, teachers, students, store clerks, people you might sit next to on a bus or stand next to in a line at a store. If you carry copies of a small Universal Leaflet, you will have something to give to anyone who shows an interest, to direct them to further information.
Listed below in this article are a number of resources that are helpful when setting up a solar cooking (or integrated cooking) project.
Promoting solar cooking in developed countries
The focus of much of the solar cooking, and integrated cooking promotion is directed at helping poor residents in countries mostly located near the equator. However, interest in solar cooking is moving beyond novelty status in developed countries. Saving energy, and enjoying the cooking experience and tastes that solar cooking offers, is creating market share in more affluent countries. The decision to try solar cooking is relatively a much smaller risk for a higher income family, as a negative outcome will not significantly affect the prosperity of the household.
Hoping to give ecotourism a boost, Holms and Friends is a company in South Africa helping the more exclusive tourist destinations to become more energy efficient, and encouraging them to use solar cookers. This type of technology placement becomes a useful way to reach potential users with resources to buy solar cookers. The products will need to offer high efficiency, durability, attractive design, and convenience. Along these lines, The Delicias del Sol restaurant, known for serving excellent solar cooked food, has become a tourist destination for the village of Villaseca, Chile. Begun in 2000 with an initial seating capacity of sixteen, the restaurant, as of 2012, seats 120. The dry central valley area receives over 300 days of sunshine a year. The tourists enjoy viewing the solar kitchen at work.
The world is becoming a warmer place, and even with resources available to pay for energy, consumers are beginning to appreciate having a non fuel-burning alternative to using their indoor kitchen ovens during hot summer seasons.
While the need may not be as extreme as providing safe drinking water, preventing deforestation, and helping to solve the high incidence of respiratory disease associated with cooking over open fires, a more mature marketplace is emerging in developed countries that will be met by enterprising manufacturers and vendors.
Recent news and developments
December 2012: Alternative energy funding groups offer options for technology promoters - The International Renewable Energy Agency(IRENA) is welcoming online applications with project summaries for concessional loans worth USD 50 million from the Abu Dhabi Fund for Development (ADFD) to facilitate renewable energy projects in developing countries, in the first of seven funding cycles totalling USD 350 million. Renewable energy projects must be government-led or government-guaranteed. Online applications close on 12 January 2013, 17:00 (Abu Dhabi local time). More information... The Global Alliance for Clean Cookstoves is also offering funding possibilities for new businesses. The Alliance's Spark Fund (Fund) launches its first round of funding with this Request for Proposal (RFP) as part of the strategy to strengthen supply and enhance demand in the cookstove and fuels sector through innovation and tailored entrepreneurial capacity development. Unfortunately the final submission date is January 10, 2013. More information...
Advocacy and Publicity
Cultural Variables
Project Evaluations
Academic Resources
Project Resources
Business Resources
See also