Promoters and Researchers in Non-Conventional Energy
Comments

0
Deutsch, Español, Français, Hausa, Igbo, Indonesian, Italiano, Kiswahili, Kreyòl, Malagasy, Melayu, Português, Русский, Soomaaliga, Tagalog, Việt, Türkçe, Yorùbá, Ελληνικά, தமிழ், नेपाली, 中文, اردو, 한국어, 日本語, العربية, فارسی, עִברִית, हिन्दी, ไทย, বাংলা, తెలుగు, ગુજરાતી, ລາວ, ਪੰਜਾਬੀ, සිංහල, پښتو
Promoters and Researchers In Non-Conventional Energy (PRINCE) is a volunteer-based group dedicated to creating a better world for everyone through the use of renewable energy. We believe that protecting and enhancing the environment is possible only through using non-conventional energy sources. We are based in Dhule, Maharashtra, India and work in association with the local NGO Jankibai Trust.

Recent news and developments
November 2013: More Indian schools to get solar cookers (The Hindu) - After experimenting with solar power in cooking noon meal for students in a corporation school, the Coimbatore Corporation has decided to provide them to a few more schools. The corporation, sometime in August, installed two [institutional] solar cookers at the North Coimbatore School at Rs. 68,000. ...[T]he civic body was keen on tapping alternative sources of energy to bring down reliance on conventional sources of energy and provide a friendly kitchen environment for workers, who had been struggling with firewood. Read more...
December 2011: We are getting amazing feedbacks from end users for installations carried out for the PRINCE-40 solar community cookers, with the help of NGOs like WOTR and MPSSS. It looks like these organizations will expand the program and we should see few hundred systems in schools in next year. You will find a few more models of community solar cookers from us in coming year.
October 2011: The latest PRINCE newsletter announces a scheduled training for Scheffler Reflector Solar Cookers coming January 21 -27, 2012. Next, PRINCE founder Ajay Chandak has received an Energy Conservation Award from the Government of Maharashtra. Also, PRINCE has organized a networking workshop for all stakeholders in the renewable energy business on January 25 - 26, 2012. PRINCE Biogas Plants now approved by MNRE. Read more about these items: PRINCE newsletter, Fall 2011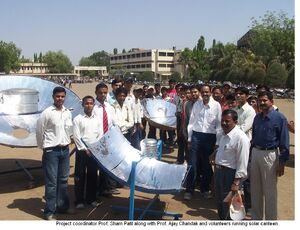 March 2009: Energy Day was celebrated in a unique way in city of Dhule, India, by a voluntary organization PRINCE (Promoters & Researchers In Non Conventional Energy). With the help of around 100 students of mechanical engineering from SSVPS BSD College of Engineering a solar canteen was set up by Prof. Ajay Chandak, Prof. Sham Patil and Prof. Deepak Dubey. Three SK-14, solar dish cooker, one square PRINCE design of dish cooker and one Community solar cooker of 2.3 m dia. were used in the canteen. On these gadgets almost 1000 snacks were cooked and sold by the students. Staff and students of the Institute and invited guests from the city enjoyed solar food. Guests had fun watching the food being cooked in front of their eyes in the solar cookers and to taste the same as any other methods of cooking. Snacks cooked and sold on large scale were Idlis and coffee. However other snacks like Khichadi, Cakes etc. were also prepared for demonstration to the visitors. Many students, staff and visitors showed great interest in the solar cooking demonstrations and local manufacturer, M/s Essential Equipments, reported sell of around ten solar cookers in next two days, which is welcome outcome of such event. Many students were thrilled with the experience of this event for the first time in their life and have shown great interest to organize such events at different locations in the city, next year. Principal of the Institute Dr. Jahagirdar has promised to support such events in future. Other programs for energy day celebrations included demonstrations of energy efficient technologies for lighting, fans and domestic appliances. All these equipments were demonstrated to visitors. Many visitors reported having changed their copper and aluminum ballasts with electronic ballasts in next week. After all seeing is believing. One workshop was also organized for local masons, hoteliers and interested people to teach them skills of installation of biogas plants working on food waste. Chairperson of PRINCE, Prof. Ajay Chandak, has given up LPG since last four years and fuel requirement for his family comes up from the solar cookers and biogas plant working on food waste. PRINCE group has come up with a special cost effective design of biogas plant. After the workshop five people have shown interest in installation of the biogas plants.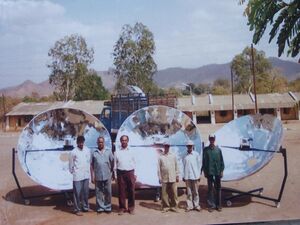 November 2007: Professor Ajay Chandak, of PRINCE, reports completion of an ambitious project to manufacture, transport, install and commission over 300 large parabolic solar cookers at tribal schools in the Indian state of Maharashtra. The project was coordinated by Chandak, with manufacturing by PRINCE trainees M/s Essential Equipments and three contractual manufacturers. Twenty-five trained teams carried out installation and testing of the cookers. The entire process took just 45 days, and resulted in 100 schools being equipped. The "community solar cookers," as Chandak refers to them, are 2.3 meters in diameter and powerful enough for a 22-liter pressure cooker. Each cooker cost around Rs. 26,000 ($650) and comes with a large pressure cooker and other accessories.
November 2006: Professor Ajay Chandak of Prince India |Promoters and Researchers In Non-Conventional Energy (PRINCE) won a "Renewable Energy Award 2005" from the Maharashtra Energy Development Agency. Of the state-level award for excellence in renewable energy, Prof. Chandak says, "Such awards are small milestones on our way and keep us pushing forward." He thanks friends from around the world for their contributions, adding, "They are equal partners in the award." Contact: Professor Ajay Chandak, Prince India
See also
Contact
Shamgiri, Opp Swagat Lodge, Agra Road, Deopur
Dhuli - 424005
Maharashtra
India
Email: renewable.india@gmail.com
External links