Last edited:
13 October 2015
To increase the output of a solar cooker it is possible to preheat one pot of food as another is cooking in the solar cooker. It's possible to just place an extra pot out in the sun to preheat, or preferably to put a plastic bag around it to improve its heat gain.The illustration shows a simple preheater that can be made from one corner of a cardboard box.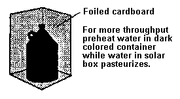 Preheating water for cooking
May 2015: Solar heated water saves firewood in the Philippines - Inmates at the Davao City Jail in the Philippines, have begun to use solar preheated water for cooking. Not directly solar cooking, but none the less, a type of integrated cooking that is saving firewood. By preheating the water, cooking time is reduced 20 - 30 minutes. The system was provided by the International Committee of the Red Cross. A guard said the facility used to have a truckload of firewood delivered three times a week. Now, it needs only a single delivery every two weeks. Read more...
See also