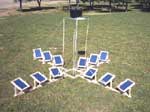 Description
The portable solar fryer is adapted to cook any food at any time, latitude, altitude or season. It can also be used to boil water or heat soup. The fryer can be mounted or dismounted in minutes and packs up small making it easy to transport in any bag. It is also very lightweight (depending on materials used). The portable solar fryer can reach temperatures of over 200º C. The fryer is designed to be fixed to the floor, though it is possible to install it on hard pavement using 4 x 1 kilo weights.
Materials
Dimensions/Weight
Dimensions: 2m x 2m
Weight: 8kg
See also
External links
Contact
Esteban Sabater
Taló Rambla del Celler
79, 1º, 1ª, esc. B 08172
Sant Cugat del Vallés
Spain
Email: esteban@sabaterono.com
Web: http://esteve.sabater.eresmas.net/index_archivos/Page2940.htm
Ad blocker interference detected!
Wikia is a free-to-use site that makes money from advertising. We have a modified experience for viewers using ad blockers

Wikia is not accessible if you've made further modifications. Remove the custom ad blocker rule(s) and the page will load as expected.