Description
The Portable Solar Cooker XCRUZA is a foldable and portable light solar cooker. Once folded becomes an easy to carry handbag. When opened, the reflective surface concentrates the solar radiation to hit the cooking pot, while the plastic cover retains heat using the greenhouse effect. The cooker can reach temperatures of more than 115 ºC.
A solar kitchen that is actually available for purchase might not sound like something new in the States or Europe, but it is actually pretty rare in Argentina. "The kitchen's technological simplification allows it to become industrialized with a low cost, while still considering the security, cleaning, operation, storage and transport issues of a home appliance", says designer Victoria Rique.
This text was borrowed from http://www.treehugger.com/files/2007/09/xcruza_solar_kitchen_argentina.php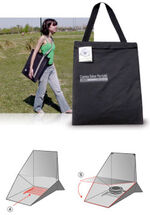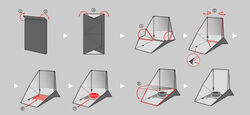 Materials
The cover is made of PVC and the reflective insulating material is made of plastic bubble wrap covered with aluminum sheet.
Dimensions/Weight
Dimensions:
Folded: 50 x 30 x 5 cm aprox.
Open: 100 x 80 x 80 cm aprox.
Weight: Not calculated, but is very light.
Audio and video
External links
Contact
xCRUZA Montevideo
154 Piso
1 Of. 9 CP.1019
Buenos Aires
Argentina
Tel. (5411) 4372.5742
Email: info@xcruza.com.ar
Web: http://www.xcruza.com.ar