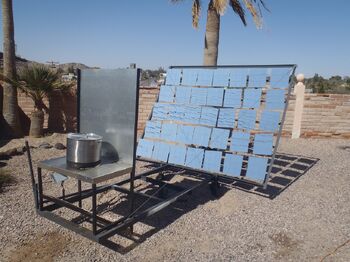 The Phaeton, developed by Fraser Symington and Lorin Symington of ASTRA is a powerful and innovative approach to solar cooking. It consists of an array of mirrors on a straight steel frame focusing to a secondary reflector which reflects the light upwards to a convenient working height of 75cm or 30". With 35 square feet or 3.2 square meters of collection area the Phaeton array achieves a 5min/1L boil. A pot with 8L of water will boil in 35 minutes with 1000w/m2 of incoming solar radiation.
The Phaeton is one of the most cost effective solar cooking solutions available today. In Puerto Penasco in Mexico, ASTRA built a Phaeton for $364US. At any sort of commercial construction scale the cost will quickly drop to below $300US. At Mexican skilled trade rates of $40US per day for a skilled tradesman and his assistant, labour costs would be $160US per array at the artisinal scale, falling to approximately $100US in a dedicated fabrication facility. This amounts to a $400US 2kw solar cooker able to serve a couple of households or small business, or as a community solar cooker with a payback time of approximately one year or as little as two months in extreme conditions. The Phaeton is among the most versatile of solar cookers due to the high temperatures it achieves, the Phaeton can bake, boil, fry, roast, dry, or distill.
On the spectrum of solar cookers, the Phaeton is somewhere between the SK series of parabolics and Scheffler reflectors. The Phaeton is an attempt to overcome certain design limitations of parabolic dish cookers, which become unwieldy at large sizes and Scheffler cookers which though very convenient are relatively complicated and expensive.
The tradeoff for such power and convenience is a long focal distance. This means that the Phaeton must be re-oriented approximately every 7 minutes. We have not found this to be a significant deterrent for several reasons: because an equivalently powered fire requires roughly equivalent tending, nearly anyone can re-orient the machine, the lack of soot and smoke as well as the perceived benefits of time and money saved.
The Phaeton is built with off the shelf materials that are available in any sizeable city in the world; 2mm glass mirror, common steel profiles, nuts and bolts and fibreglass are the major components. We have found that the tools needed to build a Phaeton are found in any welder's shop in any neighbourhood in Bamako, Mali, one of the poorest countries on the planet.
Recent news and developments
November 2012: With the intent of promoting Solar Fire powered businesses and gathering usage data, ASTRA traveled to Port-au-Prince, Haiti and began training local workers to build Phaeton solar cookers. Unfortunately, near the end of production a devastating fire swept the workshop, destroying tools and progress. The project lacked the resources to restart. We are very excited to start fresh and explore ways we can prove the economic, environmental, social and health benefits of Solar Fire technologies.
May 2011: ASTRA built and demonstrated a Phaeton in Ottawa, Canada.
March 2011: Made orange marmalade, apple-hibiscus jelly, dried hominy, dried pineapple, rice and soup!
February 2011: Developed the long-sought upward reflector.
See also
External links
Contact