Last edited:
29 March 2018
Events
International conferences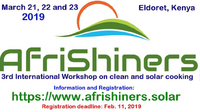 NEW: 

21-23 March 2019: AfriShiners - The AfriShiners 3rd International Workshop is taking place in Eldoret, Kenya. (Unfortunately, registration is full for this event). More information...
See also: Global Calendar of Events and past events in Panama
News
History
Usando el Sol
Two individuals are noteworthy in the promotion of solar cooking in Panama. Don Alberto Fajardo Cruz, using the name "Usando el Sol" (Using the Sun) built and demonstrated cookers in Panama for many years. A colleague and collaborator, Professor Pedro Salazar of the University of Panama, published a small guidebook on solar cooking, dedicated to Don Alberto. The guidebook was designed to serve students who were working on field projects in marginal parts of the country, which included demonstrations of solar cooking.
Archived articles
Climate and culture
See also:
Resources
Possible funders
Reports
Articles in the media
Audio and video
External links
Grupos de discusión Facebook
Contacts
SCI Associates
NGOs
Government agencies
Manufacturers and vendors
Individuals
Government agencies
Educational institutions
See also
References