Deutsch, Español, Ελληνικά, Français, Hausa, Igbo, Indonesian, Italiano, Kiswahili, Kreyòl, Malagasy, Melayu, Português, Русский, Soomaaliga, Tagalog, Việt, Türkçe, Yorùbá, தமிழ், नेपाली, 中文, اردو, 한국어, 日本語, العربية, فارسی, עִברִית, हिन्दी, ไทย, বাংলা, తెలుగు, ગુજરાતી, ລາວ, ਪੰਜਾਬੀ, සිංහල, پښتو
This article is about a group or individual that may no longer be active in solar cooking. It is retained here for archival purposes.


Last updated:
25 April 2010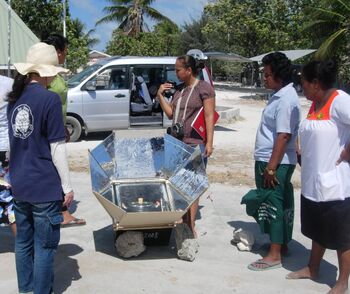 Solar cooker demonstration and monitoring in Kiribati and Tuvalu emanated through a collaborative partnership between Pacific Islands Applied Geoscience Commission (SOPAC) and Ferris University. The demonstration of the three different solar cookers, the Parabolic, the Sun Oven and a Hand-Made Cooker (HMC) was convened in Kiribati on February 2008 and subsequently for Tuvalu in September 2008. A monitoring on the use of the Parabolic and the Hand Made Cookers was a follow up activity by the Department of Energy (DoE) in Kiribati through a Letter of Agreements (LoA) and a Schedule of Solar Cooking Activities with the Community Based Organizations. Both the Parabolic and the HMC cookers were subsequently used in the monitoring exercise. The monitoring was specifically to test the solar cookers potential use, suitability and applicability at the household level.
The most dominant food in Kiribati such as rice, fish, breadfruit, pumpkin, shell fish and octopus were cooked at varied times. The cooking time also varied with weather conditions such as air temperature, wind and cloud cover. A total number of 18 women from South Tarawa, Kiribati were interviewed on the most common method of cooking, the costs of energy used and household income activities. The women were eager to get solar cookers of their own but the affordability is an issue as both the Parabolic and SunOven cookers are factory made and are not affordable to most people in Kiribati. Women are willing to pay on a micro financing application which is to be established once the monitoring exercises and the acceptance and promotion of the solar cookers is completed. The next phase of the solar cooking activities for both Kiribati and Tuvalu is the training on how to make a Hand Made Cooker which will be more affordable. The students of Ferris University have developed a Hand Made Cooker (HMC) which is applicable in Kiribati.
Cooking with HMC in a day replaces 0.3 liter of kerosene thus saving 0.43 cents (cost of 1 liter of kerosene of $1.30) or an equivalent reduction of 9 liters of kerosene per month or 22.401 kg of CO2 per month.
News and Recent Developments
April 2010: The Pacific Islands Applied Geoscience Commission (SOPAC) began a series of solar cooking demonstrations in Kiribati, Tuvalu, and Fiji. Since 2008, SOPAC has partnered with Japan's Ferris University to promote the use of solar cookers in Kiribati and Tuvalu. Throughout the summer of 2008, a small pilot project was conducted in Kiribati using a parabolic solar cooker from Japan and hand-made solar box cookers designed by Ferris University. Four women's groups were given solar cooking training by the Kiribati Ministry of Public Works and Utilities, and the group's members were then allowed to use the cookers over a period of several weeks to test the cookers' usefulness for local foods and to record reductions in traditional cooking fuel use, particularly that of kerosene. The women cooked a variety of traditional foods, including rice, fish, octopus, pawpaw, breadfruit, meat soups, and potatoes. They also used the parabolic solar cooker to prepare tea. The kerosene savings realized during the project was approximately one-third liter, or about $0.40 worth, per good solar cooking day. A similar project was conducted in Tuvalu in the fall of 2008. SOPAC continues to promote solar cooking in Kiribati, Tuvalu, and Fiji. It strives to: increase the use of solar cookers to help meet regional renewable energy targets; promote partnerships between the local community organizations and public sectors; mobilize external financing to develop solar cooking initiatives; and establish micro-credit financing for the purchase of solar cookers. A number of solar cooker construction and use workshops have taken place during and after the pilot project. A parabolic solar cooker workshop is scheduled for spring 2010 in Fiji. In conjunction with Ferris University, SOPAC has produced a solar cooker construction manual detailing the materials and steps required to build the solar box cookers used in its projects. The manual is available for download from the SOPAC Web site. Specified materials include plywood, timber, glass, and one of several insulation options.
External links
Contact
Mrs. Koin Etuati
Project Officer - Energy
SOPAC Secretariat
Private mail Bag
GPO, Suva
Fiji
Tel: (679)3381377
Fax: (679) 3370040
Email: director@sopac.org
Web: http://www.sopac.org