Oscar Nuñez
Talk

0
1,834pages on
this wiki
Translate to:
Česky, Dansk, Deutsch, English, Français, Hrvatski, Italiano, Nederlands, Norsk, Polski, Português, Русский, Română, Suomi, Svenska, Tagalog, Türkçe, العربية, Български, ‪中文(中国大陆)‬, Ελληνικά, हिन्दी, 日本語, 한국어
We invite you to take a
short survey
to help us improve this website.
Last updated: October 17, 2011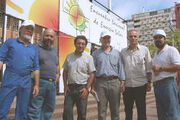 Oscar Nuñez es Ingeniero Profesional ligado a El Canelo de Nos. Ingeniero en Diseño, Usach, desarrolla tecnologías en la Corporación el Canelo de Nos.

Oscar Nuñez
Av. Portales 3020
Santiago de Chile / San Bernardo
Chile
Tel.: +56-02-8571943
Mobile: +56-09-3213369

Email: onunez@elcanelo.cl
Web: http://www.cocinassolares.cl