Last updated: August 25, 2015      
See also: Global Calendar of Events and Past events in Netherlands
News and recent developmentsEdit
July 2012: Fikirte Regassa Beyene is working as representative for Solar Cooking Foundation the Netherlands (SCN) on HOAREC/N's team for the eu-energy-facility-project as Integrated Solar Cooking Project Officer in Addis Abeba. She has been assigned to the project for several months to oversee SCN's role as advising and providing technical assistance.
Febuary 2012: The first National Project Steering Committee (NPSC) organised by HOAREC/N took place in Addis Ababa. The NPSC has the overall responsibility on quality control, development and - assurance related to the objectives of the European Union RET / EE project for Integrated Solar Cooking in Ethiopia in three areas. The target group is 10,000 households. Solar Cooking Foundation the Netherlands (SCN) is Associated Partner in this project and member of the NPSC.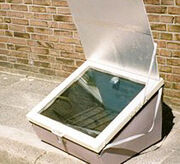 February 2012: The workgroup Solar Cookers Sliedrecht receives a yearly donation from a recycle shop in Sliedrecht in order to build and promote solar cookers. The group is still promoting the Dierkx type box cooker. In our opinion it is the best type of box cooker, because it is less dependent on wind and sun compared to the CooKit. As compared to the parabolic systems, we think the cooker has an advantage, because there is no need to stay with the cooker while it's cooking. For refugee camps the CooKit is a good solution. We think the Dierkx cooker is the best solution in permanently colonized regions. In our workplace we offer workshops to people who want to produce and introduce box cookers anywhere in the world. First we help them starting the project by providing those who have attended our workshop with money and materials to build 5 box cookers. Whenever we receive a positive response and when people seem te be willing to cook with the help of the sun, in the second phase we help them by providing money for building another 10 cookers. After that we judge if the project can be continued autonomously. An important condition for the help given by the workgroup is that during the manufacturing of the box cooker and the use of it, there must be a possibility of daily e-mail contact. Questions will be answered within 24 hours.
Climate, culture, and special considerationsEdit
ResourcesEdit
Reports all to be downloaded:Edit
Articles in the mediaEdit
Audio and videoEdit
Netherlands contactsEdit
Manufacturers and vendorsEdit
Government agenciesEdit
Educational institutionsEdit
IndividualsEdit
ReferencesEdit