Deutsch, Español, Français, Hausa, Igbo, Indonesian, Italiano, Kiswahili, Kreyòl, Malagasy, Melayu, Português, Русский, Soomaaliga, Tagalog, Việt, Türkçe, Yorùbá, Ελληνικά, தமிழ், नेपाली, 中文, اردو, 한국어, 日本語, العربية, فارسی, עִברִית, हिन्दी, ไทย, বাংলা, తెలుగు, ગુજરાતી, ລາວ, ਪੰਜਾਬੀ, සිංහල, پښتو
Use solar box cooker to make a herbal mosquito repellent

 
Apart from cooking, solar box cooker can be used to manufacture a superb herbal mosquito repellent (HMR) from betel leaves. Mosquitoes are the most dangerous creature in the world. They kill millions of people annually. HMR (or Duru-Maduru in our language) provides a perfect protection from this deadly creature. Recently I won an award for inventing this product. It is my pleasure to share this invaluable experience with you. 
Let us see how to make this low cost, safe and natural mosquito repellent at home, as a home remedy for mosquito menace. You can make it yourself by simmering betel leaves in a solar box cooker and save the lives of your loved ones from dengue or any other mosquito-borne disease. Follow the instructions given below. If you are satisfied with this repellent, please make whatever possible donation for my future R & D activities. Please contact me through neelgee@gmail.com for this purpose. 
HMR is a result of my 30-year effort to find a way out to combat mosquitoes. It was successful in April 2010. I field-tested it for three years before releasing this information to the SCI website. Let us see how to make it. 
You need:
1.            A solar box cooker (inside temperature should be maintained at 85 degrees Celsius).
2.            40 betel leaves (average size).
3.            Water - 300 ml.
4.            A sharp knife.
5.            Outside black-painted pot.
6.            A filter.
7.            A hand sprayer. 
Manufacturing process. 
1.            Betel leaves should be cut in to 5 mm thick bands.
2.            Put them into the pot and add 300 ml of water. (Always betel bands should be under water). Close the lid.
3.            Keep the pot inside the solar box cooker and simmer the content for three hours at 85 Celsius.
4.            Thereafter allow it to cool down to the room temperature without opening the lid. When it is cooled down, open the lid and filter out the lotion.
5.            Store it in a bottle in a fridge.
6.            Add a pleasant herbal smell if necessary.
7.            Take the daily using amount to the spray gun. 
Spray it around you to repel mosquitoes. When you apply it on your hands legs and cheeks you can escape from mosquito attacks. Maximize the quality of HMR by doing trial-and-error experiments. 
Betel leaves grow in countries like India, Sri Lanka, Bangladesh etc. It may grow in other countries too having similar climate. 
Mosquito has a very sensitive antenna through which it can detect our carbon dioxide moisture and odour and they attack us straightaway. Betel leaf has some ingredient which can upset their sensing organs. Therefore when we apply HMR on our body they won't be able to detect us at once and so we can hide ourselves from them. 
According to my practical experience, this ingredient is dissolved in water at the temperature of about 85 Celsius.  Therefore box cooker should be especially made to get that temperature. Simmering time should be 3 hours at this temperature. It could be applied on the body or sprayed in to the bed room before going to sleep. 
Duru-maduru is a 100% natural product and so it is safe for our skin. 
If you make this lotion correctly and use it collectively you will be able to confine mosquitoes to jungles. 
Enjoy mosquito-free life at home! Don't forget to make a donation for my future R&D activities. 
Neelaratna Geekiyanage
Sri Lanka
14/08/2013
{C}{C}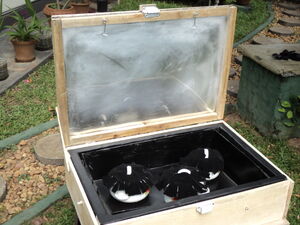 Recent news and developments
See also
Contact
Neelaratna Geekiyanage (Neel)
Mobile: 0771083802
Email: neelgee@gmail.com