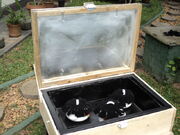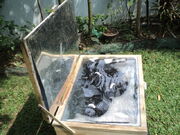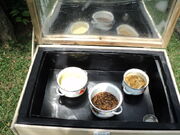 I am a Sri Lankan mechanical engineer born in 1950. Sometime back, on a sunny day, I happened to see a group of people trying to burn firewood for cooking their meals at a windy open place. As the wind was very strong at that time, they were unable to burn any firewood and finally they gave it up. That incident provoked my thought of making a solar cooker which can be used for cooking in any windy place. With this idea in mind, one day when I was surfing the internet, I came across the website of Solar Cooker International. I scrutinized it and studied the technique of making solar cookers. Then I made and tested all types of solar cookers to find out the best type for domestic use in Sri Lanka. I realized that the box cooker is the most suitable, user-friendly type for our country.
I did some modifications to the box cooker to increase its efficiency. It was necessary to replace the top glass with a suitable plastic sheet because the glass didn't withstand its high temperature and cracked. I used two transparent plastic sheets instead and a good insulator to minimize the heat loss from the box. Also, I was able to use white cooking pots by covering their lids with black velvet cloth instead of using black pots, which are normally used in solar cookers. Its temperature was measured with a laser thermometer without pots in it and with pots. Although the outside temperature was not very high at that time, the temperature inside the cooker was 125 Celsius and 85 Celsius respectively. That temperature was sufficient for cooking meals.
We have successfully cooked boiled rice, dhal, gram, sweet potato, raw fish, dry fish and many other curries in this 24" x 18" box cooker for testing purpose. It took about two hours for cooking.
I published an article in one of the Sinhalese
newspapers (80% villagers read Sinhalese papers) about solar cookers. I wanted to know whether villagers are aware of this method of cooking. Surprisingly, I got a large number of phone calls from all parts of the island inquiring about the cooker. It implies that most of Sri Lankans in villages are not aware of this method of cooking. My website http://scsl1.yolasite.com gives more information useful to Sri Lankan villagers.
Solar cookers can be introduced to the low income sector of the dry zone of Sri Lanka very successfully, if funds are available. Any "environment friendly NGO" or any other funding agency is requested to undertake this activity.
Articles in the media
See also
Contact
Neelaratna Geekiyanage (Neel)
Mobile: 0771083802
Email: neelgee@gmail.com