Translate to:
Deutsch, Ελληνικά, Español, Français, Indonesian, Italiano, Kiswahili, Kreyòl ayisyen, Magyar, Melayu, Polski, Português, Русский, Română, Tagalog, Tiếng Việt, Türkçe, தமிழ், Հայերեն, 中文, اردو, 한국어, 日本語, العربية, فارسی, עִברִית, हिन्दी, ไทย, বাংলা, తెలుగు, ગુજરાતી, ລາວ
Events
News and Recent Developments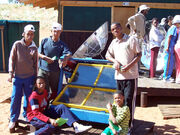 The History of Solar Cooking in Namibia
A workshop was presented at the Varese, Italy, meeting in 1999 by a solar promoter, Harald Schutt. He described the construction and dissemination of solar stoves in Namibia over a period of 8 years in the 1990s. His initial exposure was provided in a workshop in Germany presented by representatives of the ULOG group (see description in the section on Multi-National Promoters). Following that, Mr. Schutt worked in Namibia, initially in a refugee camp and later in settled communities, teaching Namibians how to build a wooden box cooker and how to use the device. Female carpentry-trainers were taught the techniques of making the overt, and considerable experimentation was done to keep costs low while still producing quality devices.
This solar promoter has distilled lessons he has learned in many years. His view include the following: use a solar stove yourself, use schools as teaching sites, create social clubs around solar cooking, train builders of stoves of high quality; launch publicity campaigns to raise awareness, includingd emonstrations at sports events, supermarkets, clinics, and schools (Varese, p. 215). Nothing is known however about the outcome of this work in Namibia.
Climate, Culture, and Special Considerations
See also
Resources
Reports
Articles in the media
Namibia contacts
Non-governmental organizations (NGOs)
Government agencies
Eductional institutions
Individuals
Manufacturers and vendors
See also