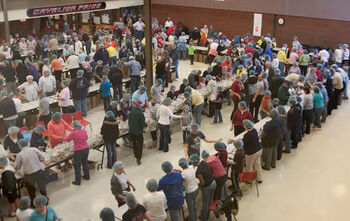 The Mulberry Street United Methodist Church has been an early responder to the needs of the people of Haiti after the recent earthquake. They previously had been involved with offering assistance before the disaster, but rallied and intensified their efforts after the devastation of the quake. In the words of Linda Bloom, who writes for the United Methodist News Service:
'The overwhelming response to assist the people of Haiti is an inspiration across The United Methodist Church.
More than 3,000 people lined up to participate when the Rev. Larry Davies, a United Methodist district superintendent in Lynchburg, Va., set up an emergency meal packaging event for Haiti on Jan. 18.
"We booked the largest high school in the area and the word kind of got out on Facebook, and it went nuts," he said. "We had a bus come in from two counties away. I've never seen anything like it in my life. People just literally came from everywhere."
The event's goal of 100,000 meals was more than doubled. Within a week, the meals were shipped to Haiti through Stop Hunger Now, a hunger organization led by the Rev. Ray Buchanan, a United Methodist pastor. By Feb. 15, Davies said, the district finished raising the $51,000 needed to pay the shipping costs.'
See Also
United Methodists keep focus on Haiti
News and recent developments
External links
Contact
Mulberry Street United Methodist Church
719 Mulberry Street
Macon,Georgia 31201
USA
Tel. (478) 745-8601
Johnny Hathcock
Macon Outreach Director
jhathcock@mulberrumethodist.org