Most significant solar cooking projects
Comments

0
Deutsch, Español, Français, Hausa, Igbo, Indonesian, Italiano, Kiswahili, Kreyòl, Malagasy, Melayu, Português, Русский, Soomaaliga, Tagalog, Việt, Türkçe, Yorùbá, Ελληνικά, தமிழ், नेपाली, 中文, اردو, 한국어, 日本語, العربية, فارسی, עִברִית, हिन्दी, ไทย, বাংলা, తెలుగు, ગુજરાતી, ລາວ, ਪੰਜਾਬੀ, සිංහල, پښتو

The projects below represent the most significant solar cooking projects worldwide. These projects were selected either because they impact a significant number of people, show new strategies for solar cooking promotion, or demonstrate new ways solar cooking is being used for income generation. They illustrate how solar cooking helps in achieving the eight United Nations Millennium Development Goals.
Africa
Solar Circle uses barter system to distribute 3000 solar cookers in Tanzania - The NGO Solar Circle has learned from their solar cooking program in Masasi, southern Tanzania that people will work hard to earn a solar cooker. The group has created a bartering system with community leaders. The community chooses a service project and the beneficiaries organize and oversee the effort. Participants earn an solar oven for their involvement. As of early 2013, the program has distributed more than 3000 solar ovens, and built 40 houses for people who are sick, elderly, widowed, or disabled. Read more about how the barter system is organized. Lesson learned: A creative way for people to make a personal investment in owning their own solar cooker, and it need not necessarily be with money.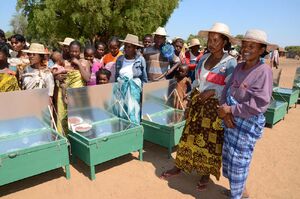 Long term investment in Madagascar has created a thriving solar cooking enterprise- The team of the Swiss ADES Foundation (ADES) started its solar cooking program in Madagascar in 2001. By 2012, they have taught the people of Madagascar to build and use more than 50,000 solar cookers, reducing local wood consumption by 65%. Read more detail about ADES' program. Lesson learned: Making a long term investment with communities improves continued use of solar cookers.
Solar cooking "Avon Ladies" in Zambia - The Solar Health and Education Project (SHEP) began in 2007 to fund solar cooking workshops in rural areas of Zambia. The team, with direction from Alison Curtis, developed a system to appoint a local leader at the workshop to follow-up with a group of participants to help and encourage using the new cookers. As of 2012, the solar team has ten excellent leaders who take turns spreading the solar news by setting up at shows, events, museum gatherings, school playgrounds, and clinics. Read more about SHEP leadership training. Lesson learned: Creating a team of well-trained local teachers
The Solar Cooker Project helps to improve the lives of Darfur refugees living in Chad - More than 50,000 people in four Darfur refugee camps in Eastern Chad are using locally made solar CooKits designed by Solar Cookers International. The project, which began in 2006, is run by Tchad Solaire and by the British NGO CORD. It is funded by Jewish World Watch and the Kozon Foundation. The project has improved the safety and survival of the women in the refugee camps. Previously, they were faced with dangerous and arduous trips outside the camps to collect scarce firewood. Two of the most extensive projects are at the Touloum Refugee Camp and the Iridimi Refugee Camp. Lesson learned: Lesson learned: Find solutions for situations of extreme need with simple inexpensive technology.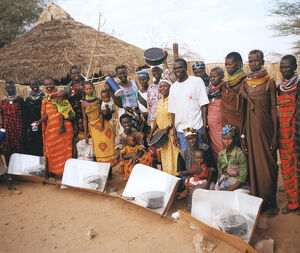 A refugee camp in Kenya was the first to receive a large scale solar cooking project - The Kakuma refugee camp was formed in 1972 when Sudanese refugees first arrived in Kakuma, Kenya. Introducing solar cooking to the camp was Solar Cookers International's first and largest refugee project, beginning in January 1995. Kakuma had considerable refugee turnover, but by 2004, when Solar Cookers International (SCI) concluded the project, the camp had tripled in size to nearly 90,000 refugees. Though rapid growth posed problems for assisting all those who wanted to solar cook, SCI ultimately served over 15,000 families. This project was one of the earliest to use the CooKit solar panel cooker to introduce solar cooking. The program also extended solar cooker technology to schools, especially primary school, through demonstrations, poems, songs and drama. Lesson learned: Creative thinking developed a simple solar cooker able to serve a quickly growing population of displaced families.
Asia
Institutional solar cooking is gaining momentum in India - Completed in 2010, the world's largest solar cooking system, designed by Gadhia Solar Energy Systems Pvt. Ltd., is functioning at the Shirdi temple, where a solar cooked lunch is served to over 50,000 people per day. The solar steam cooking system is comprised of seventy-three rooftop-mounted Scheffler reflectors of sixteen square meters each. The dishes concentrate sunlight on receivers that contain water, generating steam that is piped down to the kitchen for cooking purposes. Read more about the Shirdi project. Lesson learned: Solar cooking can be successfully used on an institutional level to save large quantities of conventional cooking fuel.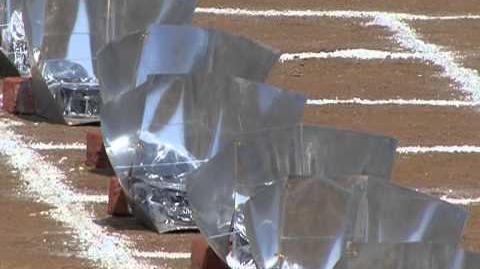 Indian government makes major investment to teach solar cooking in schools - Ajay Chandak reports that included in the Indian government's five-year plan for 2012 through 2016, 30,000 million INR (approx. $600,000,000USD) is budgeted for solar cooking instruction in 500,000 schools. This will not only help in saving the environment, but it will expose millions and millions of school children to solar cooking and build the confidence that these systems work. On January 19, 2013, middle school students gathered on the grounds of JES College in Jalna, India to be trained in the use of a simple solar panel cooker. After a quick breakfast, and guidance from 205 trainers, a record-breaking 2,044 students assembled their own solar cooker and placed prepared ingredients inside to cook. After speaker presentations, they were able to enjoy the lunch they had cooked themselves. Read more about the event... Lesson learned: An enlightened government is able to make the introduction to solar cooking happen at a level most non-governmental organizations are incapable of.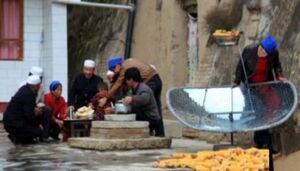 Large-scale use of solar cookers in northwestern China shows promise - Solar Household Energy has tracked the Chinese government's efforts to reduce carbon emissions in the region, because in rural China the predominant fuel for cooking and heating is usually coal. The government has recently utilized the carbon credit trading program of the Clean Development Mechanism. The results proved to support a profitable business model when evaluated in 2013. Since then, it is estimated over two million people have been benefiting from receiving and using 500,000 parabolic solar cookers. CDM project specifics. Lesson learned: Clever bundling of business objectives and government support can create win-win-win programs to spread solar cooking.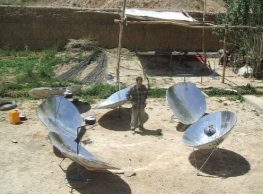 30,000 parabolic solar cookers distributed in Indonesia to reduce kerosene consumption - Jakarta Indonesia officials began in 2007 to reduce kerosene consumption with the solar cookers as part of a Clean Development Mechanism project, with help from the German company EnerXi GMbh. Jakarta consumes about 2.7 million liters of kerosene a day. A family using one liter of kerosene per day emits two tons of carbon dioxide (CO2) each year. Through CDM projects, developing countries can earn Certified Emission Reductions (CERs) based on the resulting amount of CO2 reduction. Read more about the kerosene reduction project. Lesson learned: Some governments are seeing solar cooking as a effective tool to reduce pollution.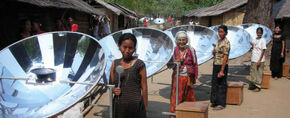 85,000 refugees from Bhutan have solar cooked their meals in Nepal - The Vajra Foundation Holland (Stichting Vajra) has worked in the Bhutanese refugee camps in Nepal since 1995 to bring solar cooking and heat-retention cooking to the refugees there. By 2013 some 85,000 refugees were cooking their meals using these methods. The on-the-ground work is done by Vajra Foundation Nepal and financing is provided by the Dutch Lottery and the Dutch NGO Stichting Vluchteling. Lesson learned: Hard work and effective programs to introduce solar cooking can serve a large segment of a population in need.
Latin America
Bolivia and Peru have benefitted from successful solar cooking programs - The French NGO, Bolivia Inti-Sud Soleil and Bolivian NGO CEDESOL (working with Bolivian company Sobre la Roca, which produces solar cookers and high efficiency biomass stoves) have together trained thousands of Bolivians and Peruvians to build and use sturdy solar box cookers and fuel-efficient woodstoves. Bolivia Inti-Sud reported in 2011 that they have distributed more than 20,000 ecological appliances since 2000. See Bolivia Inti-Sud Soleil projects Lesson learned: Creative solar cooking introduction programs can include learning other valuable skills for participants.
The HotPot solar cooker introduction in Mexico - Solar Household Energy (SHE), spent several years developing a solar panel cooker called the HotPot, a variation on Solar Cookers International's cooker, the CooKit. In 2003 SHE received a grant from the World Bank's Development Marketplace to mount a HotPot promotion project in Mexico working with the Mexican nature conservancy, Fondo Mexicano para la Conservacion de la Naturaleza (FMCN). By July 2004, 2,000 HotPots had been manufactured and trucked to eight local conservation NGOs that had agreed to participate in the HotPot distribution initiative. Solar Household Energy may be the global leader in promoting solar cooking. The history of the HotPot project. Lesson learned: Quality solar cookers are appreciated. However, demand may not be able to be met without significant financial support.
Solar restaurant in Chile has produced profits - The Delicias del Sol restaurant, known for serving excellent food, has become a tourist destination for the village of Villaseca, Chile. Begun in 2000 with an initial seating capacity of sixteen, the solar restaurant has been able to seat 120 since 2013. The dry central valley area receives over 300 days of sunshine a year, and like similar areas, traditional fuel sources are becoming ever more scarce and expensive. The tourists enjoy viewing the solar kitchen at work. Visit the Delicias del Sol restaurant. Lesson learned: A well-run solar cooking business can be successful.