Matthew Rollins is a retired technician and inventor of several things used today world wide. One of the projects he has been working on involves observing the varying performance of a parabolic when it is moved various distances from the 'heating target'. This may provide groundwork for a version of a parabolic solar cooker that uses an easily movable reflector to maximize efficiency.
Recent news and developments
December 2012: War weary citizens in Iraq to receive solar cookers - During a recent visit to villages in the Najaf-Karbala region of Iraq, a trustee of The Lady Fatemah Trust found that villagers were using two methods for cooking: The majority of families, living in abject poverty, use open fuelwood fires for cooking, heating and lighting, while a slightly more affluent minority uses appliances fueled by kerosene. In the first phase of this project, LFT intends to provide families living in the villages surrounding Karbala: Barakat al-Zahra district, Al-Mahdiyeh Village One and Two, the al-Nedhal and al-Wala' neighborhoods, as well as to families living on isolated desert farms with solar cookers. About 7000 solar panel cookers will be needed to provide every family in the region with a cooker. The cookers are an improved version of the standard Cookit solar cooker. They made from plastic fluteboard, and are being manufactured by Matthew Rollins. Total project cost will therefore amount to £105,000.00. Consider being a donor. More information...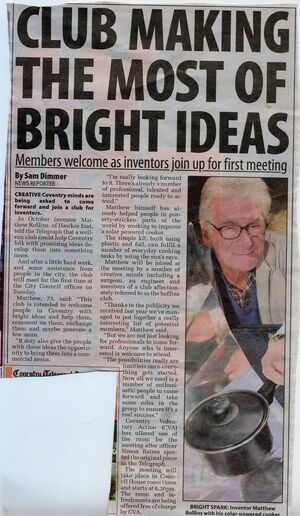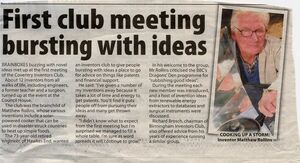 January 2011: Matthew Rollins, a resident of Coventry, England, has been featured in the local newspaper, the Telegraph, promoting the formation of a local inventors club. Their inaugural meeting will take place in City Council offices. Professional physicists, as well as anyone interested in the inventing process have been encouraged to attend. Rollins for his part, has helped to refine the design of a type of solar panel cooker that can be used in areas of the world facing limited fuel supplies, and suffering respiratory disease from indoor air pollution, as well as, working on a movable reflector for the parabolic solar cooker shown above. Also, with two interviews with the BBC, they are on their way to establishing the club.
See also
Contact
Matthew Rollins