Deutsch, Español, Ελληνικά, Français, Hausa, Igbo, Indonesian, Italiano, Kiswahili, Kreyòl, Malagasy, Melayu, Português, Русский, Soomaaliga, Tagalog, Việt, Türkçe, Yorùbá, தமிழ், नेपाली, 中文, اردو, 한국어, 日本語, العربية, فارسی, עִברִית, हिन्दी, ไทย, বাংলা, తెలుగు, ગુજરાતી, ລາວ, ਪੰਜਾਬੀ, සිංහල, پښتو
Last updated:
30 April 2017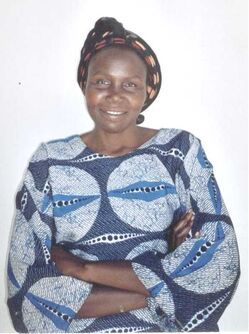 Marie-Rose Neloum is the President of TchadSolaire. In 2008, she received of the Van Heuven Goedhart Award. The Van Heuven Goedhart Award is given every second year by the Dutch Refugee Foundation (Stichting Vluchteling, SV) to a refugee, or an internally displaced person, or a person who is closely involved in a refugee community.
During the second world war Gerrit-Jan van Heuven Goedhart worked underground against the Nazis and had to flee in 1944 in barren circumstances through Belgium, France, over the Pyrenees, across Spain and finally arived in the UK. Some years after the war he became the first High Commissioner for Refugees of the United Nations, UNHCR. Originally his main task was to offer refugees legal protection. But he changed this, saying: "Refugees can't live from laws, what they need is bread, housing and work". In 1954 he won the Nobel Prize for Peace.
The winner of the award will be invited to the Netherlands for the official presentation of the award, during the week around World Refugee Day 2008. Besides the honour, the award involves € 50,000 (≈ US$ 80.000) to be spent on a refugee project chosen by the winner in consultation with the Dutch Refugee Foundation (SV).
Three candidates were nominated of which one was Marie-Rose Neloum, proposed by KoZon. She was choosen to our great delight. The following document was written to send to the jury for her nomination:
According to Derk Rijks (founder and coordinator of the project to introduce the CooKit in the Iridimi Refugee Camp in north-eastern Chad) without Marie-Rose Neloum this project would never have become an intensely desired and totally accepted success. She has a most extraordinary way of making women refugees enthusiastic about using solar energy and participating in making it work.
Criteria for selecting candidates for the van Heuven Goedhart award:
From the moment she engaged in this activity in February 2005, Marie-Rose Neloum gave her all for the refugee women from Darfur that arrived in the Iridimi and Touloum camps in the arid north-eastern part of Chad. These refugee women had been chased from their villages by the Janjaweed and the Sudanese army under the most horrible circumstances and many saw their men being killed. Marie-Rose will soon be working in the even more severe desert area, the Oure Cassoni refugee camp. Responding to a suggestion by Stichting Vluchteling (SV), she spent nearly a week in the camp with Faiza, a refugee artisane, and Derk Rijks, and here again sparked enthusiasm among the women when she explained that fuel could be saved, and personal safety accrued, by using the CooKit and a hay basket.
She lives in Iriba, a village where UNHCR and humanitarian organizations have their offices, near the Iridimi and the Touloum camps. She can not live in the camp itself because only the refugees are allowed to stay there at night. She works for the solar cooker project that is funded by SV (TSJ-05.3, TSJ-07.1) and donors in the U.S. (Jewish World Watch and Solar Cookers International)
As mentioned above, Derk Rijks is convinced that without Marie-Rose the project could not possibly have been so successful. She is a very special person, gets along with everyone, without letting anyone push her away and is respected by all echelons of the society. People listen to her suggestions and remarks.
She is exceptionally skilled in getting along with the refugee women, getting them to participate and shoulder responsibility. From the very beginning she encouraged women who asked if they could help with the project. Thanks to her demonstrations and training, a team of auxiliary trainers was able to take over and teach the technique to other refugee women and girls soon after the project started. When some women asked if they could make the CooKits themselves, she showed them how to do this. They are made in a workshop built with SV funding. Now about 1000 CooKits are made every month by 21 craftswomen, taking turns at the work site.
She was able to convince the women that the new technique was worthwhile, that less fuel would be needed if cooking was "integrated" using a simple solar cooker (the CooKit), a hay basket and an improved wood stove, and that thus there would be less need to search for firewood outside the camp, a very dangerous activity. The first two elements were completely new. Because of their confidence in Marie-Rose, the women in Iridimi were ready and eager to accept the technique (see Solar Cooker Project Evaluation, to find on the kozon.org website).
She has a strong personality, is expressive and enthusiastic in everything she does. This became clear when she first started working with CooKits in N'Djamena in April 2004. In January 2004 the World Meteorological Organization sent Derk Rijks, who is also a KoZon fund advisor, out to make an evaluation of some activities of the meteorological service in Chad. He often has a CooKit with him to show people how effective it is in countries where the sun shines "hot and a lot". One of the women who worked in the weather service asked him to give a training session on the use of the CooKit to GFVNT, a women's group interested in new technologies, in N'Djamena. In April 2004, he held a CooKit training session for 20 women on solar cooking. Marie-Rose Neloum was one of those 20 women. And she was the one who asked Derk to teach her how to make a CooKit. He showed her and left her the materials she needed. She then started making and selling CooKits in N'Djamena.
Biodata of Marie-Rose: She was born in 1962, went to primary and junior high school and attended secretarial and first aid courses, and then went to Benin to become a seamstress. When back, she was invited to participate in various social activities and became head of the election bureau in the district where she lives in N'Djamena. Her husband died, so she takes care of their three children, as well as three of her late husband's other children. Before becoming full time involved with the project, she earned a living as a seamstress and, very early in the morning and at the end of the afternoon, by selling beignets, (small, salty fried puffs, made of yeast, sorghum, blackeyed beans and sometimes wheat flour dough, that people often buy early in the morning on their way to work or in the evening on their way home). She now lives in Iriba and her family takes care of her children in N'Djamena. She tries to take a few days off just before the new term in order to prepare her children for school (buy school supplies, pay tuition, etc).
She speaks French, Chadian Arabic and local languages. Thanks to her secretarial training, she can, even in Iriba, work directly on a computer, work that she shares with her colleague Gilhoube Patallet, to record all necessary project data, e.g. the names of women who have received cooking lessons, the number of lessons given by the auxiliary trainers and the number of hours that the craftswomen (artisanes) have worked in the work site, because all these women get a remuneration for their work. Patallet and she also write down the cost of other materials for the training sessions and petty costs.
The first project at the Iridimi Refugee Camp was called SVAAKO (SV, AAA and KoZon). Then in summer 2007 a Chadian NGO called "Tchad Solaire" was created and officially registered. Marie-Rose was elected as Presidente, which the Chadian male members, at that time only Ali Moussa Waddai, Gilhoube Patallet and Justin Daitangar, thought was perfectly logical. She is, in close harmony with the members of the team, recognized as a source of inspiration and encouragement for the work going on in the camps.
In May 2007, by the time the project was two years old, all the women 15 and older in Iridimi had learned solar cooking, thus concluding the first phase of the project. In the second phase, an after sales service is very important. In this second phase solar cooking lessons are given also to women who have newly arrived. Unfortunately, some people in Iridimi do not yet have a complete hay basket. The women make these baskets themselves by weaving palm leaves that are procured from a more southerly area. Crude cotton fibre is used for isolation. Further financing will be needed to buy enough palm leaves and cotton fibre for the whole camp.
In the nearby Touloum Refugee Camp, the first phase of a project was launched in June 2007. The workshop in Touloum, and the further activities, are financed by the Jewish World Watch. The auxiliary trainers and craftswomen continue working and about half of the women have received training and cookers. Like in Iridimi camp about 1000 CooKits are made every month by 21 craftswomen, taking turns at the work site. Here again Marie-Rose is considered to be the leading actor of the project with people listening attentively to her proposals and comments.
At the moment the security situation in Chad is not good. A French humanitarian worker, member of the Save the Children organisation, was killed on the way to Farchana, where there is another refugee camp . From Iriba, the village near Iridimi and Touloum, where Marie-Rose lives and where Derk Rijks is at the moment, where the humanitarian workers have to spend the nights, it is at the moment impossible to go to the camps, too dangerous. Let us hope that the situation will soon improve again, it are the refugees who suffer most of this situation.
Audio and video
See also
Contact
See Tchad Solaire.
Ad blocker interference detected!
Wikia is a free-to-use site that makes money from advertising. We have a modified experience for viewers using ad blockers

Wikia is not accessible if you've made further modifications. Remove the custom ad blocker rule(s) and the page will load as expected.