Deutsch, Español, Ελληνικά, Français, Hausa, Igbo, Indonesian, Italiano, Kiswahili, Kreyòl, Malagasy, Melayu, Português, Русский, Soomaaliga, Tagalog, Việt, Türkçe, Yorùbá, தமிழ், नेपाली, 中文, اردو, 한국어, 日本語, العربية, فارسی, עִברִית, हिन्दी, ไทย, বাংলা, తెలుగు, ગુજરાતી, ລາວ, ਪੰਜਾਬੀ, සිංහල, پښتو
Last updated:
25 May 2017
| | |
| --- | --- |
| | Togo Tilé established a self-supporting solar cooker business is Mali with a grant from Solar Cooking KoZon in 2014. In 2017 and after extensive analysis of the business, Togo Tilé was selected by a government program intended to stimulate private enterprise in Mali. A business expansion plan was established. Togo Tilé now reports that they have a thriving business with 30 staff members, five points of sale nationwide, and an average monthly business volume of 9,000 €. |
Events
See also: Global Calendar of Events and past events in Mali
News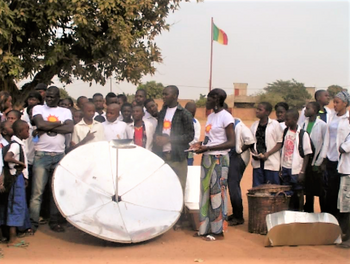 May 2017: Solar Cooking KoZon (SCK) stimulates ISC private enterprises - In 2014, Solar Cooking KoZon granted Togo Tilé, a Mali-based solar cooking business run by Seydou Coulibaly, an initial subsidy of €13,300. Two years later, it's a thriving business with 30 staff members, five points of sale nationwide and an average monthly business volume of €4,000. The environment constitutes an important incentive; at sales demonstrations, at schools and universities, close attention is paid to the environmental aspects of solar cooking. For Seydou a contribution to the environment does not end with the sale of the product. Togo Tilé continues to support its customers for some time after the sale, to ensure that the products are truly integrated in daily cooking, to provide a lasting positive contribution to the environment. After extensive analysis of the business, Togo Tilé was selected by a government program intended to focus on stimulating private enterprise in Mali. A business expansion plan was established that included the construction of a bigger workshop and the acquisition of a saw and a welding machine. More information...
September 2016: A sturdy solar box cooker developed by Henk Blok together with students of the Free University and the University of Amsterdam continues to be popular at the Togo Tilé retail store. Henk and Marjan Blok paid the start-up costs for the experiment with these boxes in Mali. Piet Sluimer, a member of the Techniques Work Group, has developed a cheaper cardboard solar box cooker (the smaller box on the right), which is also selling well.
September 2016: Mali women with disabilities receive assistance with access to solar cooking - Sixty women from Bamako and Sikasso, Mali, attended a workshop organized by Solar Cooking The Netherlands - KoZon in August. With limited ability to gather wood for fuel, the solar cookers and hay baskets have reduced their wood use by 60 to 70%. Read more...
December 2015: Solar Cooking The Netherlands - KoZon reports: "We have carefully continued this trend in the latest project together with the Association des Femmes Ingénieurs du Mali (AFIMA) in Tiby, in the Segou area. Eight hundred and fifty Women have been trained. From this group, four cooperatives have been created. They were to continue as businesses that would disseminate solar cooking while being coached by AFIMA. However, our partner has decided that it prefers to continue with other charitable projects. We are therefore going our separate ways. We will have the new Renewable Energy Centre near Mbarara ISC, and information and promotion in Ethiopia for the time being. It is regrettable because AFIMA has been of great value in the dissemination of ISC in Mali. To ensure that the cooperatives will be able to continue, we are attempting to link them to the Togo Tilé project."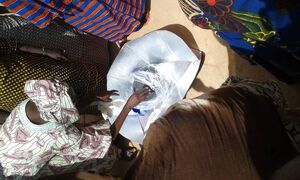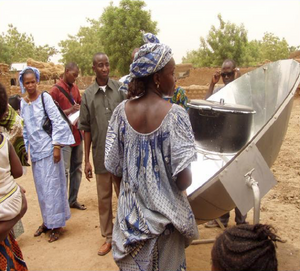 June 2015: UNDP trains blacksmiths to build solar cookers - In its recently published Annual Report, the United Nations Development Program highlighted its program in rural Mali which trained local village blacksmiths to build solar cookers, solar dryers, and water heaters. Local residents also had solar panels installed on their homes. Roughly 30,000 people have reportedly benefited from this program. Read more...
January 2015: Only the cooking food is out in the sun at this Mali school - Stephan Zech, with Sun and Ice, posted this photo of a mid-day meal being prepared at a school in Mali.
History
The Sahelian nation of Mali is the site of several solar cooking projects. Desertification is of course an immense problem in this part of Africa. Only 10% of the land has any forest cover, and deforestation continues to occur. As in other areas, clearing land for agriculture and grazing is assumed to be the principal reason for the forests' decline, but there is also recognition that over 70% of wood production is used for cooking. Solar cooking offers one way to stem this unwanted development in Mali.
Researchers at the University of Torino, studying the problem, have experimented with a wide range of fuel-saving devices, dryers, water heaters, solar lighting panels, and solar cookers. (As one researcher said-, "Every day when I get up (and look at the sun), I see all that energy going to waste.) Considerable study done under the auspices of the University, with joint efforts of the Faculty of Agricultural Science and the Interdepartmental Centre of Women's Studies, has included surveys, interviews, and field analyses of both problems and some suggested solutions. Local associations promote various fuel saving devices, such as metal stoves or parabolic cookers; other promote solar cooking (see below for an example). But in a nation without adequate communication channels (television or daily newspapers) and a population with only a 35% literacy rate, spreading new technology is difficult. Radio broadcasting is thought to be the most promising dissemination media. Most important in this situation is the awareness of the problem and the willingness to seek solutions.
One single person, Gnibouwa Diassana, long committed to solar cooking, has managed in these circumstances to make and sell around 50 cookers of the wooden box type. He does this on his own, without assistance even from the NGO for which he works on other kinds of projects. This sole person, working only with a son, has a promotion plan for an energy week and even a business plan that would permit expanded production of solar box cookers. He hopes to find partners among women's organizations but knows that resistance to change, and rigid gender based roles, make it difficult for women to pursue the purchase of cookers. He is however a determined man and perseveres in his work. (Pictures and story, Solar Cooker Review, March 2003).
Another project created by an individual is the work of Lanseri Niare, who has been introducing box cookers, both by teaching people how to build their own cooker and how to use the box when built. Major problems encountered in this project have been glass breakage, termites if the box is used on the ground, and the Harmattan period (a severe windy season) which brings much dust, so that even when sunny, cooking is difficult) (Solar Cooker Review, Dec. 98).
One other project, which has proven successful in Mali, operates under the auspices of the KoZon Foundation, a Dutch organization that works through the western African Sahelian nations. From a beginning in Burkina Faso (see above), the efforts of KoZon and its dedicated volunteer Wietske Jongbloed, have introduced CooKits in Mali since 2001. Wietzke operates at a very grassroots level, taking cookers (mostly using CooKits made in the Sahel to keep cost low) to marketplaces for demonstrations. The CooKits themselves were initially imported from abroad, and then purchased from Burkina Faso. This operation, relatively new, has not yet been evaluated by KoZon, but is gradually moving forward, in cooperation with the Association des Femmes Ingénieurs du Mali.
[Information for this section was taken originally from State of the Art of Solar Cooking by Dr. Barbara Knudson]
Archived articles
Climate and culture
A 2010 report from Mali's agriculture ministry said that more than 500,000 hectares of forest are cleared for firewood and charcoal each year in the West African country. But new ways of cooking, using solar power and heat-retention cookers, could cut those losses.[1]
Based on knowledge gained from visiting solar cooking promoters and appropriate technology organizations, J.P. Martin-Vallas has developed some recommendations for solar cooker dissemination in Mali:
Target cities where firewood is quite expensive, such as in Kayes, Niafunke, and Tombouctou
Encourage dissemination by women
Focus on durable box-type solar cookers that accommodate large cooking pots
Engage local carpenters to make the cookers
Provide a five-year guarantee for each cooker sold
J.P. Martin-Vallas concluded that imported parabolic-type solar cookers are currently too expensive for most Malians. One way to lower prices, he says, would be to import bulk aluminum sheets and cut panels on site.
The following chart shows some sample annual firewood expenditures for households of 10 people. (Note: 500 CFAs is approximately US $1.)

City

Annual Firewood Expenditure
(in CFA Francs)

Kayes

300,000

Niafunke

300,000

Tombouctou

280,000

Douentza

180,000

Segou

150,000

Waki/Niafunke

150,000

Bourem

120,000

Koutiala

100,000

Koulikoro

75,000

Mopti

75,000

Kerouane

60,000
Northern part of the country: Desert (Sahel). Southern part of the country: Sunny, little firewood, and populated. (Source: Juan Urrutia Sanz, 2010-Feb-25)
See also
Resources
Possible funders
Project evaluations
Reports
Discussion groups
Articles in the media
External links
Contacts
SCI Associates
NGOs
Manufacturers and vendors
Individuals
Government agencies
Educational institutions
See also
References
Ad blocker interference detected!
Wikia is a free-to-use site that makes money from advertising. We have a modified experience for viewers using ad blockers

Wikia is not accessible if you've made further modifications. Remove the custom ad blocker rule(s) and the page will load as expected.