Deutsch, Español, Ελληνικά, Français, Hausa, Igbo, Indonesian, Italiano, Kiswahili, Kreyòl, Malagasy, Melayu, Português, Русский, Soomaaliga, Tagalog, Việt, Türkçe, Yorùbá, தமிழ், नेपाली, 中文, اردو, 한국어, 日本語, العربية, فارسی, עִברִית, हिन्दी, ไทย, বাংলা, తెలుగు, ગુજરાતી, ລາວ, ਪੰਜਾਬੀ, සිංහල, پښتو
Last updated:
12 September 2016
| | |
| --- | --- |
| | McDonald Ganisyeje showing the Minister of Tourism Hon. Daniel Liwimbi MP and other top government officials from the Ministry and Department of National Parks and Wildlife how the solar cookers work. |
Events
See also: Global Calendar of Events and Past events in Malawi
News
October 2015: - In June 2015, United Village Transformation, led by Claudia Sansone, adopted a rural village near Daeyang Luke Hospital in Lilongwe, the capital city of Malawi. The United Village Transformation team opened a preschool and provided agriculture and medical resources to the village. They also distributed several CooKits. Claudia Sansone reports that the villagers were very enthusiastic about the solar cookers and were eager to begin using them.
September 2013: Inspiration from Solar cookers International fosters a CooKit introduction project in Malawi - Claudia Sansone, whose interest in solar cookers began when she met with current Solar Cookers International board member, AJ Lederman, and then SCI board member Pat McArdle, at a UN Commission on the Status of Women in New York in 2011. Sansone says that after she read McArdle's novel Farishta, she was convinced that solar cooking could be successfully introduced in Malawi. With guidance from SCI executive director Julie Greene in Sacramento, California, USA, Sansone purchased several CooKits. She used these cookers to make templates, and then produced a number of the solar panel cookers to distribute. Traveling with her family to Malawi, she hosted classes and demonstrations on solar cooking with the CooKits. With a friend, she taught the women at Elizabeth Chikoya's Women's Development Center and members of the Gogo Grandmothers how to make more solar cookers with locally available materials. Read more at: Malawi and Solar Cookers International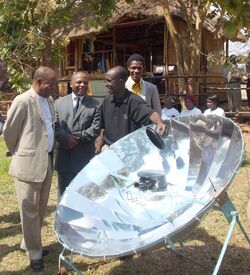 November 2012: Update from the Care and Support Network - The Care and Support Network is producing both parabolic solar cookers and CooKits and the women from Chimwemwe Centre produce briquettes from waste papers, sawdust, and maize husks as alternative source of energy. The theme of the function for this year was 'Tourism and Sustainable Energy' hence our presence there. We explained to the top government including the Minister of Tourism who visited our stands that use of solar cookers and briquettes is an alternative source of energy to using firewood and will help us protect our forests that are being depleted at an alarming rate. The Minister was impressed and bought one parabolic solar cooker the same day. Leading by example J! Land and Lake Safaris, a Tour Operator where McDonald Ganisyeje works full time provided logistical support for the solar cookers to be available at The Lilongwe Wildlife Centre where one of the parabolic solar cookers is stationed for demonstrating to the public. Land and Lake Safaris also provides waste papers from the office through the Lilongwe Wildlife Centre where the women collect them and make use for making the briquettes.
March 2011: Sun Ovens, an Illinois, USA company, joins forces with the Rotary Club of Naperville, Illinois to help promote solar cooking for the people of Malawi, Africa. Given the economic and health struggles the country is currently facing, this population will benefit greatly from having access to safer and healthier food. The Global Sun Ovens they brought were perfect in slow cooking the "seven grains" diet given to people living with AIDS. This is a nutritious blend of seven wholesome grains that, when softened, provide patients the best nutrition without being too heavy or harsh on their digestion. Prior to the introduction of solar ovens, people would use a huge amount of fuel like charcoal or firewood to soften these grains. Now, all they have to do is to harness the power of the sun to cook their food. This minimizes their exposure to cooking fumes and the need to gather fuel. More Information...
August 2010: Former African Parks Network volunteer, Pierre de Winter and his friend Mijntje van Kemenade returned to Majete Wildlife Reserve in July this year to introduce a solar cooking project to the boundary communities of Majete. The aim of the project is to train a group of women in solar cooking and the use of CooKit, demonstrating an alternative to traditional unsustainbable methods of cooking with firewood. In August, two trainers, McDonald Ganisyeje and Justin Namizinga, held the first session to train one woman selected from each CBO, and the community extension of staff of Majete.
April 2007: McDonald Ganisyeje reports that a solar cooker construction workshop has opened in Nkhotakota, with three employees. Solar CooKits cost about $5.40 to produce, using heavy cardboard that is cut by hand. Ganisyeje hopes to open additional workshops in the Chiradzulu District and the Mchinji-Lilongwe area. Contact: McDonald Ganisyeje
November 2006: McDonald Ganisyeje of Malawi teamed up with Dr. Jan Snyder of United States in mid-2006 to build 53 panel-type solar cookers similar to the CooKit. These cookers will be sold, with the proceeds used to purchase supplies to build greater numbers of solar cookers to reach ever greater numbers of families. The project will target the Lilongwe and Nkhotakota areas first, and if all goes well will expand to other areas. Contact: McDonald Ganisyeje, Land & Lake Safaris, Box 2140, Lilongwe, Malawi. E-mail: mcdonald@landlake.net
November 2006: As part of a teaching program to promote pasteurization of drinking water, Earl Stanley sent 100 of Solar Cookers International's water pasteurization indicators (WAPIs) to the Touching Hearts organization for use in Malawi. The WAPIs were distributed by Rev. Max Jawati. "It fills me with great joy and satisfaction," Jawati said, "to report to you that the WAPIs we received … were successfully tested by 50 families in the rural villages and are life and cost effective." He noted that the WAPIs not only worked well when pasteurizing with solar energy, but also when pasteurizing over wood or charcoal fires. Contact: Michele Dixon, Touching Hearts, Inc., P.O. Box 761, Novi, Michigan 48376, USA. E-mail: hallen@touchinghearts.net
July 2005: In the first year of his latest solar cooking project, Hosana Nyirenda hoped to train 30 women to make and use solar cookers. Ultimately, 42 women and eight men were trained. (Forty of them learned how to teach others.) Sixty-seven solar cooking demonstrations were conducted, raising solar cooking awareness of some 4,500 adults and children. A few communities are considering solar cooker projects of their own. Nyirenda's project was supported by the Lilongwe Rotary Club. Funds are sought to extend the project to other areas of Malawi and to focus on serving those who suffer from HIV/AIDS. Contact Hosana Nyirenda through the Lilongwe Rotary.
History
An unusual sponsor of solar cooking in Malawi is the non-profit organization, Peace Child International. One of its programs called Be the Change (BTC) challenges young people to make a difference in their communities. In Malawi the youth action work focuses on solar cooking. One young man proposed to his colleagues that they make and sell solar cookers as a BTC project. With a very small budget, they did all planning and implementation of the project. By 2001,the group has been able to provide 50 village families with solar cookers in 9 different villages. The group has reached out for support from organizations in Germany and Austria, and has also been aided in locating reflective materials by a Malawian business, Universal Industries. (Source: Solar Cooker Review, November 2001)
A quite different type program in Malawi was reported on at the [[Kimberly meetings]] in South Africa in 2000. The country has excellent solar insolation and severe deforestation in some areas. The Department of Energy Affairs has established a Renewable Energy Program, which intends to promote a range of renewable devices, including solar cookers. Using box cookers sold through a micro-financing scheme, the project intends to establish distribution centers across the country. A private business, the Zako Solar Cookers Industry is the principle manufacturer of ovens, and nongovernmental organizations are assisting in the distribution.
To begin, a national planning workshop was held. Various stakeholders came together to divide up the tasks involved in presenting a series of demonstrations on energy saving measures. Participatory principles were stressed and a choice of optional renewable energy modes offered to people. The foci of the project included both arresting environmental degradation and the reduction of poverty.
Information presented at Kimberly described the program at a very early stage. Follow up to ascertain results of the project had not yet been accomplished. This project, started by governmental initiative, is an important development in Africa where the bulk of solar cooking work has been done through non-governmental organizations, many from outside the continent (Kimberly, p. 67).
Archived articles
Climate and culture
Solar Cookers International has rated Malawi as the #20 country in the world in terms of solar cooking potential (See: The 25 countries with the most solar cooking potential). The estimated number of people in Malawi with fuel scarcity but ample sun in 2020 is 2,700,000.
Malawi has a renewable energy component in its school curriculum.
See also
Resources
Possible funders
Reports
Articles in the media
Contacts
SCI Associates
NGOs
Manufacturers and vendors
Individuals
Government agencies
Educational institutions
See also
References
Ad blocker interference detected!
Wikia is a free-to-use site that makes money from advertising. We have a modified experience for viewers using ad blockers

Wikia is not accessible if you've made further modifications. Remove the custom ad blocker rule(s) and the page will load as expected.