Deutsch, Español, Ελληνικά, Français, Hausa, Igbo, Indonesian, Italiano, Kiswahili, Kreyòl, Malagasy, Melayu, Português, Русский, Soomaaliga, Tagalog, Việt, Türkçe, Yorùbá, தமிழ், नेपाली, 中文, اردو, 한국어, 日本語, العربية, فارسی, עִברִית, हिन्दी, ไทย, বাংলা, తెలుగు, ગુજરાતી, ລາວ, ਪੰਜਾਬੀ, සිංහල, پښتو
Last updated:
19 June 2018
| | |
| --- | --- |
| | Sustainable Rural Life is the new face of the HotPot Initiative that was launched by the Mexican Fund for the Conservation of Nature in 2003. Delivering HotPots and training communities how to use them, served as an effective introduction to clean cooking and provided an alternative to burning firewood in indigenous communities around the country. Approximately 20,000 HotPots have been distributed in sixteen states of Mexico. Another 464 were purchased by MFCN and delivered by local partners, and 445 improved combustion stoves of various types were also delivered between March and September 2012. At SRL they believe that using the HotPot, together with fuel-efficient cookstoves, is the best option to improve cooking habits in Mexico. Read more at Sustainable Rural Life: Update 2012. |
Events
See also: Global Calendar of Events and past events in Mexico
Most significant projects
The HotPot solar cooker introduction in Mexico - Solar Household Energy (SHE), spent several years developing a solar panel cooker called the HotPot, a variation on Solar Cookers International's cooker, the CooKit. In 2003 SHE received a grant from the World Bank's Development Marketplace to mount a HotPot promotion project in Mexico working with the Mexican nature conservancy, Fondo Mexicano para la Conservacion de la Naturaleza (FMCN). By July 2004, 2,000 HotPots had been manufactured and trucked to eight local conservation NGOs that had agreed to participate in the HotPot distribution initiative. Solar Household Energy may be the global leader in promoting solar cooking. The history of the HotPot project. Lesson learned: Quality solar cookers are appreciated. However, demand may not be able to be met without significant financial support.
See other Most significant solar cooking projects worldwide.
News
September 2017: Solar Household Energy has partnered with Lorena Harp to provide solar cookers to earthquake victims in Mexico, as well as launch a new solar cooker social enterprise in the country. The partnership will work to "carry out market research, optimize the Haines Solar Cooker and its pot for adoption by rural women, train solar cooking ambassadors, and help establish Lorena Harp's business, with the end goal of becoming financially sustainable." More information...
April 2016: Kathy Dahl-Bredine reports: "We were finally able to do that solar workshop we had planned for last November [near Oaxaca]. It was a phenomenal success. We had demonstrations of six different models of cookers. We're going to meet again to build cookers, which will include different ones of those models. Everyone wants them and wants to invite more people." Read more in the March-April 2016 newsletter.
August 2014: TrinySol built and installed a series of reflectors in El Sauz, Mexico. The cookers are either 10-square-meters or 16-square-meters and can cook for up to 60 people, said Gregor Schäpers. More info...
History
Mexico has a rich solar cooking history, with several projects successfully implemnted since the early 2000's. Below is a summary of some of these programs.
Girl Scouts/Rotary
Girl Scout leader Barby Pulliam conducted training programs for Girl Scout leaders and other representatives of NGOs in a number of cities and towns. Rotarian Wilfred Pimentel has also conducted a number of pilot programs in various cities. In some of those places, Rotary and Girl Scouts joined forces. A number of missions and other religious groups have promoted solar cookers in various parts of the country. One example is the Mission Mazahua, in Atlacomulco, which produced around 600 cookers. Several university faculty members have conducted research on cooking devices as well.
Solar Household Energy: Sierra Gorda Nature Reserve project
A large project originated in an unusual venue, a nature conservancy area, the Sierra Gorda Nature Reserve. In the spring of 2003, Louise Meyer of Solar Household Energy, Inc. (SHE, Inc.) conducted a training program to test user acceptance of a then new solar cooker called the HotPot. The device uses a modified CooKit design, initially of a plastic material then mental, as opposed to the cardboard of the CooKit. A black pot is enclosed within a tempered glass "greenhouse" instead of the plastic bag used in the original CooKit.
Within the confines of nature conservancies in Mexico, as elsewhere, trees cannot be cut down for use as fuelwood. Households living within the area thus must find other sources of energy for cooking. Therefore, the managing group of the Sierra Gorda site, the Grupo Ecológico Sierra Gorda, was delighted to explore the potential of solar cooking. The town of Purisima and a village, Mavi, were selected as the site for the initial training program. The Director of the Mexican Fund for the Conservation of Nature, Lorenzo Rosenzweig, partnered with SHE, Inc. to plan and implement this project.
Ms. Meyer traveled to Mexico, and conducted training for Sierra Gorda women, who were given HotPots and trained in their use over a two-day period. After the training, Ms. Meyer visited the women in their homes as follow-up for days of further training and coaching. The women were all interested in what others were cooking, and eventually a throng of cooks accompanied Ms. Meyer on most visits, enhancing the group learning substantially. Two women from the group were chosen for additional training in "how to teach others". The new trainers were again visited and coached in the art of training.
This pilot project, growing into a large-scale follow-up in other areas of Mexico, was among the winners of the 2003 Development Marketplace competition, an annual event held by the World Bank.
Sun Ovens International: Institutional solar cooking
Sun Ovens International reports promoting both Sun Ovens and Scheffler-type parabolics in Cuernavaca and Mexico City. The parabolic portion of this work, conducted by the Grupo Scheffler de México installs large commercial and institutional cooking and water heating. The first institutional solar kitchen of Mexico (6 Schefflers reflectors of 10m2) was built in the Hidalgo State by Gregor Schäpers.
Archived articles
Climate and culture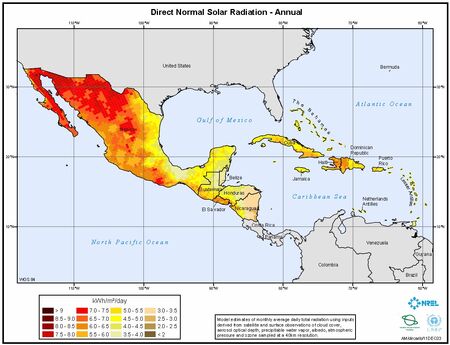 Mexico is the most populous Spanish-speaking country with over 100 million inhabitants. One-quarter of the population lives in Mexico City, the world's largest city. Rapid population growth and industrialization in Mexico over the last few decades have put an enormous strain on the environment, economy and on individual health.
Less than 10% of Mexico's native tropical rainforests remain today. These rainforests are limited to southeastern Mexico and are most threatened by subsistence activities—especially fuel wood collection. Fuel wood supplies 69% of the energy consumption in rural areas, particularly for cooking. As the supply of wood decreases it negatively impacts the lives of the people who depend on it.
For instance, women and girls are responsible for procuring fuel wood and they must travel farther from home as wood becomes more scarce. This task demands many hours and minimizes opportunities to attend school and participate in income-generating activities. In other areas, it is no longer feasible to gather wood. Families in these areas can spend 15% to 37% of their income on wood and/or gas.
In addition to the negative environmental and economic impact of fuel wood dependence, women and children suffer from health problems caused by cooking inside small, enclosed kitchens that often lack windows or other ventilation. They inhale toxic smoke for many hours each day, which can lead to pneumonia and respiratory infections, the biggest killers of children under five years of age.
See also
Resources
Possible funders
Project evaluations
Documents
Books
Articles in the media
Audio and video
External links
Grupos de discusión Facebook
Contacts
SCI Associates
NGOs
Government agencies
Manufacturers and vendors
Individuals
Government agencies
Educational institutions
See also
References