News and recent developmentsEdit
April 2010: Luke continues to teach solar oven workshops. He has his own community forum at http://www.solarovenlear.ning.com. At 15, Luke has started his own business, Green Solutions. He makes and sells solar oven kits, worm compost bins and great other stuff. A web site will be coming soon. Over the last 4 years, Luke has talked to over 1200 people about the need and importance of solar ovens. He looks forward to spreading more information and we wish him success with his business.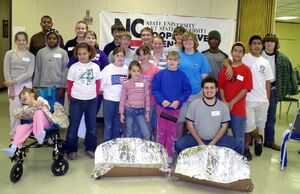 March 2009: In the summer of 2007, Luke Hill – then age 13 – earned first place in the North Carolina state 4-H competition for his presentation about solar cookers. He discussed why solar cookers are important, how to build them and how to use them, and displayed three different models of solar cookers. After this success, Hill approached his county 4-H office with a community service project proposal to build solar cookers for the developing world. Over 20 youth collaborated on this project, building a total of 11 solar cookers that would later be sent to South Africa by a local Baptist men's association. Special guest speakers from South Africa told the youth about life in South Africa, and the daily struggle that many families go through just to cook their food or get health care services.
External linksEdit
Email: kellirandy@yahoo.com (Luke's mother)
Web: http://www.solarovenlear.ning.com