Lorin Symington
Talk

0
1,856pages on
this wiki
Deutsch, Ελληνικά, Español, Français, Indonesian, Italiano, Kiswahili, Kreyòl ayisyen, Magyar, Melayu, Português, Русский, Soomaaliga, Tagalog, Tiếng Việt, Türkçe, தமிழ், नेपाली, 中文, اردو, 한국어, 日本語, العربية, فارسی, עִברִית, हिन्दी, ไทย, বাংলা, తెలుగు, ગુજરાતી, ລາວ
We invite you to take a
short survey
to help us improve this website.
Last updated: March 18, 2014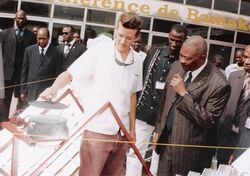 Lorin Symington has been innovating in the low-tech, high power solar cooker field since 2003 when his grandfather, Fraser Symington, taught him to build the Symington Solar Array, which has since come to be known more generally as Solar Fire. Since then, Lorin has travelled to Mexico, Cuba, France, Mali and Haiti doing research,developing the tech, and raising awareness about the potential of solar energy.
Lorin is working with Solar Fire Concentrators Ltd. of Finland, and together they are mounting a broad fundraising effort to conduct research and development as well as engage in development projects around the world.
Lorin is always willing to correspond, especially for technical help regarding solar thermal systems; whether you're looking for detailed advice about building a trough, a dish, a butterfly, flat panel, box cooker, heat exchanger or DIY energy solutions.
News and recent developments
Edit
January 2014 - Lorin joins Solar Fire Concentrators Ltd. to conduct a fundraising campaign to develop and promote Solar Fire technologies.
January-May 2011 - Lorin traveled to Port-Au-Prince, Haiti, where he teamed up with Haiti Communitere to train three young men how to build Solar Fire technologies. Together, they built 2 Phaeton arrays, an upwards reflector and a baking oven, only to have it all destroyed by a workshop fire weeks before their planned unveiling.
March 2011 - Lorin becomes vice president of ASTRA , the Agency for Solar Technology Research and Application, a Canadian not-for-profit.
Feb 2011 - Lorin and Fraser have finished a tropical winters season of productive solar cooking R&D in Mexico. They developed a new community cooker called the Phaeton, which will boil 8L in 40 minutes. Additionally, they built a forced-air food dehydrator, and a long sought Upward Reflector as seen on the Phaeton page.
2010 - Built a hybrid solar thermal/electric cocoa roasting machine in collaboration with ChocoSol , a Toronto based social enterprise specializing in the creation of sustainable, ethical, healthy and delicious chocolate.
2007 - Working with the Malian Center for Renewable and Solar Energy, Lorin developed the 'Iron Butterfly ' a stock materials, DIY version of the Papillon .
External links
Edit
Email: lorin.symington@gmail.com