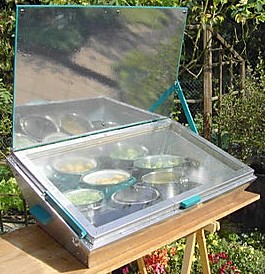 Lazola makes a very efficient, high-tech, aluminum box cooker. Available as pre-assembled cooker or as a kit. Group is non-profit, promoting solar cooking. They also provide a turnkey system for manufacture solar box cookers.
The LAZOLA-production- and marketing conceptEdit
The LAZOLA 3 has been designed for local serial production by hand, particularly in underdeveloped countries.
All costs for materials will amount to approx. 65.- EUR, VAT included.
The manufacturing process is rather complex and will take its time, depending on the amount of cookers made at the time and the routine acquired. Considering that labour is mostly very cheap, the time needed should not be a problem.
All work involved can be learned by non professionals, provided they are guided by a qualified trainer and supervisor.
Nevertheless the selling price for the LAZOLA 3 will not be easily afforded in very poor areas. But this cooker is very rugged and durable and the price of it has to be seen in relation to its lifetime. We trust that paying by instalments or other viable ways of payment will be found - even for poor people.
The local production contributes towards creating value and will also facilitate repair service by the production unit.
External linksEdit
LAZOLA-Initiative zur Verbreitung solaren Kochens e.V.
Glesekerstraße 13
33098 Paderborn
Germany
Tel:+49/05251/8792520
Fax:+49/05251/8792519
http://www.lazola.de (German)
http://www.lazola.de/english.html (English)