Last edited:
12 September 2016
Events
International conferences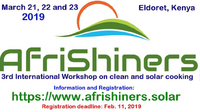 NEW: 

21-23 March 2019: AfriShiners - The AfriShiners 3rd International Workshop is taking place in Eldoret, Kenya. (Unfortunately, registration is full for this event). More information...
See also: Global Calendar of Events and past events in Kyrgyzstan
News
January 2015: Kyrgyzstan's BIOM ecological movement has provided the Bishkek Center for Rehabilitation of Homeless Children with alternative energy equipment, as the state-run social facilities remain underfinanced in the country. In 2010, BIOM provided the Center with solar water heaters, solar ovens, and lighting equipment. According to Natalia Bogatova, coordinator of SPARE (School Project for Application of Resources and Energy), BIOM concluded a contract for installation and maintenance of the above equipment for three years, but its specialists continue providing technical maintenance of the solar equipment after the contract expired.
Climate and culture
Resources
Possible funders
Reports
Contacts
SCI Associates
NGOs
Government agencies
Manufacturers and vendors
Individuals
Government agencies
Educational institutions
See also
References