Kenya news archive
Talk

0
1,851pages on
this wiki
Deutsch, Ελληνικά, Español, Français, Indonesian, Italiano, Kiswahili, Kreyòl ayisyen, Magyar, Melayu, Português, Русский, Soomaaliga, Tagalog, Tiếng Việt, Türkçe, தமிழ், नेपाली, 中文, اردو, 한국어, 日本語, العربية, فارسی, עִברִית, हिन्दी, ไทย, বাংলা, తెలుగు, ગુજરાતી, ລາວ
March 2009: As Solar Cookers International (SCI) expands its reach in eastern Africa and beyond, it must grow and strengthen its collaborations with community-based and nongovernmental organizations (NGOs), as well as governmental entities. During a trip to eastern Africa in January Karyn Ellis was fortunate to meet with a number of like-minded organizations, nurturing valuable relationships in SCI's efforts to expand its influence in the Lake Victoria region. She also met extensively with SCI's Nairobi staff, led by Margaret Owino, about goals for the year and plans for project expansion out of SCI's new Kenya offices in Kisumu, Kakamega and Machakos. While in Nairobi I attended two inspiring solar cooking demonstrations: the first was in the Kangemi slum outside Nairobi, where children from the Hamomi Children's Centre were served a solar lunch — their first lunch in many months; the second was for a women's group in the new SCI community of Machakos, where young mothers learned to use the sun to cook food and save money normally spent on cooking fuel.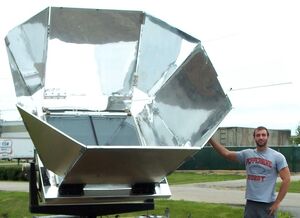 March 2009: Indiana native Dusty Breeding first visited Africa in 2006, working with orphans and other malnourished children. He was so moved by the heartbreaking conditions he experienced that he decided to put his culinary arts background to use to help the children learn to bake bread for their own nourishment and to help lift themselves out of poverty. The nonprofit organization Breeding founded, LifeBread, Inc., is dedicated to empowering the people of impoverished nations through nutritional education and food preparation training as a means to curb the severity of world hunger. Breeding is enthusiastic about the use of solar ovens in his programs, and hopes to eventually equip an orphanage with a large commercial model capable of baking 400 loaves of bread daily. During one trip to Uganda, Breeding planned to use a solar oven made out of a 50-gallon drum to help students bake rolls for 200 campers.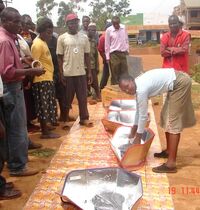 February 2009: The photo on the right shows a community group in the Siaya District of western Kenya that just had a demo by the Solar Cookers International East Africa Office. The demo was given in a local market place with local authority figures present and these wonderful "guardians" of nearly 350 orphans.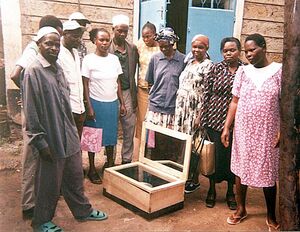 November 2008: The Amani Solution Self Help Group began promoting solar cookers in mid-2006 through a series of seminars and demonstrations they conducted in and around Nairobi, including Kiberia and Waithaka. The group had been producing two to three wooden solar box cookers per month, but it has struggled to keep up with demand. Coordinator Henry Ogola Oloo says the group was inspired and moved by four orphans whose parents had died in a car accident. The eldest child, 14-year-old Apiyo, is responsible for cooking for her younger brothers and sisters. The Amani Solution Self Help Group donated a solar cooker to the family, taught them how to use it, and have been monitoring its use and the family's progress. "It is wonderful and very much different," says Oloo. "The children say 'It is just as when our mother was alive. We eat our lunch early and go back to school. Even our supper we eat as early as 7 p.m.'" Prior to owning a solar cooker, the children had to gather firewood before they could begin cooking, delaying their evening meal until about 10 p.m.
June 2008: Solar Cookers International (SCI) has begun the Safe Water Project in Kenya led by SCI founder and board president Dr. Bob Metcalf, a professor of Biological Sciences at California State University, Sacramento. Bob's development of a Portable Microbiology Laboratory (PML) will allow rural health workers and community members to test water quality in the field by assessing levels of Escherichia coli contamination. The revolutionary PML can be used anywhere by practically anyone, and it will liberate government ministries in charge of water analysis who have had difficulties gauging water quality in rural areas due to travel limitations and technical expenses. Anticipated outcomes from the project include significant reductions in the incidence of waterborne diseases in over 20 communities, and broader community awareness of simple and effective water testing and water pasteurization techniques. A training was begun in June 2008 with officials and representatives from the Kenya Water Resources Management Authority and the Kenya Ministry of Health. This is the first time that these two government ministries have collaborated on a project like this, and we are thrilled to have their participation and support. Major funding for this program has come from the Richard and Rhoda Goldman Fund, for which we are very grateful! See August 2008 article in Solar Cooker Review. A photo blog of this project is also available.

March 2008: Catherine Scott's documentary film SUNCOOKERS, about Solar Cookers International's efforts to spread solar cooking and solar water pasteurization in Kenya, won the alternative energy category at the 2008 EarthVision International Environmental Film Festival in Santa Cruz, California. Organizers state that the festival "seeks to raise consciousness about environmental issues, educate people and mobilize support. The films … instill concern for the issues they raise, and they seed enthusiasm for change in the audience. The festival encourages filmmakers to continue with their hard work, while providing a venue in which they can witness their accomplishments being celebrated." More than 5,000 people have attended the events and screenings. Winning films are also shown throughout the year on community television, available to tens of thousands of households.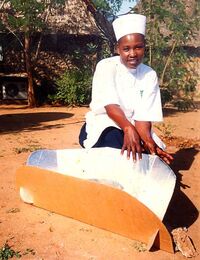 March 2008: Louise Meyer reports on a group of internally displaced persons that are students at the Culinary Institute of Africa. As part of their curriculum they are learning how to solar cook. Meyer sent photographs of several students taking "Masters of Solar Cooking" classes at the Institute's school in Juba, Sudan. Based in Lokichoggio, Kenya, the non-profit Culinary Institute of Africa is a community service division of the AFEX Group, which provides a number of management and catering services to camps throughout Kenya, Sudan, and elsewhere. The Institute began in 2004 when Terry Light, chief operating officer of AFEX, asked Nancy Crooks to train local Turkana with skills that could gain them employment at various camps and other institutions in the region. With technical assistance from Solar Cookers International (SCI), Crooks was able to incorporate solar cooker use and construction into the curriculum. The Institute offers an accredited, professional culinary education leading to a diploma in food production. SCI also provided training services and helped Crooks secure funding from the Lift Up Africa organization for a solar cooker project to teach Turkana women how to make and use solar cookers, heat-retention devices, and Water Pasteurization Indicators (WAPIs), as well as start a small solar cooker shop.
March 2008: Princeton University's informal motto ends "… in the Service of All Nations," an ideal being pursued by two undergraduate engineering students spreading solar cooking skills in Kenya and beyond. In 2005, Ishani Sud and Julianne Davis traveled to Laikipia, Kenya to introduce solar box cookers designed by Sud and classmate Lauren Wang, and to build solar cookers with appropriate local materials. To facilitate technology transfer, Sud and Davis chose to work with primary school students and hold special events to spark interest with parents. Covering topics in science, conservation and renewable energy, Davis taught elementary students in the Mpala Research Centre school, while Sud taught middle school students at the Lekiji public school. Lessons for the older students included a series of experiments, such as comparing black metal and white metal temperatures when exposed to sun, that helped them understand how solar cookers work and select appropriate construction materials. The locally available materials chosen for these cookers were Cyprus wood, aluminum sheet metal, glass, and black cloth as a box liner to absorb sunlight. Time was set aside each week for students to work on constructing their own solar cooker. More recently, Sud has returned to Kenya to continue her work on the project, and has launched a similar project at the Aang Serian school in Monduli, Tanzania.
November 2007: Camily Wedende, of Eldoret, Kenya, received a grant from Spirit in Action in support of his solar cooker shop. Wedende builds and sells durable plywood solar box cookers, and stocks various solar cooking supplies such as pots and instruction manuals in his shop. He also conducts solar cooking demonstrations and gives out samples.
July 2007: Solar Health and Education Project (SHEP) reports holding workshops in both Zambia and Kenya for newly trained teachers preparing to go to remote villages on assignment. The workshops were five days long. The first day was used for basic education about solar cooking and solar water pasteurization, while the other four days were used to practice and implement solar cooking skills. The 70 participants all built their own solar cookers. Based on the success of these workshops two more have already been scheduled. SHEP has developed a relationship with Tetra Pak International — manufacturer of aseptic drink containers — whereby SHEP uses Tetra Pak's excess foil-lined paper for solar cooker construction. (The foil-lined paper is printed in wide rolls, sometimes resulting in excess material begin generated.) According to SHEP, Tetra Pak is willing to accept proposals from other nongovernmental organizations that may want to use the reflective material as long as the material will be used for workshop participants to construct solar cookers.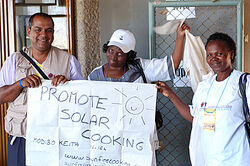 April 2007: Representatives of Sun Fire Cooking attended January's World Social Forum in Nairobi, where they organized a group of activists to plan a three-part campaign of education, mobilization and networking for solar cooking. Sun Fire plans to open a solar cooking promotion center in Nairobi with support from Horn Relief, a nonprofit organization in Somalia. Meanwhile, Sun Fire Cooking continues its work spreading solar cooking in Puntland, Somalia, and plans to expand to the Hargeisa area. The organization also has experience in Djibouti, having sold 25 solar cookers there. Contact: Jim Lindsay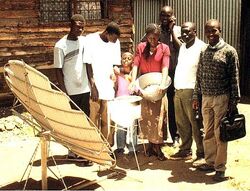 November 2006: Based in Nairobi, AltEner is a "business with a philosophy" that promotes renewable energy and delivers custom solar energy solutions. In addition to solar cooking, the company works in the fields of solar water heating, solar electricity, wind energy, and energy planning and management. AltEner has installed large scale, concentrator-type cooking systems, based on the Scheffler community kitchen concept, in several countries. The company can also design high temperature trough solar cooking systems. Charles Onyango-Oloo, the principle force behind AltEner, wrote an interesting paper titled "The Special Challenges of Solar Cooking." In his paper, Onyango-Oloo urges solar cooking promoters to endorse a mix of technologies instead of only one type of cooker. "Because technology can be intimidating to the uninitiated, the technological simplicity or sophistication of the solar cooker should match the background of the prospective user as closely as possible to avoid 'socio-technologic disconnect.'… Where promoters of particular technologies aim to justify their choices by playing down the role of other technologies in the appropriate technological matrix, the end result usually is an overall loss of faith in the entire process of solar cooking amongst the intended beneficiaries." Onyango-Oloo's paper also urges that projects be designed in phases, so that lessons learned in early stages can be applied to later stages as the project grows. Contact: AltEner Energy Technologies, P.O. Box 8876-00300, Nairobi, Kenya. Tel: +254 721-727830, e-mail: alternerkenya@yahoo.com.
June 2006: Solar Household Energy, Inc.'s Director of Programs for Latin America and East Africa, Camille McCarthy, traveled to Kenya and Tanzania to meet with governmental agencies, NGOs, and private sector representatives to explore the feasibility of cooperative solar cooking ventures. Many groups expressed interest in SHE pilot solar cooking projects. SHE expects to conduct initial solar cooking training, marketing and sales projects in Kenya and Tanzania in early 2007.