Deutsch, Español, Français, Hausa, Igbo, Indonesian, Italiano, Kiswahili, Kreyòl, Malagasy, Melayu, Português, Русский, Soomaaliga, Tagalog, Việt, Türkçe, Yorùbá, Ελληνικά, தமிழ், नेपाली, 中文, اردو, 한국어, 日本語, العربية, فارسی, עִברִית, हिन्दी, ไทย, বাংলা, తెలుగు, ગુજરાતી, ລາວ, ਪੰਜਾਬੀ, සිංහල, پښتو
Most significant solar cooking projects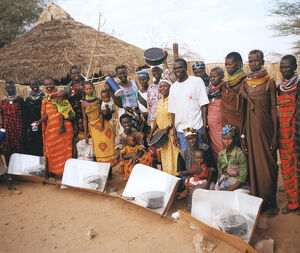 A refugee camp in Kenya was the first to receive a large scale solar cooking project - The Kakuma refugee camp was formed in 1972 when Sudanese refugees first arrived in Kakuma, Kenya. Introducing solar cooking to the camp was Solar Cookers International's first and largest refugee project, beginning in January 1995. Kakuma had considerable refugee turnover, but by 2004, when Solar Cookers International (SCI) concluded the project, the camp had tripled in size to nearly 90,000 refugees. Though rapid growth posed problems for assisting all those who wanted to solar cook, SCI ultimately served over 15,000 families. The program also extended solar cooker technology to schools, especially primary school, through demonstrations, poems, songs and drama.
Events
News and recent developments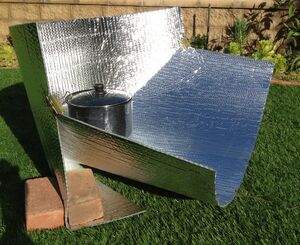 May 2013: San Diego, California, USA Rotary Clubs have partnered with Rotary Clubs in Kenya to provide three hundred Haines Solar Cookers, designed by California resident Roger Haines, for a pilot project with a community in Kenya. Director of the Kenya-based Natural Resources and Waste Management Alliance (NAREWAMA) Faustine Odaba is supervising this project. This new solar cooker design is made from commercially available, reflective bubble insulation. The plastic bag has been replaced by a clear strip of polycarbonate film, which is rolled into a cylinder and secured with clips to support the cook pot.
May 2013: Safe water packages helping in Kenya - Solar Cookers International released information on the their latest efforts to offer safe water packages to low-income families in Kenya. The package contains all the necessary components to use the integrated cooking approach, which means using the solar panel cooker to heat water and kill pathogens when it is sunny, and using an efficient fuel stove when it is not. A heat retention basket, or "fireless cooker" is included to keep cooked food warm, and to extend cooking times. Working with their partners, who provide the training and follow-up, they have distributed 212 safe water packages from November 2012 through April 2013. These packages have provided over 1,000 people a virtually cost free way to maintain a healthy water supply and prepare their meals. SCI has set a goal to increase the number of packages they fund from 35 per month to 100 per month through the fall of 2013. Please consider donating to SCI to help reach this goal.

04:44

Solar Cookers & Safe Water 2013 Goals
March 2013: John Amayo, with SURE, reports that the Ministry of Agriculture in Kenya recently held a farmers field day, providing an event for local farmers to come and see new ideas. SURE participated, and were able to demonstrate solar cooking using the CooKit, a parabolic solar cooker, and a Pulsee Solar Cooker. The farmers were pleased with the meat stew prepared in the box cooker, the roasted meat on the parabolic, and water pasteurization with the Pulsee. We also used the heat retention basket on this particularly windy day. It was rewarding to be able to show how the water available was not safe for drinking, and how solar water pasteurization can make it safe.
February 2013: Kisumu County receives water pasteurization information - Former SCI Kenya staffer John Amayo runs Sustainable Utilization of Renewable Energy (SURE) in the Kadibo division of Kisumu County. With the help of Solar Cookers International and Bob Metcalf's portable microbiology lab, SURE has been able to test local water sources and has distributed thirty safe water packages to the vulnerable in the community. The safe water packages provided by SCI which SURE distributes, like the ones received by FOTO beneficiaries, are accompanied by programs to educate the community on hand washing, food safety, cleanliness around the home, and solar pasteurizing or chemically treating all drinking water. SURE also has plans to harness wind power for lighting and promote the use bio-fuels like biogas for lighting and cooking.
November 2012: Student Solar Cooking Science Projects, USA and Kenya - What began as a pilot project in Eldoret, Kenya has evolved into two sister organizations, Student Solar Cooking Science Projects, founded by Sharon Cousins in the USA and a sister organization in Kenya founded by Camily Wedende. Ongoing fundraising goals include renting a small work facility. Because of limited funding, the group is always looking for ways to produce a reasonable solar cooker for $10 USD or less. The partnership that led to these projects began when Camily Wedende of Eldoret read about an American youth project advised by Sharon Cousins, and contacted Sharon asking for advice on working with young people. The pilot project, which involved twenty students ages 10-18, was a stunning success. The innovative approach teaches skills that will help the students in many areas of life. They hope to create a replicable model for the harnessing the tremendous energy and enthusiasm of young people for the advancement of solar cooking in their communities and beyond.
November 2012: Students with Eldoret Student Projects have designed a new solar cooker called the Hexagon Solar Cooker. The bottom portion of the cooker has six angles, with a two foot tall reflector at the rear. It a powerful cooker that cooks food in less than three hours with good sunshine. The students used paper cardboard, aluminum foil and glue. Each student earns the materials for their cooker by helping to build and test prototypes and keeping good records of their observations. New students have registered to begin making the new solar cooker design.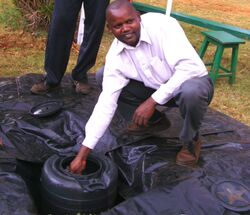 February 2012: Peter Mwathi has been developing an inexpensive solar water heating system, designed to provide warm water for domestic tasks. The water is stored below ground, and has stayed warm enough to use for as long as three days. It is not intended to be a water pasteurization system. He says a system costing Sh. 20,000 can heat water for up to 200 people, while another with measurements of 30 m. by 3 m. can heat water for 600 people. Read more...
February 2011: Student success shows independent spread of solar cooking - The Eldoret Student Projects in Kenya, spearheaded by Camily Wedende of Sun Cookers International, and aided by long-distance advisor, Sharon Cousins, of Solar Cookers International, have taken an important step in that spread with a student team who not only learned how to cook with sunshine but also learned to take a creative and scientific approach to solar cooking. Students researched existing solar cookers on the Solar Cookers World Network site. They put their heads together and came up with new ideas to try. They performed comparative tests on an existing model and two of their prototypes. While all three reached cooking temperatures, one innovation showed the strongest performance at their location. All twenty students built durable solar panel cookers to take home to the camps where they live, and have been using them to prepare food and provide water pasteurization for their families. They keep records of their progress and experiments, amazing the neighbors who stop by to see food cooking in a stove powered by sunshine, a stove that children in their community helped to invent. Camily and the team hope that other schools and clubs can use the example of their pilot project to help more youth become scientists for solar cooking, to aid in the spread of this bright idea whose time has come.
January 2011: African solar cooking partnership project visited by Dr. Jill Biden, wife of the U.S. Vice President. Lift Up Africa is a strong believer that partnering and sharing resources is a key to successful implementation and sustainability. This project was designed to introduce solar cooking and related technologies to ten communities in Kenya. The partnership relied on Africa HEART, a Kenyan-based NGO recently visited by Vice President Biden's wife Dr. Jill Biden, to identify three community groups in each district, the fifty trainees in each community, and training venues. Africa Heart covered expenses and handling logistics related to transport for the solar cooking equipment, distribution venues, and follow-up on usage and other needs. Solar Cookers International East Africa Office (SCI-EA) provided the trainers and supplies, written reports, and conducted the training. Lift Up Africa provided a grant to cover direct expenses related to equipment purchase and SCI-EA's travel, partnership connections, and worked with Africa Heart on follow-up and project evaluation. This project was a success and 150 families, approximately 1,200 people, have benefitted from their new training and solar cooking equipment. This project demonstrates the value of independent organizations working together, each providing their area of expertise, to achieve substantial results. Hopefully, this will be a continuing pattern for projects initiated by members of the Solar Cookers World Network.
September 2010: The necessary fund having been raised by project consultant Sharon Cousins and transferred to Kenya, Camily Wedende and the student team of the pilot project for Eldoret Student Projects are busily constructing the new model of solar panel cooker that is the result of the team's research and experiments. Each student will be taking a Panel Stove Cooker home to the camps where they live, where the cookers will be used to improve the lives of their families, and where the students will continue to keep records of their progress. Mr. Wedende promises more photos soon, and reports that, "It's a wonderful project!"
August 2010: A year in review included a number of solar cooking and water purification activities within Kenya, done by Global Roots in partnership with Solar Cookers International. Training occurred in five communities with 85 individuals. See more details..
July 2010: Awareness is rising amongst the residents of Machakos District, in the Eastern Province of Kenya. that one can cook using direct solar energy. In July, during the annual agricultural fair, the Mayor of Machakos witnessed the sun cooking and tasted the food, he exclaimed; "Wonders will never cease - you mean to tell us that all these foods were cooked out here in the sun without any fire or smoke!?" "Definitely Sir." replied Stella, the Solar Cookers International project Officer of the province. The guest of Honor was the Assistant Minister for Agriculture, Hon. Mututho, who on seeing the cooked food said "This would be very brilliant for the IDPs in Naivasha who are causing havoc on the environment."
July 2010: Solar Cookers International (SCI) is working in collaboration with Practical Action in the Kadibo region of Kenya considered to have a total service area population of 49,000. The project description as concerns SCI in agreement with US-EPA is to increase market access to clean cooking technologies (solar cookers, Upesi Stove, fireless cookers) for health and wealth in rural, Kadibo Division of Nyanza province, Kenya. One of the participants, Jane, saved all the money she would have spent on fuel for 3 months. She saved her money faithfully, in her words she "wanted to prove it to myself that using the interventions is for "health and wealth" as it said in the fliers." The interventions are the solar cooking technologies. Jane saved Kshs. 2,060! This is the equivelant to $25.42 US dollars. Jane publiclly counted her saving to show everyone just how using clean cooking technologies gave her wealth! "Everyone clapped; others had their hands in their mouths with faces of utter marvel!!! What could I do with the money – many things but one returning it into the tin! I thought of paying back a loan, but no, of shopping with it but no, of sending some to my mother but no….. for the first time had money that I could make a decision on. Wow!"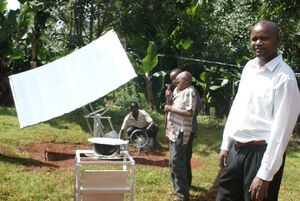 June 2010: Peter Mwathi is shown demonstrating his creation, the Kenya Solar Concentrator. Peter is an agricultural economist as well as solar inventor. He sees a market for this design with local farmers. It will help facilitate the sterilization of soil before the planting of seedlings. Currently, wood fires are set on top of the soil, creating air pollution and depleting the limited timber resouce.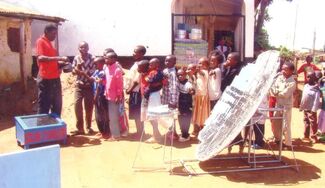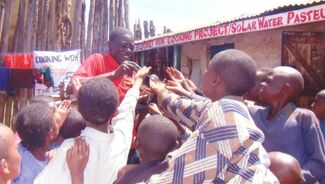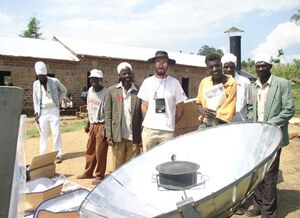 May 2010 Camily Wedende, of Sun Cookers International, and Sharon Cousins, of Solar Cookers International, began a small pilot project involving middle/secondary age students at a school in Eldoret, Kenya. When approached by Camily for advice on solar cooking projects with school children, Sharon encouraged a simple scientific approach, so that students can learn to experiment and observe critically and innovate as well as learning the skill of solar cooking. With Camily to help and advise them, students helped with construction, experimentation, and comparison observations that involved three types of solar cookers: a CooKit, a bowl/basin type cooker with a small vertical reflector, and a variation that Camily and the students came up with for Sharon's invention the EZ-3 Solar Cooker. Now, having experimented and compared, 20 enthusiastic students have chosen the model they would like to construct to take home—the variation on the EZ-3— if a small fund can be arranged for materials. In recognition of the work the students have done in helping with model development and comparison tests, Sharon is trying to raise the needed resources. Sharon says, "We are under-utilizing the power of young people in spreading the good news about solar cooking and making it more accessible. These twenty special young people are showing the whole world that young people can make a big difference. I am proud of them all and grateful to Camily Wedende for giving me the opportunity to be a part of this special solar cooking science project."
April 2010: Seat Partnership Foundation support of the HARMONY Center in Kenya - in Malava village, near the Kakamega forest our associates coodinated with the local governmental organization to build the HARMONY awareness center http://hadeg.org/. The project is to contribute to solving the energy crisis in western Kenya due to population growth and inefficient use of natural resources. Along with promoting the planting of trees is necessary to teach the villagers to reduce the consumption of wood for cooking, because cooking is still commonplace on fire with three stones. We therefore support the production and use of clay stoves and solar cookers. It currently offers local people the center HARMONY solar cookers, clay ovens with low consumption of firewood as well as advice on how to fertilizing the soil and tree planting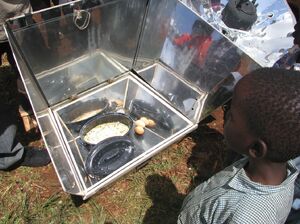 March 2009: As Solar Cookers International (SCI) expands its reach in eastern Africa and beyond, it must grow and strengthen its collaborations with community-based and nongovernmental organizations (NGOs), as well as governmental entities. During a trip to eastern Africa in January Karyn Ellis was fortunate to meet with a number of like-minded organizations, nurturing valuable relationships in SCI's efforts to expand its influence in the Lake Victoria region. She also met extensively with SCI's Nairobi staff, led by Margaret Owino, about goals for the year and plans for project expansion out of SCI's new Kenya offices in Kisumu, Kakamega and Machakos. While in Nairobi I attended two inspiring solar cooking demonstrations: the first was in the Kangemi slum outside Nairobi, where children from the Hamomi Children's Centre were served a solar lunch — their first lunch in many months; the second was for a women's group in the new SCI community of Machakos, where young mothers learned to use the sun to cook food and save money normally spent on cooking fuel.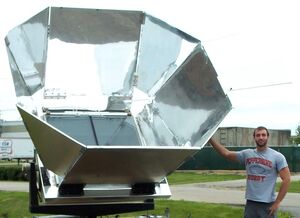 March 2009: Indiana native Dusty Breeding first visited Africa in 2006, working with orphans and other malnourished children. He was so moved by the heartbreaking conditions he experienced that he decided to put his culinary arts background to use to help the children learn to bake bread for their own nourishment and to help lift themselves out of poverty. The nonprofit organization Breeding founded, LifeBread, Inc., is dedicated to empowering the people of impoverished nations through nutritional education and food preparation training as a means to curb the severity of world hunger. Breeding is enthusiastic about the use of solar ovens in his programs, and hopes to eventually equip an orphanage with a large commercial model capable of baking 400 loaves of bread daily. During one trip to Uganda, Breeding planned to use a solar oven made out of a 50-gallon drum to help students bake rolls for 200 campers.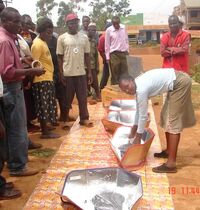 February 2009: The photo on the right shows a community group in the Siaya District of western Kenya that just had a demo by the Solar Cookers International East Africa Office. The demo was given in a local market place with local authority figures present and these wonderful "guardians" of nearly 350 orphans.
November 2008: The Amani Solution Self Help Group began promoting solar cookers in mid-2006 through a series of seminars and demonstrations they conducted in and around Nairobi, including Kiberia and Waithaka. The group had been producing two to three wooden solar box cookers per month, but it has struggled to keep up with demand. Coordinator Henry Ogola Oloo says the group was inspired and moved by four orphans whose parents had died in a car accident. The eldest child, 14-year-old Apiyo, is responsible for cooking for her younger brothers and sisters. The Amani Solution Self Help Group donated a solar cooker to the family, taught them how to use it, and have been monitoring its use and the family's progress. "It is wonderful and very much different," says Oloo. "The children say 'It is just as when our mother was alive. We eat our lunch early and go back to school. Even our supper we eat as early as 7 p.m.'" Prior to owning a solar cooker, the children had to gather firewood before they could begin cooking, delaying their evening meal until about 10 p.m.
June 2008: Solar Cookers International (SCI) has begun the Safe Water Project in Kenya led by SCI founder and board president Dr. Bob Metcalf, a professor of Biological Sciences at California State University, Sacramento. Bob's development of a Portable Microbiology Laboratory (PML) will allow rural health workers and community members to test water quality in the field by assessing levels of Escherichia coli contamination. The revolutionary PML can be used anywhere by practically anyone, and it will liberate government ministries in charge of water analysis who have had difficulties gauging water quality in rural areas due to travel limitations and technical expenses. Anticipated outcomes from the project include significant reductions in the incidence of waterborne diseases in over 20 communities, and broader community awareness of simple and effective water testing and water pasteurization techniques. A training was begun in June 2008 with officials and representatives from the Kenya Water Resources Management Authority and the Kenya Ministry of Health. This is the first time that these two government ministries have collaborated on a project like this, and we are thrilled to have their participation and support. Major funding for this program has come from the Richard and Rhoda Goldman Fund, for which we are very grateful! See August 2008 article in Solar Cooker Review. A photo blog of this project is also available.

March 2008: Catherine Scott's documentary film SUNCOOKERS, about Solar Cookers International's efforts to spread solar cooking and solar water pasteurization in Kenya, won the alternative energy category at the 2008 EarthVision International Environmental Film Festival in Santa Cruz, California. Organizers state that the festival "seeks to raise consciousness about environmental issues, educate people and mobilize support. The films … instill concern for the issues they raise, and they seed enthusiasm for change in the audience. The festival encourages filmmakers to continue with their hard work, while providing a venue in which they can witness their accomplishments being celebrated." More than 5,000 people have attended the events and screenings. Winning films are also shown throughout the year on community television, available to tens of thousands of households.
March 2008: Louise Meyer reports on a group of internally displaced persons that are students at the Culinary Institute of Africa. As part of their curriculum they are learning how to solar cook. Meyer sent photographs of several students taking "Masters of Solar Cooking" classes at the Institute's school in Juba, Sudan. Based in Lokichoggio, Kenya, the non-profit Culinary Institute of Africa is a community service division of the AFEX Group, which provides a number of management and catering services to camps throughout Kenya, Sudan, and elsewhere. The Institute began in 2004 when Terry Light, chief operating officer of AFEX, asked Nancy Crooks to train local Turkana with skills that could gain them employment at various camps and other institutions in the region. With technical assistance from Solar Cookers International (SCI), Crooks was able to incorporate solar cooker use and construction into the curriculum. The Institute offers an accredited, professional culinary education leading to a diploma in food production. SCI also provided training services and helped Crooks secure funding from the Lift Up Africa organization for a solar cooker project to teach Turkana women how to make and use solar cookers, heat-retention devices, and Water Pasteurization Indicators (WAPIs), as well as start a small solar cooker shop.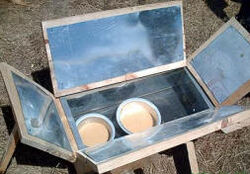 March 2008: Princeton University's informal motto ends "… in the Service of All Nations," an ideal being pursued by two undergraduate engineering students spreading solar cooking skills in Kenya and beyond. In 2005, Ishani Sud and Julianne Davis traveled to Laikipia, Kenya to introduce solar box cookers designed by Sud and classmate Lauren Wang, and to build solar cookers with appropriate local materials. To facilitate technology transfer, Sud and Davis chose to work with primary school students and hold special events to spark interest with parents. Covering topics in science, conservation and renewable energy, Davis taught elementary students in the Mpala Research Centre school, while Sud taught middle school students at the Lekiji public school. Lessons for the older students included a series of experiments, such as comparing black metal and white metal temperatures when exposed to sun, that helped them understand how solar cookers work and select appropriate construction materials. The locally available materials chosen for these cookers were Cyprus wood, aluminum sheet metal, glass, and black cloth as a box liner to absorb sunlight. Time was set aside each week for students to work on constructing their own solar cooker. More recently, Sud has returned to Kenya to continue her work on the project, and has launched a similar project at the Aang Serian school in Monduli, Tanzania.
November 2007: Camily Wedende, of Eldoret, Kenya, received a grant from Spirit in Action in support of his solar cooker shop. Wedende builds and sells durable plywood solar box cookers, and stocks various solar cooking supplies such as pots and instruction manuals in his shop. He also conducts solar cooking demonstrations and gives out samples.
July 2007: Solar Health and Education Project (SHEP) reports holding workshops in both Zambia and Kenya for newly trained teachers preparing to go to remote villages on assignment. The workshops were five days long. The first day was used for basic education about solar cooking and solar water pasteurization, while the other four days were used to practice and implement solar cooking skills. The 70 participants all built their own solar cookers. Based on the success of these workshops two more have already been scheduled. SHEP has developed a relationship with Tetra Pak International — manufacturer of aseptic drink containers — whereby SHEP uses Tetra Pak's excess foil-lined paper for solar cooker construction. (The foil-lined paper is printed in wide rolls, sometimes resulting in excess material begin generated.) According to SHEP, Tetra Pak is willing to accept proposals from other nongovernmental organizations that may want to use the reflective material as long as the material will be used for workshop participants to construct solar cookers.
April 2007: Representatives of Sun Fire Cooking attended January's World Social Forum in Nairobi, where they organized a group of activists to plan a three-part campaign of education, mobilization and networking for solar cooking. Sun Fire plans to open a solar cooking promotion center in Nairobi with support from Horn Relief, a nonprofit organization in Somalia. Meanwhile, Sun Fire Cooking continues its work spreading solar cooking in Puntland, Somalia, and plans to expand to the Hargeisa area. The organization also has experience in Djibouti, having sold 25 solar cookers there. Contact: Jim Lindsay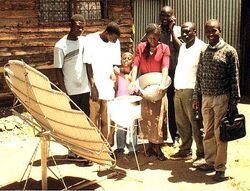 November 2006: Based in Nairobi, AltEner is a "business with a philosophy" that promotes renewable energy and delivers custom solar energy solutions. In addition to solar cooking, the company works in the fields of solar water heating, solar electricity, wind energy, and energy planning and management. AltEner has installed large scale, concentrator-type cooking systems, based on the Scheffler community kitchen concept, in several countries. The company can also design high temperature trough solar cooking systems. Charles Onyango-Oloo, the principle force behind AltEner, wrote an interesting paper titled "The Special Challenges of Solar Cooking." In his paper, Onyango-Oloo urges solar cooking promoters to endorse a mix of technologies instead of only one type of cooker. "Because technology can be intimidating to the uninitiated, the technological simplicity or sophistication of the solar cooker should match the background of the prospective user as closely as possible to avoid 'socio-technologic disconnect.'… Where promoters of particular technologies aim to justify their choices by playing down the role of other technologies in the appropriate technological matrix, the end result usually is an overall loss of faith in the entire process of solar cooking amongst the intended beneficiaries." Onyango-Oloo's paper also urges that projects be designed in phases, so that lessons learned in early stages can be applied to later stages as the project grows. Contact: AltEner Energy Technologies, P.O. Box 8876-00300, Nairobi, Kenya. Tel: +254 721-727830, e-mail: alternerkenya@yahoo.com.
June 2006: Solar Household Energy, Inc.'s Director of Programs for Latin America and East Africa, Camille McCarthy, traveled to Kenya and Tanzania to meet with governmental agencies, NGOs, and private sector representatives to explore the feasibility of cooperative solar cooking ventures. Many groups expressed interest in SHE pilot solar cooking projects. SHE expects to conduct initial solar cooking training, marketing and sales projects in Kenya and Tanzania in early 2007.
The History of Solar Cooking in Kenya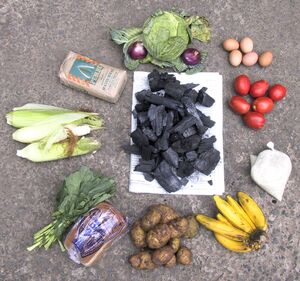 Kenya is the center of solar cooking activity in East Africa. A number of organizations are endeavoring to promote the technology in this country, which has been the commercial hub of the area for several decades. Its capital, Nairobi, is also well served by air, making access to the nation and region readily available, using Nairobi as entry point.
The promotion of solar energy is decades old in Kenya. As far back as 1977, GTZ (the Germany's official technical aid agency) initiated and later abandoned a project in Nairobi. The reason given had to do with the fact that products used were made in Germany and not available in East Africa. Two different Catholic missions in rural Kenya seem to have tried solar cooking, but no information is available on outcomes. As early as 1991, some ovens were exported to Tanzania (through Trans World Radio, perhaps), indicating that the product presented a business opportunity. In 1992, an Earthwatch grant permitted an academic, Dr. Daniel Kammen, to initiate a multi-year study of renewable energy technologies, including solar cookers, using volunteers in short-term Earthwatch projects.
Other early efforts included the work of Trans World Radio to promote solar use, promotion within the Girl Guide organization, a large project under the auspices of the Institute for Cultural Affairs, and the activities of a remarkable Peace Corp Volunteer. In the mid-1990s, with assistance of Solar Cookers International (SCI) a national coordinating body for the purpose of sharing information and strengthening progress by collective action around the topic of solar cooking was formed in Nairobi.
Among those early efforts was the activity of Trans World Radio (TWR). TWR work began in the early 1990s. A conference proceedings on Renewable Energy Policies in East Africa, held in 1993, includes a paper by TWR coordinator [[Clive Wafukho]] on their work in solar cooking. This organization promoted solar cooking on its radio programs, made and sold box cookers in the Nairobi environs, and worked also in a distant refugee camp. They pioneered solar cooking in Kakuma Refugee Camp, where SCI later established another project. TRW estimates that in the period between 1992 and 2001, they distributed a total of 2,350 cookers in the camp and other localities in Kenya. Logistics and staff support were always problems in the remote areas. In 2000, an attempt to solve that problem was the training of refugees as carpenters to build the cookers in the camp itself. TRW reports the production of 400 cookers in that manner.
The cookers are large and well suited to the needs of the Sudanese population that lives in extended family compounds, requiring cooking for 10-20 people daily. Trans-World Radio has demonstrated remarkable staying power in this difficult to serve area, with a population that could not afford to buy the expensive box cookers. Therefore most were given away free, with funds raised for the most part outside of Africa. TWR estimate that two-thirds of the cookers are used regularly.
In roughly the same time period, a U.S. Peace Corps Volunteer named Barbara Ross was assigned to an area in western Kenya. Her responsibilities were varied, but, outside of her assigned tasks, more or less on her own initiative, she began the promotion of solar cooking. Ms. Ross recruited and trained a number of women in the locality to which she was assigned, who then formed themselves into a Housewives' Club, and proceeded in turn to teach others. They made box cookers of cardboard, which worked very well in a propitious climate, and solar cooking was on its way in this part of Kenya.
The interest of Girl Guides in solar cooking also goes back to roughly the same time period. An early training program had been initiated in Kenya by Barby Pulliam, chief promoter of the World Association of Girl Guides and Girl Scouts. Little remains of that one-shot demonstration, but it did serve as a foundation for later work that developed more fully in the latter 1990s. An interesting offshoot of that program is a unique program, a Girl Guide troop in Kakuma refugee camp, run by individuals originally inspired by the work of Ms. Pulliam. In few places can Girl Scout/Guide activities be more welcome!
The other major early actor on the Nairobi scene was the Institute for Cultural Affairs, (ICA) which had a long term presence in the development community, focused on empowering local communities to define their own needs and plan their own development strategies. Solar cooking was a kind of side interest for ICA, though obviously related to its larger issues. To carry out the solar cooking mission, a Swiss volunteer, long interested and skilled in the technology and in training others, joined the Nairobi staff of ICA, for the specific purpose of promoting solar cooking. ICA created a solar box cooker construction course at a local technical school, which ultimately produced all the cookers used by ICA in the communities where they worked. ICA used a rather classical community development approach in their work. In community meetings, workers facilitated community members in defining their needs and existing barriers, which prevent meeting those needs. Fuel shortage was a major problem, and hence solar cooking promotion became an ongoing part of the program in many areas of Kenya. However, the solar activity more or less ceased after the very effective volunteer returned to her home.
The agencies described above formed the corps of the solar cooking consortium formed in 1994, with some financial help from SCI. The purpose of the consortium formed around solar cooking was to share information with one another, and to enlist additional person power for promotional efforts. SCI provided financial and moral support to the effort for some years. One conference was held in Nairobi, and one in outstate Kenya, in the hope of involving additional people in the effort. Ultimately, the logic of solar power dictated that purveyors and promoters of photovoltaic technologies would be included in the group. Over time, and after finally achieving NGO status in Kenya (not an easy task), the organization came to be dominated by the larger and considerably-more powerful community of business and industrial photovoltaic personnel in Kenya and thus of less value to solar cooking promoters.
Shortly after the creation of the consortia arrangement described above, in 1994, SCI accepted an invitation from the United Nations High Commissioner for Refugees to embark on a demonstration project in a refugee camp. The story of the project in Kakuma refugee camp is recounted elsewhere; therefore recounting here will be brief. The program was carefully planned (insofar as that was possible for an organization which had not previously worked in an overseas setting) and carefully monitored throughout the project. Kakuma is located in the semi-arid Rift Valley in the far northeast corner of the nation, reachable only by air (or 20 hours on a rickety bus). The camp grew from what seemed a very large 28,000 initially to almost 100,000 at one point, with major changes in the ethnic makeup. Logistical problems were always difficult, as the camp, being so remote, was not easily accessible. Eventually, a Kenyan staff was formed, and the camp work was, in 2004 (8 long years later), phasing into a refugee-run cooperative with similar purposes to the original SCI project, i.e., a demonstration that persons in need can and will adopt solar cooking, save fuel and scarce financial resources, while inflicting less harm on the already fragile environment.
After a successful start at Kakuma camp, Solar Cookers International was invited to initiate a similar project at remote Aisha refugee camp in Ethiopia.
The November 2003 issue of Solar Cooker Review carries a small article] about a woman refugee, Mumina Baraka, who now operates a small scale bakery in Kakuma, selling in small quantities to make a living, and to provide baked goods for other refugees to purchase. She plans to take her CooKit back to Ethiopia with her when that becomes feasible.
A number of other projects, mentioned above, were established in roughly the same time frame, as described above, in the activities of TWR, the Girl Guides and ICA. (Somewhat later, a Rotary project in Nairobi was started, but turned out to be less than wholly successful, perhaps showing the difficulty of working in urban areas. Need is considerable, but space, security of food and cooker, etc. are difficult issues in congested poorer urban areas.)
During the early years of the Kakuma camp program, the solar cooking program generated considerable interest in refugee circles. All visitors were taken to the training sites and, when advance notice made it possible, given a meal cooked by the sun. SCI's refugee coordinator, a Zairean woman who spoke excellent English, became almost a camp staff person, and was frequently called on to accompany visitors, to translate for them, and to provide demonstrations. One of the visitors in the early years was a UNHCR staff person from the head offices of the UN agency in Geneva. He was integral to beginning the program in Ethiopia. In addition, he discussed the possibility with SCI of working in Dadaab refugee camp in Kenya, located on the Somali border, to the east and north of Nairobi. That camp, almost entirely Somali in population, was far bigger than Kakuma (with about 100,000 residents) and differently structured, with three separate sub-camps, each located at a distance from the central offices of the organizations serving the camp.
The camp administrator in Dadaab was enthusiastic about starting a solar cooking program. Activities concerned with energy conservation were well underway in the camp, under the direction of the German technical assistance agency, Deutsche Gemeinshaft fur Technische Zusammenarbeit (GTZ) which had been implementing an improved stove program for some years. That program used an interesting model of "work for a stove" in which individuals were given 25 tree seedlings to plant and cultivate at their own homestead. At the end of three months, if they had successfully nurtured the seedlings, the "gardener" was given a voucher to obtain a stove. The devices used were a somewhat larger version of a charcoal stove in use in Kenya for some years, one in which the fire bed was made of ceramic, then encased in a metal shell. The stoves were "manufactured" in a workshop run by GTZ and were considerably more efficient than traditional three-stone fires. Trained "animatrices" were assigned to various parts of the camp where they did extensive workshops showing people how to use the new equipment.
By the time GTZ heard about the solar program, Dadaab staff had already provided stoves for over 90% of the camp's residents, using the distribution method described above. Both GTZ and SCI agreed that adding solar cookers to the mix would be one more way to cut down on the use of wood fuel, which by that time had been declared unlawful by the Kenya government, but was still occurring routinely. The team of GTZ extension workers, already trained in promotion of wood stoves were given additional training in solar technologies, thus adding another tool to their fuel saving repertoire. Eventually, SCI trained additional Dadaab women as trainers, in order to proceed at a faster rate in this huge camp.
An unfortunate event occurred next in Dadaab, one that effectively put an end to the solar cooking project and considerably dampened the improved stove project as well. A delegation of American congresspersons visited the camp. They were told stories of the dangers women were exposed to in the collection of wood (unlike Kakuma, refugees were allowed to collect wood in the area, even though it was unlawful by order of the government). Dadaab is located only about 15 miles from the border with Somalia; the lawlessness of that country spilled over into the nearby camp. Cars were routinely hijacked, necessitating convoy travel to the campsites. Security was certainly a high concern. Some refugees had been robbed, a few killed, and some women raped and murdered while searching for wood. Naturally, this gained the sympathy of the congresspersons. On return to the US, they managed to add a rider to legislation already in process that provided several million dollars for the purchase of fuelwood for Dadaab.
Both GTZ and SCI were horrified at this well meaning, but ultimately destructive, act, which harmed the fuel-efficient stove program and effectively ended the solar cooking project. Obviously, free fuelwood was a far more attractive option. Two years later, the money for fuel was finished, and the programs promoting alternatives to fuelwood were no longer present in the camp. In the US, SCI attempted to protest, but was unsuccessful in obtaining a hearing on this emotional issue, taken up in good faith by ill-informed U.S. representatives. The solar cooking program in Dadaab program of SCI was closed and has not been restarted.
A Swiss woman named Alison Curtis, working for an NGO called the Solar Health and Education Project(SHEP), has provided a number of workshops in the coastal and other regions of Kenya. The first workshop was held in the Kenya Marine National Reserve locality, a protected part of the spectacular coast of that nation. The initial group trained was made up of teachers and public health workers, in order to encourage the introduction of simple solar technologies into school curricula and thus into everyday life. Both cooking and water pasteurization techniques were demonstrated and the required skills taught to participants. A second group of new solar cooks was simply introduced to the concept and practice of solar cooking in a basic training workshop, while a third group of experienced cooks reviewed progress in their respective villages (based on earlier training and promotion).
A second cluster of workshops was held in an area with a pastoral population that had not been exposed at all to solar cooking previously. The group made their own CooKits from recycled Tetra pack cartons (small boxes used to hold milk, lined with foil, which becomes the CooKit's shiny surface). After construction of the CooKits, smaller groups cooked their meals, with the assistance of the trainers. As is common, amazement was the hallmark of the day! They loved the food and could hardly believe it had been cooked with the sun. In good pastoral style, one of the participants told Ms. Curtis 'this initiative is like a cow given to us. We, the Masai, consider the cow the greatest gift one can offer. Let's utilize it". After the praise a promotion committee was appointed to create an action plan to spread the technology in their area.
An exercise not common in the solar cooking world was executed in Kenya in 2002. Working on behalf of the NGO, Solar Household Energy, Inc. (SHE, Inc.]] a team of graduate students from the University of Michigan, as a part of an assignment for a class in their MBA program, conducted an extensive market survey re solar cookers in Kenya. The students, supported by a generous donor to the school, conducted both phone and in-person interviews with knowledgeable sources in the U.S., Mexico, and in Kenya itself. The result is a comprehensive review of past and present solar cooking projects in Kenya, their market strategies, successful or failing, along with the views of a large number of opinion leaders from government, the non-governmental community, entrepreneurs and manufacturers on the topics. In conclusion, the students brought their knowledge from Business School courses to bear on the problem, resulting in a useful document for promotion of solar cooking in the country. The document can also serve as a model for other related market research endeavors. Sponsored by SHE, Inc., this unusual effort concerning solar cooking turned out to be not only an excellent learning experience for students but also a document useful for multiple purposes.
And, lastly, and perhaps of most interest, is a different program of SCI. The project, called Sunny Solutions, was first established in an area near Lake Victoria. The project is located in Upper and Lower Nyakach divisions, in Nyando district, in Nyanza province, not far from Kisumu, the third largest city in Kenya. Local organizations were recruited as partners and an intense awareness campaign involving a range of stakeholders from government, women's groups, churches, and so on, was initiated. Initially, 150 women were invited to try the solar cooking at home; they were provided with CooKits, the cardboard cooker used in areas where families have limited resources, and were given intensive training and an extended follow-up. In early 2003, a team of research consultants conducted an evaluation exercise to serve as a baseline for later program assessment of accomplishments in terms of fuel savings and health benefits.
In May 2003, fifteen women were recruited as trainers from the original pool of 150 solar cooks and sixteen women's groups. The trainers learned to solar cook all types of foods, carry out sales and home visits, keep sales records, and test and pasteurize water.
In July of 2003, the formal kickoff of the program began, with a proper Kenya style community celebration, including solar cooked food, singing and dancing, visits from government officials and community leaders, with banners strung over the site touting the wonders of the sun. The project was well organized with continuous careful monitoring to assure that the project remained on course as it moved towards its goals.
In 2005, hand-assembled CooKits were introduced in the community and given the nickname used to describe people of Nyakach - OYWA. Hand-assembly meant an increase in the profit margin received by the seller and a lower retail price for each cooking kit (a Cookit, plastic bags, WAPI, and instruction booklet). Those involved in the assembly process also received commissions for each well-assembled unit. By the end of 2006, the sales team had grown to 23 expert women, called Solar Cooker Representatives (SCOREPS); 4000 CooKits were sold; over 95% of the people of Nyakach were aware of the benefits of solar cooking; and Sunny Solutions had grown to include two more sites, Kadibo, a flood-prone area just outside Kisumu and Kajiado, a drought prone area on the main highway from Nairobi to Tanzania.
Reports of other small scale programs exist in Kenya; the ones desribed above are the longest lasting and largest known currently.
[Information for this section was taken originally from State of the Art of Solar Cooking by Dr. Barbara Knudson. Edits and updates may have occurred since that time.]
Climate, Culture, and Special Considerations
Solar Cookers International has rated Kenya as the #13 country in the world in terms of solar cooking potential (See: The 25 countries with the most solar cooking potential). The estimated number of people in Kenya with fuel scarcity but ample sun in 2020 is 5,900,000.
Fuelwood provides 79% of Kenya's total energy use. Each day Kenyans burn 37 million kilos of wood and 6 million kilos of charcoal.
Statistics indicate that nearly 25 per cent daily income of urban folks is spent on fuel. This money could be channeled into more pressing needs like education, medicine, housing or other investments if this new technology were to be embraced. Margaret Owino, formerly of Solar Cookers International wrote: "In Kenya it has to be an area with sunshine for at least 6-9 months a year for the technology to be deemed useful. Highlands are often cloudy and overcast and so people tend to go back to their old ways."
See also
Resources
Possible funders of solar cooking projects in Kenya
Blogs
Reports
Articles in the media
Audio and video
2008

05:50

Tusk Trust Documentary - 13 Solar Energy
Documents in local languages
Luo
Contacts
NGOs
Manufacturers and vendors
Government agencies
Educational institutions
Individuals
See also
References