Deutsch, Español, Ελληνικά, Français, Hausa, Igbo, Indonesian, Italiano, Kiswahili, Kreyòl, Malagasy, Melayu, Português, Русский, Soomaaliga, Tagalog, Việt, Türkçe, Yorùbá, தமிழ், नेपाली, 中文, اردو, 한국어, 日本語, العربية, فارسی, עִברִית, हिन्दी, ไทย, বাংলা, తెలుగు, ગુજરાતી, ລາວ, ਪੰਜਾਬੀ, සිංහල, پښتو
Last updated:
31 January 2018
Events
See also: Global Calendar of Events and past events in Kenya
Significant projects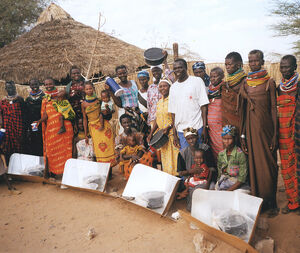 The Kakuma Refugee Camp was the first to receive a large scale solar cooking project - The Kakuma Refugee Camp was formed in 1972 when Sudanese refugees first arrived in Kakuma, Kenya. Introducing solar cooking to the camp was Solar Cookers International's first and largest refugee project, beginning in January 1995. Kakuma had considerable refugee turnover, but by 2004, when Solar Cookers International (SCI) concluded the project, the camp had tripled in size to nearly 90,000 refugees. Though rapid growth posed problems for assisting all those who wanted to solar cook, SCI ultimately served over 15,000 families. This project was one of the earliest to use the CooKit solar panel cooker to introduce solar cooking. The program also extended solar cooker technology to schools, especially primary schools, through demonstrations, poems, songs and drama.
News
NEW: 

January 2018: The Tonembee Association reports that it distributed 150 solar cookers in Kithuia Village in April, 2017 and held three educational events in the area between February and June, 2017.
November 2017: Bernhard Müller of Lernen - Helfen - Leben e.V. held a 2-day solar cooking workshop at the Korando Education Centre in Kisumu County. Topics included the use of solar cookers, heat-retention cooking, thermodynamics, optics, thermoelectrical generators (TEGs), gasifiers, health issues related to traditional cookstoves, the Uridu anti-poverty campaign, and the use of a WAPI. The intra-African coordination for the event was done by Faustine Odaba and the local coordination was done by John Amayo. The solar cookers used in the workshop were Sharon Clausson's Copenhagen Solar Cooker Light, One Earth Designs' SolSource, a TWR box cooker of 1994, Kenyan made CooKit panel cookers, a LightOven of Hartmut Ehmler, and a funnel cooker designed by Bernhard Müller.
October 2017: Kenya brings in world's toughest plastic bag ban - Producing, selling and using plastic bags becomes illegal as officials say they want to target manufacturers and sellers first. The east African nation joins more than 40 other countries that have banned, partly banned or taxed single use plastic bags, including China, France, Rwanda, and Italy Read more... Primarily aimed at single use plastic bags, this may be a game changer for solar panel cookers, which typically use plastic oven cooking bags as greenhouse enclosures. See: Polypropylene food container alternate to plastic bag glazing
September 2017: Webinar: Solar Cooking Sector Updates Refugee Working Group Call - SCI sponsored the refugee working group phone conversation on 21 September as part of the Sector Updates webinar. Godfrey Mawira submitted a summary of current projects in Kenya from the Eco-mandate Group. Eco-mandate efforts in Kenya - Godfrey Mawira
May 2017: Solar cookers complement each other - Faustine Odaba shared her extensive solar cooking experience at the Korando Educational Center in Kisumu, Kenya. She uses two solar thermal technologies, working together, to cook efficiently for large groups. A parabolic cooker is good at bringing a large pot of food quickly up to cooking temperature, then the pot can be transferred to a fireless basket to continue cooking, while the parabolic cooker can begin heating pother foods.
May 2017: Contribute your data: Drive solar cooking results - Solar cooking contributes to long-term progress from cleaner, more efficient, sustainable cooking solutions worldwide. It is crucial to convey the positive health, economic, and environmental impacts of solar cooking to government agencies and other stakeholders. To help build this case, SCI is reaching out to all solar cooking partners. SCI invites your input in the form of data on baseline information, number and type of solar cookers, number of years of the project, location, outcomes, etc. With your help, we can work to include solar-thermal cooking in national energy and sustainability plans. You provide:
Number of solar cookers
Type
Location
Time period
Distributed
Sold
Manufactured
Submit your solar cooking data by filling out the simple form on the Solar Cookers International website or email info@solarcookers.org. Please submit to SCI by 1 June 2017.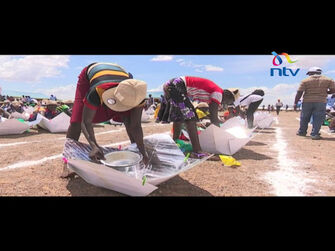 April 2017: On April 29, 2017, a solar cooking festival for 500 schoolchildren was held at Kakuma Refugee Camp in Kenya. The idea was originated by three of the participants at the 6th SCI World Conference 2017, put on in January by Solar Cookers International in Gujarat, India. Roger Haines, CEO of Haines Solar Cookers, Ritesh Raithatha, CEO of Simplified Technologies for Life, and Godfrey Mawira Kaburu, an engineer with the World Food Program in Nairobi. At the Gujarat conference, Godfrey presented the results of his study showing that in October, 2016, solar cooking was the second-most preferred method of cooking at the Kakuma Refugee Camp, even though very few solar cookers were available. To create an inexpensive, durable cooker for the festival, Roger collaborated with Sharon Clausson, designer of the Copenhagen Solar Cooker, to design the "Haines-Copenhagen" cooker using Roger's metallized polyester (MPET) foam reflector, and a UV-resistant polycarbonate Haines Cooking Sleeve. The cookers were made in Kakuma by refugees from materials donated by Haines Solar Cookers, and should last 10 years with proper care. Ritesh's company, Simplified Technologies for Life, has produced "Suryakumbh" solar cooking festivals for almost 120,000 participants in India, and holds the Guinness Record for the most people solar cooking at the same time: 7,438. Ritesh and his colleague, Vivek Kabra, provided expertise and leadership for the festival. Godfrey put together a team of experts, including Mwenda Wilkinson, who handled the logistical, financial, and personnel details. The National Council of Churches of Kenya (NCCK) generously donated the services of Raphael Nyabala and Wilson Kinyua and many others to recruit the children and provide facilities and transportation. Funding was provided by Haines Solar Cookers and the San Diego, California, Rotary Club. Additional support and resources came from Solar Household Energy (SHE), a Washington, DC solar cooking organization. Other partners included Eco-Mandate, which sells solar cookers in Chuka, Kenya, the Alliance for African Assistance, a San Diego-based refugee resettlement organization, and the Rotaract Club of the University of California, San Diego, which made 500 Water Pasteurization Indicators (WAPIs) for the Festival participants. Training was provided by Faustine "Mama Solar" Odaba, and her Nairobi NGO, NAREWAMA. Significantly, Ms. Odaba had been one of the trainers in 1995 when SCI first introduced solar cookers in Kakuma. Before the festival, 50 refugee women were trained to use the cookers, and they in turn trained the children. The festival took place at Hope Primary School in Kakuma Camp Four. During the festival, "Mama Solar" set up fifteen cookers and cooked a wide variety of food, including rice, vegetables chicken, eggs, cabbage, ugali, beans and cake. The children sat in neat rows as trainers handed out the cookers, cooking pots, food and water. Each child assembled their own cooker, and successfully cooked delicious noodles before an enthusiastic crowd of family members and relatives. The children were elated and proudly showed off their new cookers. Follow up studies are planned, and Roger Haines is working with a local entrepreneur to offer Haines-Copenhagen solar cookers for sale in Kakuma for a sustainable price of around $25 USD.
February 2017: A Kenyan court ruling has blocked the government's decision to close Dadaab Refugee Camp in November 2017. Dadaab is the world's largest refugee camp and home to more than 200,000 Somalians.
December 2016: Henk Blok, who participated in the Togo Tilé project, came across this project by accident. He contacted Mr. Odhiambo. Subsequently Mr. Odhiambo made a number of solar box cookers. He then proceeded to demonstrate the solar boxes together with a CooKit, Improved combustion stoves, and heat-retention cookers (borrowed from the local Ministry of Energy) in his village and vicinity. There was a great deal of interest and several people acquired a wood-saving oven and/or a hay basket. Solar Cooking KoZon's financial contribution amounts to € 3,500. This year the project is part of the 'Hervormd Lyceum Zuid's good causes list' again.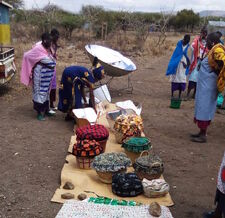 November 2016: Faustine Odaba conducted a workshop about solar and heat-retention cooking cooking in Lordariak, Kajiado County, located between Nairobi and the Tanzanian border, for 132 participants.
September 2016: Renewed solar cooking workshops at Kenyan refugee camps - Solar cooking advocate, Faustine Odaba, and her daughter have been conducting solar cooking and fireless cooking workshops at the Kakuma and Dadaab refugee camps in Kenya. The has been an enthusiastic response to thee workshops as participants prepare for the time when Kenya closes the camps.
June 2016: Benefits of solar cooking explained to Rotary members - Camily Wedende recently presented to fellow members of Rotary Club of Eldoret, Kenya. Camily is the group leader of the Eldoret Student Projects program.
April 2016: Training future trainers of solar cooking - Camily Wedende, group leader of Eldoret Student Projects in Elodoret, Kenya and member of Rotary Club of Eldoret, leads a Train-the-Trainers Workshop for the Rotary Club of Gulu, Uganda. The Uganda Rotary Club is preparing to distribute 500 Haines Solar Cookers in Northern Uganda and is learning more about solar cooking from Camily's years of experience building, teaching and cooking with solar.
April 2016: Local woman from Kingston provides school lunches and solar cookers - For the past year, Gabriella Zamojski and her family have been providing school lunches to the school in Kamin Oningo, a fishing community across the bay. Midday cooking of the rice and beans was done over open fires. Firewood however, was growing ever more scarce and increasingly expensive. Seeking donations from friends, Gabriella purchased a new fuel efficient wood stove that uses only 10-15% of the wood supply compared to open fires. Wanting to do more to help families, she also organized instruction and a supply of solar cookers. Approximately 150 people were served a solar meal at a community gathering and 21 families left with new solar cookers. A micro-financing program is planned to asset other families obtain solar cookers. Read more...
February 2016: Sharon Cousins has worked with Camily Wedende in Eldoret, Kenya for a number of years, helping to find ways to promote solar cooking to the local community on a shoestring budget. Sharon has experimented with a number of simple solar panel cooker designs, and her latest effort uses a large reflective bowl as a cooker base with an adjustable curved back reflector. After a recent visit, she sent Camily home with a large stainless bowl that is being used as a form to lay up paper mache copies of the shape using old newspapers. When dry and covered with aluminum foil, it becomes the base for a panel cooker. Students involved with Student Solar Cooking Science Projects Eldoret, Kenya have been eager to help with the construction.
February 2016: On February 1, 2016, Camily Wedende of Sun Cookers International in Eldoret, Kenya, put on a "train the trainer" program in preparation for the Gulu, Uganda, Rotary Club's distribution of 500 Haines Solar Cookers in Northern Uganda. Geoffrey Okello of the Gulu Rotary Club reported that the group benefited greatly from Mr. Wedende's solar cooking knowledge and experience and above all learned how to cook African staple foods in a solar cooker. To cook Posho (ugali), the flour needs to be mixed with cold water and covered, instead of the normal way of first boiling the water before adding the flour, and no stirring is required. Sweet potatoes and cassava need to be cut into small pieces, eggs have to be placed directly on the solar cooker instead of the normal way of boiling in water. The group made and drank tea before cooking the following food items for lunch: Sweet potatoes, rice, green vegetables, eggs and posho.
History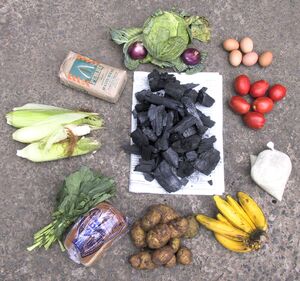 Kenya is the center of solar cooking activity in East Africa. A number of organizations are endeavoring to promote the technology in this country, which has been the commercial hub of the area for several decades. Its capital, Nairobi, is also well served by air, making access to the nation and region readily available, using Nairobi as entry point.
The promotion of solar energy is decades old in Kenya. As far back as 1977, GTZ (the Germany's official technical aid agency) initiated and later abandoned a project in Nairobi. The reason given had to do with the fact that products used were made in Germany and not available in East Africa. Two different Catholic missions in rural Kenya seem to have tried solar cooking, but no information is available on outcomes. As early as 1991, some ovens were exported to Tanzania (through Trans World Radio, perhaps), indicating that the product presented a business opportunity. In 1992, an Earthwatch grant permitted an academic, Dr. Daniel Kammen, to initiate a multi-year study of renewable energy technologies, including solar cookers, using volunteers in short-term Earthwatch projects.
Other early efforts included the work of Trans World Radio to promote solar use, promotion within the Girl Guide organization, a large project under the auspices of the Institute for Cultural Affairs, and the activities of a remarkable Peace Corp Volunteer. In the mid-1990s, with assistance of Solar Cookers International (SCI) a national coordinating body for the purpose of sharing information and strengthening progress by collective action around the topic of solar cooking was formed in Nairobi.
Among those early efforts was the activity of Trans World Radio (TWR). TWR work began in the early 1990s. A conference proceedings on Renewable Energy Policies in East Africa, held in 1993, includes a paper by TWR coordinator [[Clive Wafukho]] on their work in solar cooking. This organization promoted solar cooking on its radio programs, made and sold box cookers in the Nairobi environs, and worked also in a distant refugee camp. They pioneered solar cooking in Kakuma Refugee Camp, where SCI later established another project. TRW estimates that in the period between 1992 and 2001, they distributed a total of 2,350 cookers in the camp and other localities in Kenya. Logistics and staff support were always problems in the remote areas. In 2000, an attempt to solve that problem was the training of refugees as carpenters to build the cookers in the camp itself. TRW reports the production of 400 cookers in that manner.
The cookers are large and well suited to the needs of the Sudanese population that lives in extended family compounds, requiring cooking for 10-20 people daily. Trans-World Radio has demonstrated remarkable staying power in this difficult to serve area, with a population that could not afford to buy the expensive box cookers. Therefore most were given away free, with funds raised for the most part outside of Africa. TWR estimate that two-thirds of the cookers are used regularly.
In roughly the same time period, U.S.Peace Corps volunteer, Barbara Ross, was assigned to an area in western Kenya. Her responsibilities were varied, but, outside of her assigned tasks, more or less on her own initiative, she began the promotion of solar cooking. Ms. Ross recruited and trained a number of women in the locality to which she was assigned, who then formed themselves into a Housewives' Club, and proceeded in turn to teach others. They made box cookers of cardboard, which worked very well in a propitious climate, and solar cooking was on its way in this part of Kenya.
The interest of Girl Guides solar cooking also goes back to roughly the same time period. An early training program had been initiated in Kenya by Barby Pulliam, chief promoter of the World Association of Girl Guides and Girl Scouts Little remains of that one-shot demonstration, but it did serve as a foundation for later work that developed more fully in the latter 1990s. An interesting offshoot of that program is a unique program, a Girl Guide troop in Kakuma refugee camp, run by individuals originally inspired by the work of Ms. Pulliam. In few places, can Girl Scout/Guide activities be more welcome!
The other major early actor on the Nairobi scene was the Institute for Cultural Affairs, (ICA) which had a long term presence in the development community, focused on empowering local communities to define their own needs and plan their own development strategies. Solar cooking was a kind of side interest for ICA, though obviously related to its larger issues. To carry out the solar cooking mission, a Swiss volunteer, long interested and skilled in the technology and in training others, joined the Nairobi staff of ICA, for the specific purpose of promoting solar cooking. ICA created a solar box cooker construction course at a local technical school, which ultimately produced all the cookers used by ICA in the communities where they worked. ICA used a rather classical community development approach in their work. In community meetings, workers facilitated community members in defining their needs and existing barriers, which prevent meeting those needs. Fuel shortage was a major problem, and hence solar cooking promotion became an ongoing part of the program in many areas of Kenya. However, the solar activity more or less ceased after the very effective volunteer returned to her home.
The agencies described above formed the corps of the solar cooking consortium formed in 1994, with some financial help from SCI. The purpose of the consortium formed around solar cooking was to share information with one another, and to enlist additional person power for promotional efforts. SCI provided financial and moral support to the effort for some years. One conference was held in Nairobi, and one in outstate Kenya, in the hope of involving additional people in the effort. Ultimately, the logic of solar power dictated that purveyors and promoters of photovoltaic technologies would be included in the group. Over time, and after finally achieving NGO status in Kenya (not an easy task), the organization came to be dominated by the larger and considerably-more powerful community of business and industrial photovoltaic personnel in Kenya and thus of less value to solar cooking promoters.
Shortly after the creation of the consortia arrangement described above, in 1994, SCI accepted an invitation from the United Nations High Commissioner for Refugees to embark on a demonstration project in a refugee camp. The story of the project in Kakuma refugee camp is recounted elsewhere; therefore recounting here will be brief. The program was carefully planned (insofar as that was possible for an organization which had not previously worked in an overseas setting) and carefully monitored throughout the project. Kakuma is located in the semi-arid Rift Valley in the far northeast corner of the nation, reachable only by air (or 20 hours on a rickety bus). The camp grew from what seemed a very large 28,000 initially to almost 100,000 at one point, with major changes in the ethnic makeup. Logistical problems were always difficult, as the camp, being so remote, was not easily accessible. Eventually, a Kenyan staff was formed, and the camp work was, in 2004 (8 long years later), phasing into a refugee-run cooperative with similar purposes to the original SCI project, i.e., a demonstration that persons in need can and will adopt solar cooking, save fuel and scarce financial resources, while inflicting less harm on the already fragile environment.
After a successful start at Kakuma camp, Solar Cookers International was invited to initiate a similar project at remote Aisha refugee camp in Ethiopia.
The November 2003 issue of Solar Cooker Review carries Sunshine does let them eat cake about a woman refugee, Mumina Baraka, who now operates a small scale bakery in Kakuma, selling in small quantities to make a living, and to provide baked goods for other refugees to purchase. She plans to take her CooKit back to Ethiopia with her when that becomes feasible.
A number of other projects, mentioned above, were established in roughly the same time frame, as described above, in the activities of TWR, the Girl Guides and ICA. (Somewhat later, a Rotary project in Nairobi was started, but turned out to be less than wholly successful, perhaps showing the difficulty of working in urban areas. Need is considerable, but space, security of food and cooker, etc. are difficult issues in congested poorer urban areas.)
During the early years of the Kakuma camp program, the solar cooking program generated considerable interest in refugee circles. All visitors were taken to the training sites and, when advance notice made it possible, given a meal cooked by the sun. SCI's refugee coordinator, a Zairean woman who spoke excellent English, became almost a camp staff person, and was frequently called on to accompany visitors, to translate for them, and to provide demonstrations. One of the visitors in the early years was a UNHCR staff person from the head offices of the UN agency in Geneva. He was integral to beginning the program in Ethiopia. In addition, he discussed the possibility with SCI of working in Dadaab refugee camp in Kenya, located on the Somali border, to the east and north of Nairobi. That camp, almost entirely Somali in population, was far bigger than Kakuma (with about 100,000 residents) and differently structured, with three separate sub-camps, each located at a distance from the central offices of the organizations serving the camp.
The camp administrator in Dadaab was enthusiastic about starting a solar cooking program. Activities concerned with energy conservation were well underway in the camp, under the direction of the German technical assistance agency, Deutsche Gemeinshaft fur Technische Zusammenarbeit (GTZ) which had been implementing an improved stove program for some years. That program used an interesting model of "work for a stove" in which individuals were given 25 tree seedlings to plant and cultivate at their own homestead. At the end of three months, if they had successfully nurtured the seedlings, the "gardener" was given a voucher to obtain a stove. The devices used were a somewhat larger version of a charcoal stove in use in Kenya for some years, one in which the fire bed was made of ceramic, then encased in a metal shell. The stoves were "manufactured" in a workshop run by GTZ and were considerably more efficient than traditional three-stone fires. Trained "animatrices" were assigned to various parts of the camp where they did extensive workshops showing people how to use the new equipment.
By the time GTZ heard about the solar program, Dadaab staff had already provided stoves for over 90% of the camp's residents, using the distribution method described above. Both GTZ and SCI agreed that adding solar cookers to the mix would be one more way to cut down on the use of wood fuel, which by that time had been declared unlawful by the Kenya government, but was still occurring routinely. The team of GTZ extension workers, already trained in promotion of wood stoves were given additional training in solar technologies, thus adding another tool to their fuel saving repertoire. Eventually, SCI trained additional Dadaab women as trainers, in order to proceed at a faster rate in this huge camp.
An unfortunate event occurred next in Dadaab, one that effectively put an end to the solar cooking project and considerably dampened the improved stove project as well. A delegation of American congresspersons visited the camp. They were told stories of the dangers women were exposed to in the collection of wood (unlike Kakuma, refugees were allowed to collect wood in the area, even though it was unlawful by order of the government). Dadaab is located only about 15 miles from the border with Somalia; the lawlessness of that country spilled over into the nearby camp. Cars were routinely hijacked, necessitating convoy travel to the campsites. Security was certainly a high concern. Some refugees had been robbed, a few killed, and some women raped and murdered while searching for wood. Naturally, this gained the sympathy of the congresspersons. On return to the US, they managed to add a rider to legislation already in process that provided several million dollars for the purchase of fuelwood for Dadaab.
Both GTZ and SCI were horrified at this well meaning, but ultimately destructive, act, which harmed the fuel-efficient stove program and effectively ended the solar cooking project. Obviously, free fuelwood was a far more attractive option. Two years later, the money for fuel was finished, and the programs promoting alternatives to fuelwood were no longer present in the camp. In the US, SCI attempted to protest, but was unsuccessful in obtaining a hearing on this emotional issue, taken up in good faith by ill-informed U.S. representatives. The solar cooking program in Dadaab program of SCI was closed and has not been restarted.
A Swiss woman named Alison Curtis, working for an NGO called the Solar Health and Education Project(SHEP), has provided a number of workshops in the coastal and other regions of Kenya. The first workshop was held in the Kenya Marine National Reserve locality, a protected part of the spectacular coast of that nation. The initial group trained was made up of teachers and public health workers, in order to encourage the introduction of simple solar technologies into school curricula and thus into everyday life. Both cooking and water pasteurization techniques were demonstrated and the required skills taught to participants. A second group of new solar cooks was simply introduced to the concept and practice of solar cooking in a basic training workshop, while a third group of experienced cooks reviewed progress in their respective villages (based on earlier training and promotion).
A second cluster of workshops was held in an area with a pastoral population that had not been exposed at all to solar cooking previously. The group made their own CooKits from recycled Tetra pack cartons (small boxes used to hold milk, lined with foil, which becomes the CooKit's shiny surface). After construction of the CooKits, smaller groups cooked their meals, with the assistance of the trainers. As is common, amazement was the hallmark of the day! They loved the food and could hardly believe it had been cooked with the sun. In good pastoral style, one of the participants told Ms. Curtis 'this initiative is like a cow given to us. We, the Masai, consider the cow the greatest gift one can offer. Let's utilize it". After the praise a promotion committee was appointed to create an action plan to spread the technology in their area.
An exercise not common in the solar cooking world was executed in Kenya in 2002. Working on behalf of the NGO, Solar Household Energy, Inc. (SHE, Inc.]] a team of graduate students from the University of Michigan, as a part of an assignment for a class in their MBA program, conducted an extensive market survey re solar cookers in Kenya. The students, supported by a generous donor to the school, conducted both phone and in-person interviews with knowledgeable sources in the U.S., Mexico, and in Kenya itself. The result is a comprehensive review of past and present solar cooking projects in Kenya, their market strategies, successful or failing, along with the views of a large number of opinion leaders from government, the non-governmental community, entrepreneurs and manufacturers on the topics. In conclusion, the students brought their knowledge from Business School courses to bear on the problem, resulting in a useful document for promotion of solar cooking in the country. The document can also serve as a model for other related market research endeavors. Sponsored by SHE, Inc., this unusual effort concerning solar cooking turned out to be not only an excellent learning experience for students but also a document useful for multiple purposes.
And, lastly, and perhaps of most interest, is a different program of SCI. The project, called Sunny Solutions, was first established in an area near Lake Victoria. The project is located in Upper and Lower Nyakach divisions, in Nyando district, in Nyanza province, not far from Kisumu, the third largest city in Kenya. Local organizations were recruited as partners and an intense awareness campaign involving a range of stakeholders from government, women's groups, churches, and so on, was initiated. Initially, 150 women were invited to try the solar cooking at home; they were provided with CooKits, the cardboard cooker used in areas where families have limited resources, and were given intensive training and an extended follow-up. In early 2003, a team of research consultants conducted an evaluation exercise to serve as a baseline for later program assessment of accomplishments in terms of fuel savings and health benefits.
In May 2003, fifteen women were recruited as trainers from the original pool of 150 solar cooks and sixteen women's groups. The trainers learned to solar cook all types of foods, carry out sales and home visits, keep sales records, and test and pasteurize water.
In July of 2003, the formal kickoff of the program began, with a proper Kenya style community celebration, including solar cooked food, singing and dancing, visits from government officials and community leaders, with banners strung over the site touting the wonders of the sun. The project was well organized with continuous careful monitoring to assure that the project remained on course as it moved towards its goals.
In 2005, hand-assembled CooKits were introduced in the community and given the nickname used to describe people of Nyakach - OYWA. Hand-assembly meant an increase in the profit margin received by the seller and a lower retail price for each cooking kit (a Cookit, plastic bags, WAPI, and instruction booklet). Those involved in the assembly process also received commissions for each well-assembled unit. By the end of 2006, the sales team had grown to 23 expert women, called Solar Cooker Representatives (SCOREPS); 4000 CooKits were sold; over 95% of the people of Nyakach were aware of the benefits of solar cooking; and Sunny Solutions had grown to include two more sites, Kadibo, a flood-prone area just outside Kisumu and Kajiado, a drought prone area on the main highway from Nairobi to Tanzania.
Reports of other small-scale programs exist in Kenya; the ones desribed above are the longest lasting and largest known currently.
[Information for this section was taken originally from State of the Art of Solar Cooking by Dr. Barbara Knudson. Edits and updates may have occurred since that time.]
Archived articles
Climate and culture
Solar Cookers International has rated Kenya as the #13 country in the world in terms of solar cooking potential (See: The 25 countries with the most solar cooking potential). The estimated number of people in Kenya with fuel scarcity but ample sun in 2020 is 5,900,000. Solar cooking must be introduced in an area with sunshine for at least 6-9 months a year for the technology to be deemed useful. Highlands are often cloudy and overcast and so people tend to go back to their old ways.
Fuelwood provides 79% of Kenya's total energy use. Each day Kenyans burn 37 million kilos of wood and 6 million kilos of charcoal.
Statistics indicate that nearly 25 per cent daily income of urban folks is spent on fuel. This money could be channeled into more pressing needs like education, medicine, housing or other investments if this new technology were to be embraced.
Mattias Goldmann of the NGO Tricorona reports that he was told that several Kenyan tribes have a "strong taboo" against cooking outside.[1]
Dinah Chienjo of Friends of the Old reports, "The people have since time immemorial believed that water was blessed from the beginning and cannot cause any diseases but through the education and by showing them the results of the tested waters and telling them the dangers of the germs on the body, they are beginning to change their drinking habits and looking back many people agree that the many stomach related diseases they have suffered in the past have been a result of the bad river or pond water they have been drinking." See Water pasteurization.
See also
Resources
Possible funders
Project evaluations
Reports
Articles in the media
Audio and video
May 2017:
Documents in local languages
Luo
Contacts
SCI Associates
NGOs
Manufacturers and vendors
Individuals
Government agencies
Educational institutions
See also
References
References