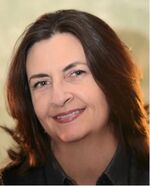 Julie Greene is the Executive Director of Solar Cookers International based in Sacramento, California. She is also an educator and experienced solar cook, with a history of doing nonprofit work in the USA and Asia.
Recent news and developments
Sunday, December 2, 2012: (Grass Valley) TEDxGrassValley, an independently produced event, operated under license from TED, will webcast the programming and talks from TEDxWomen in Washington DC along with presenting seven local exciting speakers at The Center for the Arts, located at 314 West Main Street, from 4-9 p.m. This year's theme is "The Space Between" and will address how women and girls are changing the world. Space is limited to just 100 tickets. Tickets available online at http://thecenterforthearts.org or http://nevadacityboxoffice.org or in person at BriarPatch Coop, The Center for the Arts or the Nevada City Box Office. More information...
See also
External links
Contact
Julie Greene
Executive Director
Solar Cookers International
Sacramento, California
USA