José Guimarães
Talk

0
1,972pages on
this wiki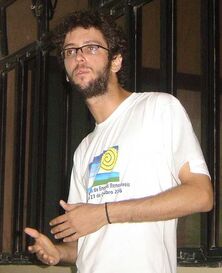 Here in Sergipe, the smallest state of Brazil, a great deal of work to promote the box-type solar cooker has been carried out since 2006. The solar team is part of the Laboratory of Energies and Materials, located in the state capital Aracaju, at the Institute of Technologies and Research, at the University of Tiradentes.
During this time, workshops to teach the construction of the box-type solar cooker in public schools and small communities were held, and of course, a long discussion of the advantages and benefits of its use was carried on. In this way, we intend to plant a seed on the people´s heart, especially the young people (as we all know, they are the future).
There were also some other events. We have had solar lunches, where the workshop participants get together and cook a solar meal. We also greeted the summer solstic on December 21 of 2006, to thank the sun for the free energy that it gives.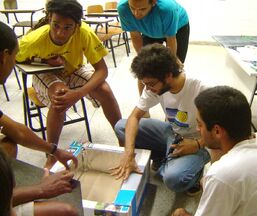 Tradução:
Aqui em Sergipe, menor estado do Brasil, um grande trabalho do fogão solar tipo caixa vem sendo realizado por cerca de 2 anos. A equipe solar faz parte do Laboratório de Energias e Materiais, localizado no Instituto de Tecnologias e Pesquisas, na Universidade Tiradentes, da capital Aracaju.
Durante este tempo, oficinas para ensinar a confecção do fogão tipo caixa em escolas públicas e pequenas comunidades foram feitas, e claro, uma longa conversa sobre os benefícios e vantagens do seu uso foi realizada. Desta maneira, nós pretendemos plantar uma semente no coração das pessoas, especialmente no dos jovens (como dizem, eles são o futuro).
E também, alguns eventos foram feitos, como Almoços Solar: confraternizações com os participantes de oficinas realizada; como também uma boas-vindas para o Verão, no sentido de agradecer a energia que nos é dada gratuitamente pelo Sol.
Contact