Joel Goodman is a research architect living in Wisconsin. After a few solar cooking experiences in the 1970-80s, he began studies of small-mid size solar kitchens using built-in fixed ovens (2003), inserted solar box cookers (2005), and augmented with building size nonimaging fixed reflector troughs with adjustable end reflectors (2007)(2009). Because of outgassing concerns from materials (insulation, glues, etc.) inside of augmented box cookers, and box cookers take up space in kitchens, mid-size kitchen studies began with thru-wall greenhouse type (HotPotTM, etc.) ovens (2006), and recently for small houses with thru-wall greenhouse type ovens combined with improved cook stoves, revealing house plan and solar access planning requirements. Additional studies are for exterior furniture fixed reflectors augmenting box cookers.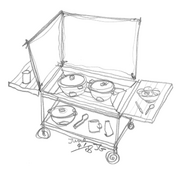 Recent news and developments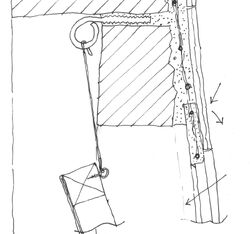 January 2013: A mirror-tiled concrete base, with grill support bolts casted in, is a nonimaging concentrator shape segment to reflect solar radiation upwards to the underside of cooker-ovens.
December 2012: Joel Goodman describes and illustrates the constraints and opportunities for incorporating a permanent thru-wall solar cooker in home design. Wisconsin Thru-the-Wall Solar Cooker
October 2012: The adjacent drawing illustrates using a fixed one-sided reflector trough to augment a built-in solar cooker.
September 2011: When a thru-wall cooker counter height is higher, 36 inches/ 915mm above kitchen floor level, and the outdoor ground level is lower, 24-36 inches or more below the kitchen floor level, a more substantial construction is required to support the fixed reflector concentrator, possible with an integrated small storage space/room. And a higher rainwater drain permits water storage with a higher gravity flow.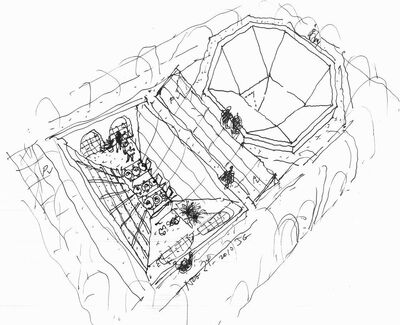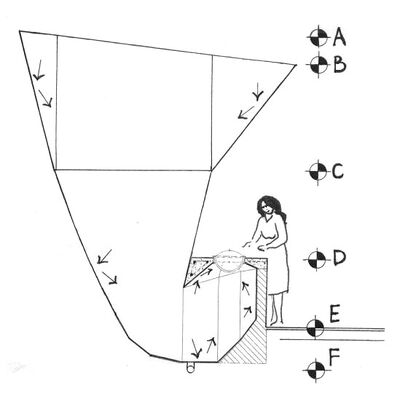 January 2011: A building integrated fixed reflector non-imaging mid-size solar kitchen schematic for non-seismic locations combines: multiple thru-mirror wall greenhouse type ovens on one side, and on the other side a scoop type reflector concentrator.
The adjacent illustration of a partial house kitchen plan illustrates orientation and solar access requirements for a thru-mirror wall greenhouse type oven. The top edge of a nonimaging fixed reflector can align with different wall and roof house construction types and shapes.
Various fabrication-construction methods for a chair-size thru mirror wall oven nonimaging reflector concentrator include:

Masonry substrates (compressed stabilized earth blocks, fired bricks, etc.) for gluing flat laminated glass mirror segments.

Bent metal reflectors bolted to a center concrete pyramid with glued reflectors.

Prefabricated injection molded plastic substrates for adhering reflectors.
December 2010: Joel has provided some conceptual ideas for incorporating thru-wall solar oven, and solar still installations.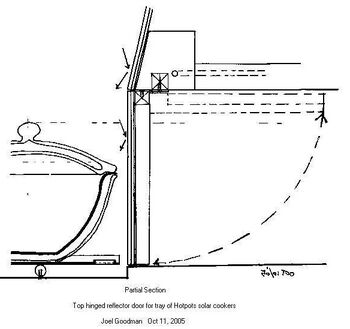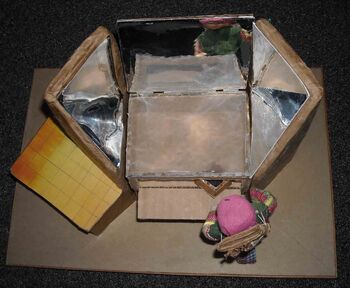 Documents
June 2003: Goodman, Joel H., "Selected Building Integrated Active Solar Energy Structures", International Solar Energy Society Solar World Congress, Gothenburg, Sweden, June 14-19, 2003.
2005: Goodman, J.H., (2005) Solar Cooking Kitchen Studies with Building Size Nonimaging Reflectors, ISES Solar World Congress, Orlando, Florida, 8-2005
August 2006: Goodman, Joel H., "Architectonic studies with building size nonimaging reflectors", invited, Proceedings of the World Renewable Energy Congress IX, Florence, Italy, Aug., 2006.
2007: Goodman, Joel H., (2007),"Architectonic Studies with Selected Reflector Concentrating Solar Collectors", Journal of Green Building, Vol. 2 Number 2, Spring, College Publishing, pp 78-108.
January 2009: Goodman, Joel H., Building Size Fixed Reflector CPC Troughs and Bowls for Food Processing Facilities, Proceedings of the International Solar Food Processing Conference, ISES, Jan. 2009, Indore, India
January 2009: Building size fixed reflector CPC Troughs and Bowls for Food Processing Facilities - Joel Goodman
August 2012: Goodman, Joel H., Fixed Troughs, Heliostats, Bowls and Reused Wind Blades
Contact
Joel H. Goodman
P.O. 14, Dodgeville, Wisconsin 53533
USA
Tel: (608) 935-5483
Email: joelhgoodman3@hotmail.com