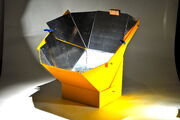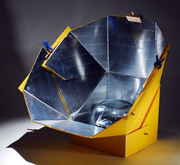 Since 2008 inventor
Jim La Joie
has built and shipped the
All Season Solar Cooker
to interested solar cooking agencies. Cookers have been sent to
The Democratic Republic of Congo
,
Sudan
,
Japan
,
Niger
,
Mexico
,
Haiti
, and most recently, to the Indian alternative energy agency
PRINCE
. In several of these locations they will be used as a means to create jobs and provide a source for cooking and safe water.
Through his webpage, Jim has reached out to 133 countries around the world. Visitors may view instructional videos, free plans and instructions for both the All Season Solar Cooker and the new Jumbo ASSC.
Jim La Joie participates in the San Diego Solar Cooking Club meetup group which offers demonstrations and instructional workshops several times a year.
Although the web has been an oustanding outreach tool, it remains Jim La Joie's sincere hope that nonprofit organizations will use this invention to provide safe water, clean cooking, and economic opportunity to those in need.
News and recent developments
See also
All Season Solar Cooker - All Season Solar Cookers are being sent to solar cooking agencies for the purpose of evaluation and possible adoption. Solar cooking agencies that are interested in receiving an All Season Solar Cooker, at no cost, should contact Jim La Joie via email.
Contact
Email: jimjola@gmail.com
Web: http://www.allseasoncooker.com