Deutsch, Español, Français, Hausa, Igbo, Indonesian, Italiano, Kiswahili, Kreyòl, Malagasy, Melayu, Português, Русский, Soomaaliga, Tagalog, Việt, Türkçe, Yorùbá, Ελληνικά, தமிழ், नेपाली, 中文, اردو, 한국어, 日本語, العربية, فارسی, עִברִית, हिन्दी, ไทย, বাংলা, తెలుగు, ગુજરાતી, ລາວ, ਪੰਜਾਬੀ, සිංහල, پښتو

The Solar Cooker Project, a refugee relief project of Jewish World Watch, is committed to protecting refugee women and girls from rape and other forms of violence. Women and girls who have fled the genocide in Darfur, Sudan are particularly vulnerable while performing the critical task of collecting firewood for cooking. The Solar Cooker Project of Jewish World Watch reduces the frequency of these heinous crimes by providing women in refugee camps with an alternative cooking option: the solar cooker. thumb|left|400px|The Solar Cooker Project of Jewish World Watch

Over 288,000 Darfur refugees live in 12 camps on the Chad side of the border with Sudan. Camps have an average of 20,000 people, mostly women and children. The camp is located in an arid area nearly devoid of vegetation, but with abundant sun. Basic food supplies are provided by the United Nation's World Food Programme. The United Nations High Commissioner for Refugees (UNHCR) provides some firewood, typically enough for a week. For additional fuel, refugee women must venture outside the camp to collect firewood for cooking. To do the latter means risking rape and other egregious forms of violence by [[1]] milita and local Chadians.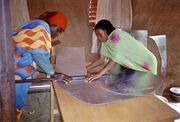 The program contains an economic development piece, with refugees earning income by making a simple solar cooker, called the
CooKit
, at workshops in the camps. Made from cardboard and aluminum foil, the hand-assembled CooKit lasts 6-9 months with regular use despite the windy conditions. Each CooKit cooks tasty nutritious meals with a few hours of free, renewable sunshine and saves one ton of
fuelwood
each year. Refugee women are also paid to train others in solar cooking. After a day of instruction by a trainer on how to use and care for CooKits, refugee families receive two CooKits, one to cook the staple grain and one for the accompanying vegetable or sauce. Larger families receive additional CooKits that provide additional cooking capacity.
The project started in 2005 through a partnership between SCI and KoZon Foundation, both with extensive experience in disseminating solar cookers in refugee camps on the African continent. The project enables refugee families to solar cook, save money and reduce the risks associated with venturing out of the camp. Solar cookers provide a sustainable solution to meet the urgent need for cooking energy alternatives for Darfur refugee families. Jewish World Watch adopted the Iridimi camp in May 2006 and became the North American fundraising arm for the project in March 2007.
Jewish World Watch is a project of a coalition of synagogues working together to mobilize synagogues, their schools, their members and the community to combat genocide and other egregious violations of human rights around the world. It is the mission of Jewish World Watch to:
Develop educational programs to educate the target constituencies;
Activate constituencies to generate response from the United Nations and US policy makers; and
Realize resources to provide assistance to the survivors and victims of genocide and egregious violations of human rights
The benefits of solar cooking for the refugees in these camps:
Solar cooking can reduce the need for frequent firewood collection reducing the risk of violence towards women and girls.
Two solar cookers can save one ton of wood each year.
There is no need to tend a fire so women are free to do other tasks.
There is no smoke, so there are reduced respiritory illnesses and eye infections.
The production of the solar cookers provides income generation opportunities for female refugees.
What you can do:
Supply solar cookers directly to the women of Darfur through the Solar Cooker Project. Please see: Help the Women of Darfur
Help us provide the camps with solar cookers by raising awareness and raising money.
Host an event with an engaging Jewish World Watch speaker at your home, work, Parent Association, library, synagogue or church to learn more about the genocide in Darfur.
Organize a fundraiser to help bring solar cookers to these women. Ideas: BBQ, bake sale, car wash, dinner or theatre party.
Make a donation: A $40 donation supports one family by providing two solar cookers and training. A $360 donation supports nine families by providing eighteen solar cookers and training. .
People wishing to donate can contact Jewish World Watch at +1 818-501-1836 or www.solarcookerproject.org
[The original text for this page was taken from in February, 2007. Updates have been added since that time.].
News and recent developments
December 2012: Jewish World Watch, originator of the Solar Cooker Project for Sudanese refugees, reviews their current programs at several of the refugee camps in Chad – As a result of a joint security force between Chad and Sudan, violence against women has declined some since the project began seven years ago. Cord, their partner at the Farchana refugee camp, sees solar cooking as a way to keep girls in school, and not spending hours finding fuelwood for cooking. For others, the project has meant help for the environment and the air quality conditions for women previously using open fires. When the Jewish World Watch contingent first visited the camps many years ago, the refugees had just arrived and the encampment was meant to be temporary. The hope and expectation was that within a few months or a couple of years at most; they would return to their homes. But now, seven years later, it is clear that returning to Darfur is not a reality and the camps are turning into permanent settlements. As a result, the programs for the refugees must begin to move away from survival resources and begin to address ways of achieving self-sufficiency and permanence. In other words, helping to create a life, not an existence. Future larger scale solutions will be needed to address and benefit the surrounding communities, as well as the refugee camps, to help with the integration of the Sudanese residents. Read more...
January 2011: Jewish World Watch co-founder Janice Kaminer-Reznik is being honored by the city of Los Angeles for her leadership in the fight against international human rights abuses, including her role in a solar cooker project benefitting Darfur refugees living in Chad. The city council has adopted a resolution (Media:11-0059_RESO_1-12-11.pdf) proclaiming Friday, January 28 as as "Janice Kaminer-Reznik Day." More information...

December 2010: Offsets for Darfur: is an initiative designed by SENSE Foundation to target both environmental issues and support the Solar Cooker Project - an ingenious solar delivery and training program for Sudanese refugees in Chad based camps delivered and facilitated by Solar Cooker International, Kozon and Jewish World Watch. The benefits of "Offsets for Darfur" are twofold with both environmental and humanitarian aid aspects including the mitigation of: • carbon output in Chad refugee camps, • health issues related to firewood cooking. • women's safety issues related to sourcing firewood outside of camp boundaries • and unemployment in refugee camps - the project offers training and employment opportunities within the camps. More Information on the program.
August 2009: New Jersery Coalition Responds to the Crisis in Darfur is a group which is currently raising money to provide a solar cooker to each family in the Oure Cassoni Refugee Camp. It has been demonstrated that once the need for women to leave refugee camps is reduced, the amount of violence committed against women and girls falls by over 80%. For more information about this project, click here.
October 2008 - January 11, 2009: Refuge(e) is a photography-based multimedia body of work that evolved from artist Barbara Grover's 7-week visit to the Darfuri refugee camp, Iridimi, in 2007. Proceeds from photographic sales will benefit Jewish World Watch' s advocacy, education and refugee relief projects. Sherry Frumkin Gallery, 3026 Airport Ave., Studio 21, Santa Monica, CA 90405. More information...
November 2008: Rachel Andres of Jewish World Watch reports in a recent press interview that, "We have just started manufacturing and training women in our 3rd camp, the Oure Cassoni Refugee Camp, which houses 28,000 refugees." Read the full text of the interview with Rachel Andres.
June 2008: Jewish World Watch would like to thank the Church of Latter Day Saints for their generous support of the Solar Cooker Project! JWW and Church officials met in late May to discuss the progress of the Solar Cooker Project and to receive a gift from the Church of $25,000!
March 2008: Rachel Andres of Jewish World Watch was recognized with the Charles Bronfman Award of US$100,000 for her work with Jewish World Watch's Solar Cooker Project. The annual award created by Bronfman's two children, Ellen and Stephen, and their spouses, is given to a humanitarian worker younger than 50 whose efforts exemplify Jewish values. Andres, the first woman and the fourth person to be named, will receive the award May 5. The Solar Cooker Project has donated some 5,000 pieces of solar-powered cooking equipment to women who escaped Darfur and fled to refugee camps, where women commonly are raped as they venture away to collect firewood. Since project volunteers started distributing the cooking equipment last year in the Iridimi and Touloum refugee camps on Chad's border with Sudan, the risk to women has been reduced significantly, according to a news release announcing Andres as the award winner.[2] - Jewish Telegraphic Agency
December 2007: Upon return from visiting the refugee camps in Chad, and participating in an evaluation of our Solar Cooker Project, Jewish World Watch representatives were asked to come to Geneva last week to present the Project to an international forum that included high level representatives from UN agencies. A full report will be forthcoming in our January newsletter, including the possibility of widespread expansion of the Project into other refugee camps in Chad.
February 2007: Jewish World Watch is now coordinating donations for people wishing to donate to provide solar cookers to the Darfur refugees in Chad.
Articles in the media
See also
External links
Blogs
Articles in the media
Audio and video
| | |
| --- | --- |
| | November 2007 YouTube video showing the construction and use of CooKit solar cookers at the Iridimi Refugee Camp |
Print
Contact
Jewish World Watch
5551 Balboa Blvd, Encino, CA 91316
Tel: +1 818-501-1836
www.jww.org
Questions on the Solar Cooker Project in Chad should be directed to Miriam Markus Zacuto: miriam@jww.org or at +1 (818)501-1836 ext 250.