Japan Solar Energy Education Association
Comments

0
News and recent developments
July 2011: Iseko Shrai visited the village of Kaimosi in Kenya to demonstrate solar cooking at a International School of Kenya. One of the participants, who is local leader, wanted to spread solar cooking around to local villages. At this time, she visited more than twenty schools to introduce solar cooking.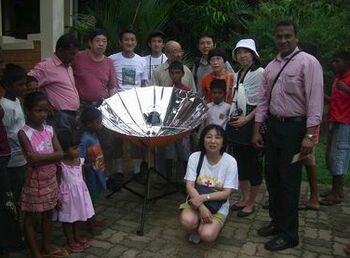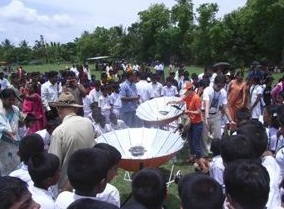 May 2010: Iseko Shrai, from the Japan Solar Energy Education Association met with local representatives of the Sarvodaya foundation in Sri Lanka, to provide solar cooking demonstrations in several villages recovering from tsunami damage. The demonstrations were received enthusiastically, and JSEEA was able to donate a parabolic solar cooker to each village.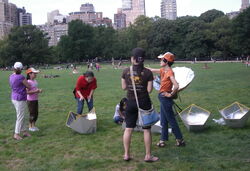 August 2008: We did solar cooking in Central Park as a joint program between IEARN-USA and Japan Solar Energy Education Association. We used 5 solar cookers in total; 1 parabolic type (Sunny Cooker) and 4-panel type (3 Japanese Educooker & 1 CooKit). It was sunny on that day, best for solar cooking. We cooked many kind of meal such as chocolate cake, pizza, razania, rabiori, fruit jelly and solar harb tea.We could boil water many times, so that we could distribute tea even the people around us. We enjoyed talking to them and a wonderful time.
See also
External links
Contact
Japan Solar Energy Educational Association
2-42-30 Ogikubo
Suginami-ku
167-0051 Tokyo
Japan
Tel/fax: 03-5347-1508
Email: solar_energy@hyper.cx
Web: http://solarcooker.blog10.fc2.com/