Jack Howell works with Budd Mackenzie to support the work of Trust in Education in Afghanistan. Jack organizes the production of solar cookers in California, USA. The they are shipped to Kabul, and Budd arranges for their distribution.
Recent news and developments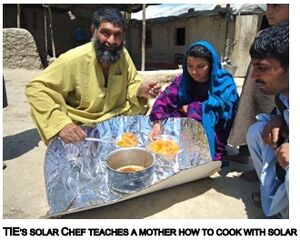 March 2014: Afghan refugees let the sunshine in - Thanks to the passion of volunteer Jack Howell, Trust in Education (TIE) initiated a solar oven project in 2010. TIE started with five solar cookers made by Jack, and deliverd them to Afghanistan in August 2010. That's how it all began. On February 8, 2014 over 60 students from five Bay Area, California high schools joined TIE to build CooKit solar cookers. They are part of the over 100 high schools with Interact Clubs fro District 5170. The district plans on providing 5,170 CooKits to Afghan refugee families. Assuming an average of ten members per family, that makes 50,000 people who will be introduced to solar cooking as a result. TIE already has 500 solar cookers in refugee camps, and has requests for more.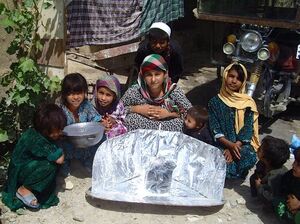 April 2013: Jack Howell reports that once the 100 volunteer-built solar ovens were delivered, a solar box cooker variation with a wooden base and 1" of rigid insulation, refugee families were bused to the Trust in Education office in Kabul, Afghanistan. They were given a four-hour lesson on how to use the solar ovens, and each family was given an oven to take back to their camp. Since this initial project, the new cookers are a CooKit variation, being produced at a local box manufacturing company in San Leandro, California. The reflective material used for the solar panel cookers is recycled Mylar coffee bean bags from Peet's coffee headquartered in Berkeley, California. They are cut open and cleaned by adults with developmental disabilities by the people from Futures Explored in Lafayette, CA. With the reflective interior surface facing out, they are then stapled to the cooker panels by the Afghans. We have delivered 2,000 cookers to Afghanistan and collected over 20,000 bags from Peet's (keeping many Mylar bags from the landfill.) The new cookers are working very well and Afghans love them.
Articles in the media
See also
External links
Contact
Jack Howell
Tel.: +1 925-932-1383
Email: jdhowell@ix.netcom.com